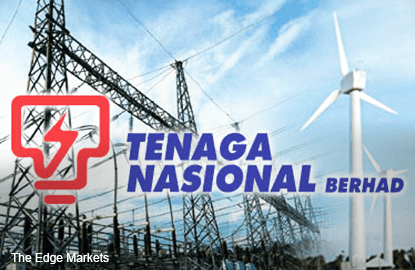 This article first appeared in Corporate, The Edge Malaysia Weekly, on June 20 - 26, 2016.
TENAGA Nasional Bhd plans to expand Lumut Port's coal supply facilities in Manjung, Perak, which, sources say, could involve an investment of RM700 million and may triple the terminal's coal handling capacity to 30 million tonnes per annum (mtpa).
Lekir Bulk Terminal Sdn Bhd, an indirect unit of TNB that operates the dry bulk terminal in Lumut Port, has placed a notice in major newspapers inviting local and foreign construction companies to participate in the pre-qualification exercise for the implementation of the project.
According to the notice, the prospective contractors can be part of a consortium or a joint venture (JV). Foreign firms must form a consortium or JV with at least one local contracting firm, which must hold a Grade G7 or more licence from the Construction Industry Development Board.
"(The applicant) shall have proven capabilities, relevant experiences and have successfully completed implementation of at least similar coal supply chain projects, jetty terminal and marine structure construction elsewhere, all of which were within the last 10 years," the notice read.
This is part of Lekir Bulk Terminal's long-term expansion plan that includes upgrading its coal handling facilities. It is estimated that Lumut Port has a handling capacity of about 8mtpa of coal, which is consumed locally.
Lekir Bulk Terminal is part of Integrax Bhd, which TNB took over in 2015. 
The expansion project is also aimed at making Lumut Port the coal-handling hub of Malaysia, where imports of coal enter the country before they are distributed to all the coal-fired power plants, says an industry observer.
"Currently, TNB imports coal through the three discharge points, namely Lumut Port, Jimah power plant and Tanjung Bin power plant. This expansion project will make Lumut Port TNB's sole coal-handling facility," the observer says.
TNB's total coal requirement for 2016 is estimated at 27mtpa. By 2019, this is expected to increase to 40mtpa. The coal-handling capacity at Jimah in Negeri Sembilan is 4.3mtpa while Tanjung Bin in Pontian, Johor, has a coal yard capacity of 870,000 tonnes per annum.
TNB Janamanjung Sdn Bhd's coal-fired power plant is also expanding its capacity; its fifth generator, Manjung 5, will be fired up next October. This will require more coal to be supplied through Lumut Port.
Demand for coal is set to grow fast as TNB spends more on new power generation capacity. In the second quarter ended Feb 29, 2016 (2QFY2016), TNB's capital expenditure stood at RM5.2 billion, 57% of which was used for new power generation capacity.
Fitch Ratings expects coal-fired power generation to provide 55% of Peninsular Malaysia's electric generation in 2017, from 45% last year. Coal-fired electricity costs about 25% less than piped natural gas-based generation, and about 75% less than liquefied natural gas-based generation.
TNB's coal-fired generation mix increased from 49.3% to 49.8% in 2QFY2016, the highest in recent years, owing to the commissioning of Manjung 4, a 1,000mw generation asset that added to Janamanjung's 2,100mw capacity.
Fitch Ratings also expects TNB to spend RM46 billion on increasing domestic generation capacity and maintenance from FY2016 ending Aug 31 to FY2019.
According to Quah He Wei, an AllianceDBS Research analyst who covers TNB, electricity demand increased 3.2% y-o-y in 1QFY2016 and improved further to 4% y-o-y in 2QFY2016. The increased demand was due to the El Niño, which caused a drought in the first quarter.
"This is in contrast to our expectation of a slowdown in electricity demand after 1QFY2016, given the lower GDP projection for 2016. The major demand growth contributors in 2QFY2016 were commercial users (+6.1%) and domestic users (+12%).
"This is likely to come in higher in 2HFY2016, given the stronger electricity demand, as the country was hit by a heat wave," says Quah in an April 28 research report. Quah recommends a "buy" on TNB with a target price of RM16.10 per share.
A TNB officer explains that the expansion plan will eventually allow exports to other countries, including Myanmar. While Malaysia is not a major producer of coal, Lumut Port can be an export-processing hub for the commodity.
"It is part of the long-term plan. With its natural deep harbour and strategic location, Lumut Port can become a transhipment hub for coal in this region. Coal from Indonesia and Australia can be blended and exported to regional markets," says the officer.
Myanmar's economy is expected to grow rapidly now that it has returned to civilian rule and the US and European Union have lifted their economic sanctions against it. The country of 53 million people recorded economic growth of 7% last year. Its economy is expected to grow at an average of 8% until 2018. The young population, which is expected to reach 56 million by 2020, is seen driving urbanisation and demand for consumer goods and non-essential products.
TNB is not expected to face any problems in funding the expansion as it has a strong cash flow and balance sheet. As at Feb 29, its cash and cash equivalents stood at RM2.96 billion and financial assets were RM12.8 billion. Short-term borrowings stood at RM907.7 million.