This article first appeared in The Edge Financial Daily, on January 30, 2018.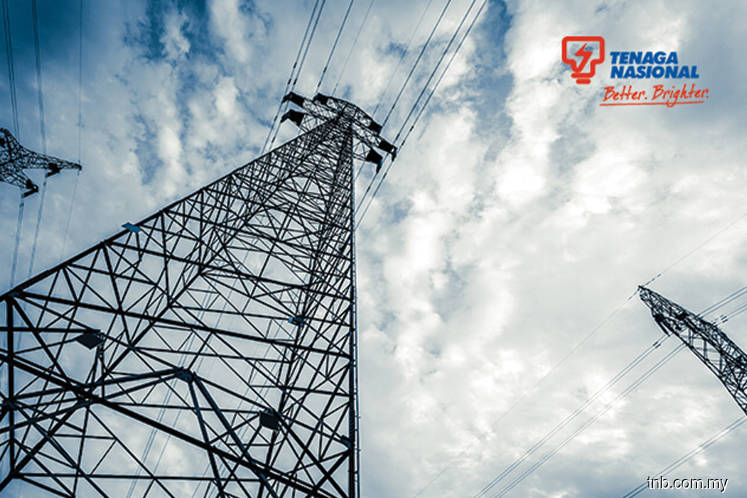 Tenaga Nasional Bhd
(Jan 29, RM15.84)
Maintain buy call with a target price (TP) of RM18.22: Tenaga Nasional Bhd's (TNB) three months ended November 2017 core net profit of RM1.9 billion (-18% year-on-year [y-o-y]) was within our expectations. The adjusted core profit accounted for 24% of our annualised financial year 2017 (FY17) (four months ended December 2017) forecasts.
Its y-o-y bottom line weakness was mainly attributed to: i) higher operating expenditure, which led to a contraction in earnings before interest, taxes, depreciation and amortisation margin of 33.3% (first quarter of FY17 [1QFY17], which was September to November 2016: 36.5%); ii) higher finance costs, mainly arising from the issuance of debt to finance capital expenditure for Manjung 5 and Track 4A; iii) weaker associates' contribution; and iv) higher taxes and lower interest income.
Revenue was higher (+3% y-o-y) due to the combination of: 1) higher demand growth (+1.2% y-o-y), underpinned by the industrial segment (+4.1% y-o-y); and 2) lower over-recovery of the imbalanced cost pass-through, amounting to RM198 million (1QFY17: RM605 million).
In spite of the surge in coal price to RM365 per tonne in the first quarter of 2017 (1Q17), exceeding the incentive-based regulation (IBR) parameter of US$87.50 (RM350) per tonne, there was still over-recovery of fuel costs. This was due to an improved generation mix following the start-up of Manjung 5, which resulted in a shift in fuel mix to coal at the expense of gas (1Q17 coal: gas mix at 57%:37%; 1QFY17's at 54%: 42%).
Expansion in associate losses to RM67 million (1QFY17: RM10 million loss) was largely attributed to GMR Energy Turkey. This was because of an ongoing court case, which prevents GMR from recovering coal and gas fuel cost pass-through. Nevertheless, management expects resolution of this legal case in several months.
Additionally, Vortex Solar UK Ltd's bottom line was dragged by one-off transactional cost for debt refinancing. Nevertheless, on a positive note, Vortex was profitable at the operating level. Moving forward, management is confident that Vortex will turn around, although its contribution to TNB will be marginal in the near term.
TNB expects stable electricity demand growth in 2018, in line with Bank Negara Malaysia's economic growth projection of 5.2% to 5.7%. According to management, media reports had grossly exaggerated that the 83%-owned Sabah Electricity Sdn Bhd (SESB) is on the verge of insolvency.
TNB states that the challenges faced by SESB are structural. Nevertheless, SESB receives support from TNB and the government in the form of subsidies that will ensure its liquidity.
Additionally, SESB will also implement operational initiatives to reduce its losses. Furthermore, the government is reviewing tariffs and the overall industry blueprint in Sabah to ensure a sustainable electricity market.
We incorporate FY17 (ended Aug 31, 2017) audited figures from TNB's annual report, and tweak its FY19 capacity payment forecast lower. As a result, our FY19 forecast is raised by 2%, and our discounted cash flow-based TP is revised to RM18.33 (from RM18.22).
We remain buyers of TNB due to: a) capacity expansion on the international front (target: 3.7GW new capacity by 2020) providing a kicker to boost earnings from a mature domestic market; b) a strong balance sheet (cash: RM5 billion; net gearing: 0.6 times) capable of funding both international aspirations and higher dividends; c) recovery in sentiment and an earnings rerating after removal of RP2 (second regulatory period) regulatory headwinds; and d) discounted valuations (-1 standard deviation below the historical forward mean price-earnings ratio) despite earnings stability following smooth implementation of the IBR. — TA Research, Jan 29