This article first appeared in The Edge Financial Daily, on December 12, 2017.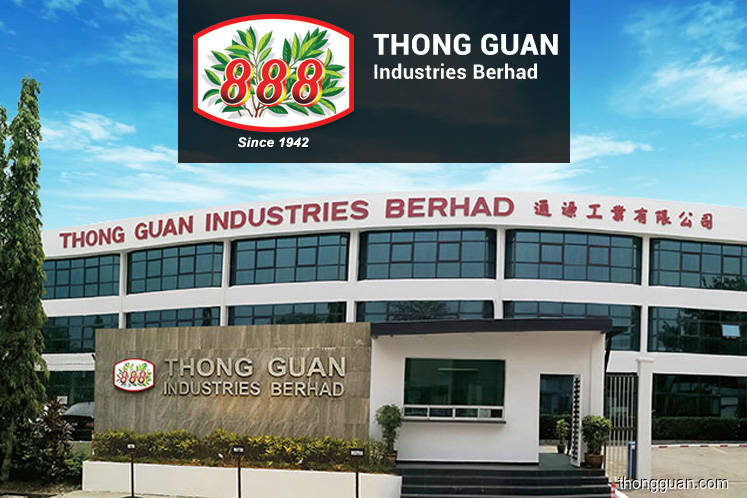 Thong Guan Industries Bhd
(Dec 11, RM4.25)
Maintain add call with an unchanged target price (TP) of RM5.90: Last Friday, Thong Guan Industries Bhd held its third-quarter financial year 2017 (3QFY17) results briefing, which was led by its executive director Alvin Ang. Around 35 analysts and fund managers attended the briefing. The company's management was positive about its 2018 business outlook as the company will continue to provide valued-added services to its customers instead of fighting the competition with a lower-pricing strategy.
There were no surprises at the briefing. The management indicated that revenue growth in 2018 was expected to come from the nanolayer stretch film lines and the polyvinyl chloride (PVC) food wrap divisions. Barriers are high to set up a nanolayer stretch film line. Capital expenditure (capex) is RM20 million to RM25 million per line and Thong Guan has its own secret raw material formulation for its nanolayer stretch film.
Its first nanolayer stretch film line is already operating at full capacity, with orders booked two to three months ahead. Due to strong demand, the company added another nanolayered stretch film line in September. We understand most of the orders are still coming from Europe, where its major customers use machine-wrapped films, for which nanolayered films are suitable. Most Asian customers are still using hand-wrapped stretch film.
Given the strong demand seen from the second nanolayer stretch film line, the company plans to add a third line, to be installed by end-2018. We would not be surprised if the company installs yet another nanolayer film line by end-2019. We estimate that the nanolayer stretch film line's average profit before tax (PBT) margin is 12% to 15% versus 5% to 6% for traditional stretch film lines.
The company has eight PVC food wrap lines, with 7,500 tonnes capacity annually. As they are already running close to full capacity, we expect Thong Guan to add a ninth line next year. Thong Guan is one of the largest PVC food wrap producers in the region and product demand has been strong.
The company is looking to export its organic noodles to China. Demand in China should be strong over the long term, as the Chinese government ended its 40-year-old one-child policy at end-2015. We gather from Thong Guan that parents in China generally do not trust baby products made in the country and are looking to exported products. The company is currently in negotiations with some Chinese parties to distribute organic noodles in their districts.
The production capacity for the organic noodle is RM60million annually. — CIMB Research, Dec 11