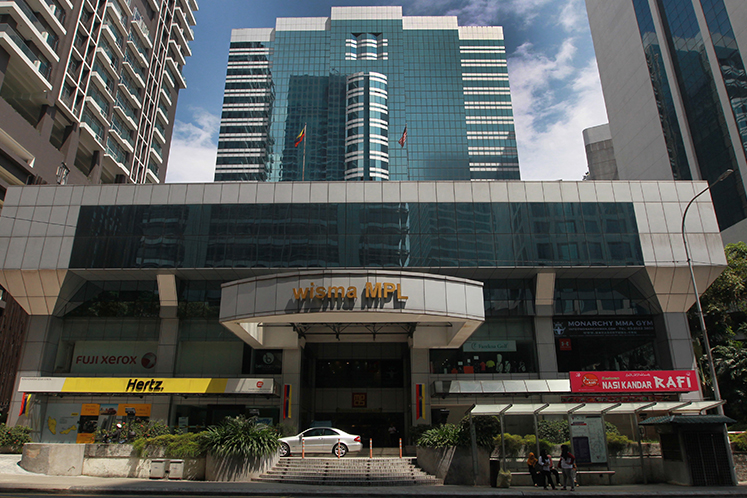 KUALA LUMPUR (Dec 6): After two failed attempts, Malaysia Pacific Corp Bhd (MPCorp) will see one of its prime properties, Wisma MPL on Jalan Raja Chulan here, go under the hammer again.
In a filing with Bursa Malaysia today, MPCorp said the second auction obtained by creditors RHB Bank Bhd on July 10 was called off as there was no bidder.
MPCorp said RHB Bank had on Nov 2 filed a fresh application for an auction.
MPCorp added that it had replied to RHB Bank's affidavit on Nov 30, after which the Kuala Lumpur High Court had fixed for case management for the application of the auction on Dec 6.
"On Dec 6, the court fixed the next case management on Dec 20, pending filing of the affidavit in reply by RHB Bank to our affidavit dated Nov 30.
"Further announcement will be made of any material development changes as and when appropriate," it added.
On June 13, The Edge Financial Daily had reported that the 23-storey office-cum-shopping building was to be auctioned off with a reserve price of RM255 million.
Wisma MPL is one of MPCorp's two core assets, besides the 490-acre (198ha) tract it owns in Johor. Completed in 1973, it was previously known as Wisma MPI and then as Wisma HLA.
It was reported that the loss-making property outfit had first announced its intention to sell off the property in November 2013, which was valued at RM320 million at the time, to raise cash to meet its obligations following the default on repayment of banking facilities provided by RHB Bank.
Adding to its troubles, the group was designated Practice Note 17 status in December 2014 after its external auditors Messrs UHY expressed a disclaimer opinion on its audited accounts for the financial year ended June 30, 2014 (FY14), and subsequently for FY15 and FY16 as well.
In July last year, MPCorp had entered into a Memorandum of Understanding with Singapore-based Terra Pontus Pte Ltd for the sale of a part of Wisma MPL for RM250 million, after the group had sold some of the units in the complex.
However, the sale was aborted in September, after MPCorp did not receive any earnest deposit from the purchaser.
Zitron (M) Sdn Bhd had also expressed interest in the property last year and even paid an earnest deposit of RM5 million, but subsequently backed out of the deal.
In August last year, the Court made an order for sale of the property and fixed Nov 21, 2016 as the auction date for Wisma MPL.
MPCorp shares were untraded today. The counter last closed at 13 sen on Dec 4, with a market capitalisation of RM37.4 million.