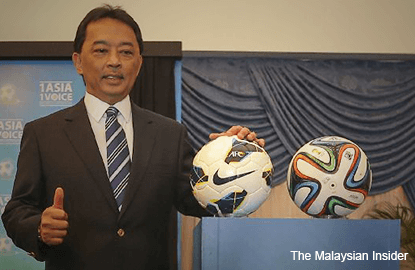 (Sept 7): Tengku Abdullah Sultan Ahmad Shah says he will step down as president of the Football Association of Malaysia (FAM) following Harimau Malaya's embarrassing 10-0 defeat to the United Arab Emirates (UAE) in their third group A match in the 2018 World Cup and 2019 Asia Cup Qualifying Round, Bernama reported today.
Tengku Abdullah had previously said he would resign if Harimau Malaya failed to qualify for the final round of the 2019 Asian Cup.
National coach Dollah Salleh stepped down following the September 3 loss, which was the biggest in any international match. Former national player Datuk Ong Kim Swee was appointed interim national coach following Dollah's resignation.
Dollah, who had been national coach since June 28, 2014, said he felt responsible for the loss, expressing sadness that he had ended his career with such a humiliating result.
Tengku Abdullah told media in Kuantan today that he would like FAM to appoint his deputy, Datuk Afandi Hamzah as acting president.
"I no longer wish to play a role in observing and making plans for 2023, so don't waste time, let's move on.
"If possible, do the post-mortem and make preparations from now," he was quoted as saying by Astro Awani.
"FAM must rebuild Harimau Malaya soonest, including the possibility of changing its players and coaches, for the sake of Malaysian football."
Tengku Abdullah had taken over from his father Sultan Ahmad Shah as president of FAM in May last year. The 84-year-old Sultan, who was elected FAM president in 1984, had said that he wanted to make way for younger leaders.
For the first time in 30 years too, there was a contest for the FAM presidency with another member of the royalty, the Crown Prince of Johor, Tunku Ismail Sultan Ibrahim, challenging Tengku Abdullah for the post.
Voting was close with both princes not getting the necessary two-thirds majority in the first round of voting but the Crown Prince of Pahang ultimately winning with a simple majority in the second round of voting.
In April this year, Tengku Abdullah, who is also Asian Football Confederation (AFC) vice-president, was voted into the powerful FIFA executive board.
He filled one of the three slots that was available for the Asian Football Confederation (AFC). The remaining two slots were won by the representative from Japan and Bahrain, respectively. AFC are given a total of five slots in the FIFA board. – The Malaysian Insider