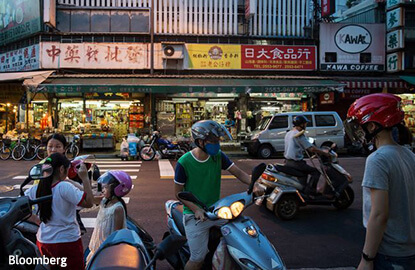 TAIPEI (Jan 24): Taiwan's economy is expected to have grown at its best pace in nearly two years in the final quarter of 2016, supported by year-end holiday demand that boosted the island's exports.
The trade-dependent economy has been recovering from a brief recession in late 2015, but growth may be peaking as headwinds intensify from emerging global trade protectionism.
The United States, the island's second-largest trading partner, formally withdrew from a broad trans-Pacific trade deal on Monday, a development that could have wider implications for Asian exporters such as Taiwan.
Gross domestic product was forecast to have grown 3.1% in the October-December quarter from a year earlier, accelerating from 2.03% growth in the third quarter, a Reuters poll of economists found.
The pace would be the fastest since the first quarter of 2015, when growth was 4.01%.
For 2016, the government has forecast the economy would grow 1.35%, up from 0.72% in 2015.
Taiwan's exports have grown year-on-year in each of the final three months of last year, while export orders, a leading indicator of coming shipments, and industrial output have both been positive since August.
"With external conditions showing signs of stabilising following a gradual pick-up in the tech cycle and the effects of domestic policy appearing to be gaining traction, we maintain our 2016 and 2017 real GDP forecast for Taiwan at 1.1 percent and 2.0 percent, respectively," said BMI Research in a note this week.
The government will issue preliminary figures for GDP on Wednesday, with minimal commentary on its outlook that comes in 2-3 weeks, when it issues revised figures.
Major technology titans on the island have cast doubt on U.S. President Donald Trump's aim to bring manufacturing back to the United States, even as they do not rule out building factories in one of their key markets.
Foxconn chief Terry Gou said on Sunday his company was mulling a display-making plant in the United States in an investment to exceed US$7 billion, even as he warned of the rise of protectionism and a trend of politics underpinning economic development.
Foxconn, formally called Hon Hai Precision Industry Co, is the world's largest contract electronics maker and a major Apple Inc supplier.
Taiwan's monetary policy remains loose, but central bank chief Perng Fai-nan has argued for more structural changes in the economy overly reliant on external demand. Since September, the central bank has held policy rates steady after four successive cuts.
Taiwan President Tsai Ing-wen at the end of last year said the government would ensure an active fiscal policy by not ruling out additional spending on infrastructure to boost domestic demand.