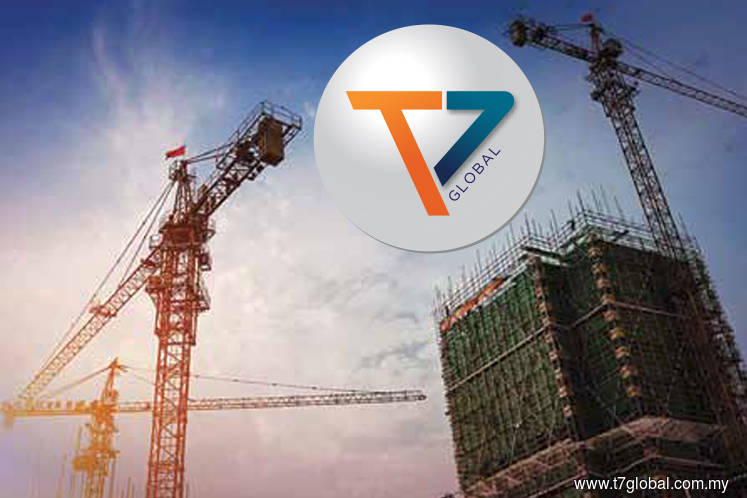 KUALA LUMPUR (Jan 12): T7 Global Bhd has formed a joint venture with a unit of China's largest construction and real estate conglomerate to bid for rail-related projects in Malaysia.
In a statement, T7 said the JV — named T7 China Construction Third Engineering Sdn Bhd (T7CCTE) — will also take up other infrastructure and construction projects in the country.
The JV is 51%-owned by T7's subsidiary T7 Kemuncak Sdn Bhd and 49% by China Construction Third Engineering (M) Sdn Bhd (CCTE Malaysia) — a unit of China Construction Third Engineering (M) Sdn Bhd, which is in turn a subsidiary of China State Construction Engineering Corp Ltd (CSCEC).
The tie-up is a follow up to a memorandum of understanding to bid for the East Coast Rail Line project — which was inked in October last year between T7 and another of CSCEC's Malaysian unit China State Construction Engineering (M) Sdn Bhd, alongside Malaysia's Eastern Pacific Industrial Corp Bhd and CMC Engineering Sdn Bhd.
Projects to be bid by T7CCTE include ECRL, MRT, LRT projects and other construction business in Malaysia, said T7.
"We feel honoured to collaborate with CCTE Malaysia, and believe this strategic alliance will bring T7 to a global scale, particularly in the infrastructure and construction business," said T7 executive deputy chairman Tan Sri Tan Kean Soon.
CSCEC is the largest construction and real estate conglomerate in China with extensive experience and expertise in buildings, design and engineering, industrial facilities and infrastructure projects.
"CSCEC ranks as No. 24 among the Fortune Global 500 companies and No. 1 among the Top 100 competitive companies in the Chinese construction industry," said T7.
"Listed on the Shanghai Stock Exchange with a market capitalisation of over 300 billion renminbi (RM191 billion), CSCEC is involved in the business of implementation and supervision of infrastructure works including railways, highways, bridges, harbours, refineries, dams and other related facilities for more than 50 years," it added.
The JV, said T7, is in line with the group's plans to explore businesses in areas with growth potential and will allow it to leverage on its partner's advantage as a construction industry leader.
T7, previously known as Tanjung Offshore Bhd, diversified into education, aerospace and construction in 2015. Its share price closed half a sen or 1.1% lower at 45 sen today, giving it a market capitalisation of RM188.75 million.