This article first appeared in The Edge Financial Daily, on December 6, 2018.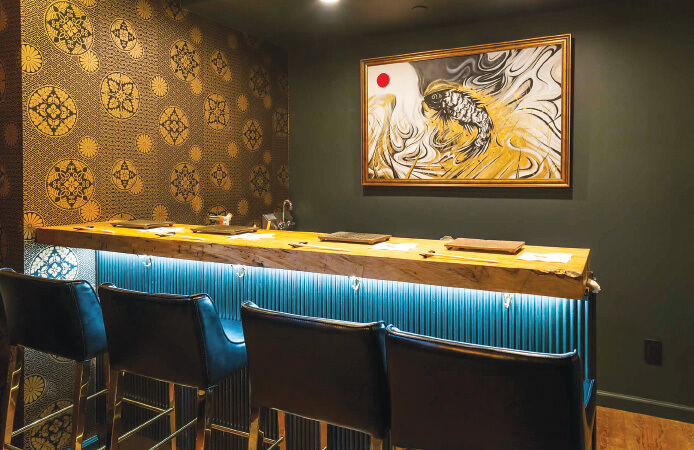 The omakase counter at Sushi by Bou inside Room 1001 at Hotel 3232. Photos by Bloomberg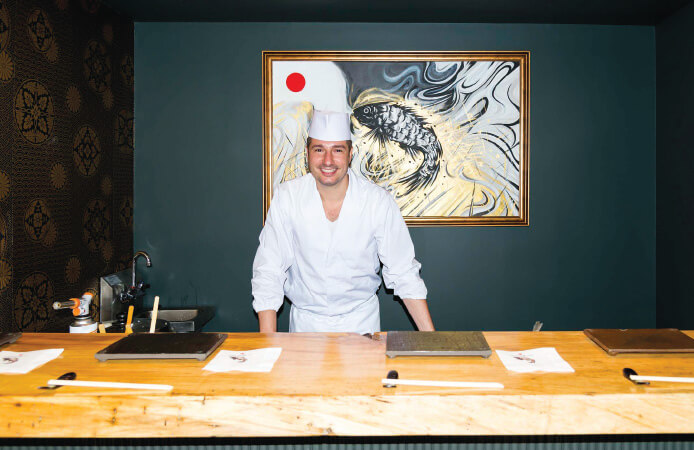 Sushi innovator Bouhadana.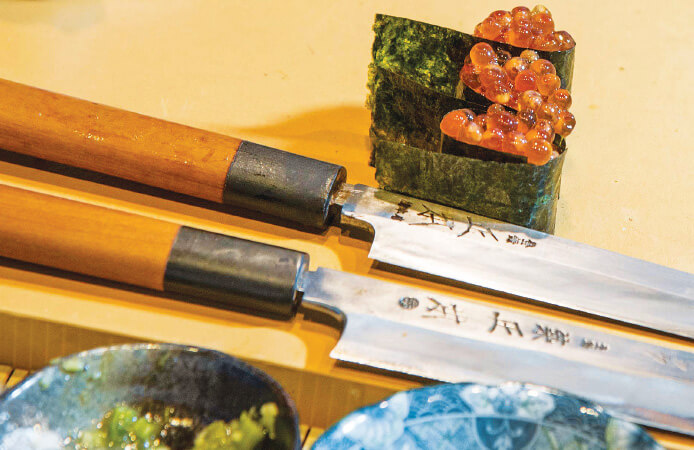 Ikura fish roe, ready for service.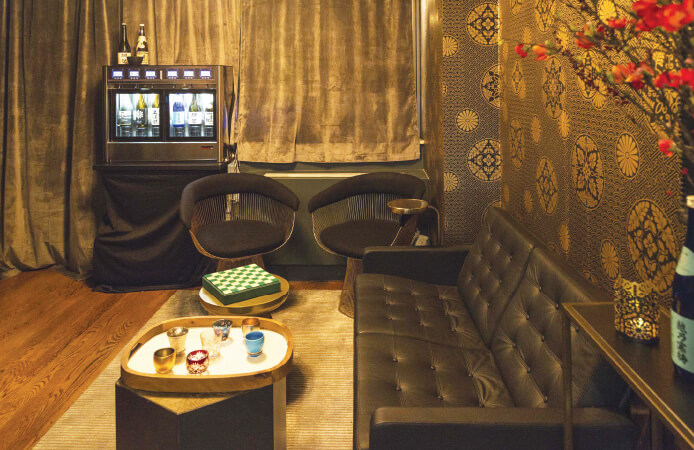 The sake dispenser is conveniently close to the lounge.
When you walk into the foyer of Hotel 3232 in Midtown Manhattan and give the desk attendant your name, that person will hand you a plastic keycard.
Take the elevator to the 10th floor, and it is not hard to find Room 1001: The 17-storey building has only three rooms per floor. Wave the keycard over the pad, and you will have arrived at New York's most innovative new sushi bar.
Sushi by Bou, which opens in January and started taking reservations on Monday, is set in a modest room. It is all of 150 sq ft — tiny even by New York City standards. Where there was once a queen bed, there is now a four-seat sushi counter. Behind the bar is David Bouhadana, co-creator of the quick-serve omakase counter Sushi by Bou.
The American trained-in-Japan chef specialises in radical sushi experiences: At his other two Sushi by Bou locations, including one in the Jue Lan Club, the experience lasts 30 minutes and costs US$50 (RM207.50). Inside the hotel room in East 32nd Street, the meal will take a relatively luxurious one hour and cost US$100, not including drinks or gratuities. Customers prepay for the meal along with drink options. There will be six seatings per night, seven nights a week.
"My business partner [Michael Sinensky] has a penchant for underutilised spaces," said Bouhadana as he spooned marinated salmon roe on top of a mound of nori-wrapped rice. "I want to put sushi everywhere it's never been."
The middle of the room has a small sofa and doubles as a compact lounge. "That's where the work desk and the US$10 hotel water was," Bouhadana pointed out. While the closet is now labelled as a coatroom, the bathroom is unchanged aside from the black barriers covering the shower.
A safe remains intact, too, "in case anyone needs to lock up valuables", he said. "Or cellphones." There's a 25-seat balcony for those who want a rooftop vibe before or after their meal.
But the transformation was not as simple as moving furniture. It took seven months for the restaurant to get a Certificate of Occupancy from the city.
Bouhadana offers 15 to 17 pieces that might start with madai (red snapper) brushed with house soy sauce and include glistening Alaskan spotted prawn. There is also a thick slice of Hokkaido scallop, sprinkled with lightly smoky charcoal salt.
Arctic char has a brush of green yuzu kosho sauce that delivers a slow burn. Among the best dishes are monkfish liver in a red wine braise that tastes like a warmly spiced pâté, as well as toro that is torched briefly so the fatty tuna melts in your mouth.
At a time when an omakase sushi meal in New York routinely starts at US$200, Bouhadana's parade of raw fish represents a good deal. The counter is a little more than six feet (1.83m) long — enough space that you can move your stool without disrupting anyone down the line.
But it is still tight quarters. Bouhadana broke down the real estate: "Sushi bars are designed like this: There are 18 inches (46cm) to 22 inches per seat at a noodle bar — you're not moving. A Michelin-star place gives diners 24 inches to 28 inches each. If you've got 30 inches at a counter, it's superfine dining."
Another unconventional feature of the coming Sushi by Bou is a sake-dispensing machine from Wine Emotion that features six bottles. Customers can prepay US$30 onto their keycard for a tasting, or make a game-time decision and pay at the restaurant.
There is also a US$50 beverage pairing designed by the restaurant's sake sommelier, Rick Zouad, that could include bottles such as Born Gold — the round, smooth sake served to former US president Barack Obama when he dined at Sukiyabashi Jiro in Tokyo. Also part of the tasting are Japanese accents on classic cocktails, like a powerful "Umegroni" that riffs on a Negroni with bitter melon-infused sake in place of Campari.
Sushi by Bou is not the only new space coming to Hotel 3232 in January. The cocktail makers at Death & Co will open a 30-seat bar, Lost Gaijin, and there will be an additional 10-seat counter called Handies by Bou, where Bouhadana will offer an array of hand rolls including wagyu and uni.
Bouhadana is no stranger to controversy. He was forced out of the acclaimed Sushi Dojo for not wearing gloves. Last year, a Sushi by Bou counter closed at Gansevoort Market not long after it was reported that Bouhadana sometimes used a fake Asian accent during service. (He called the allegations "completely false", and said he moved because the market never got a liquor licence, which was crucial to his business model.) But he is optimistic about his future. "I'm 32 years old," he said. "Jiro is 86. He didn't get his three Michelin stars until he was in his 70s." — Bloomberg