This article first appeared in The Edge Malaysia Weekly, on January 22, 2018 - January 28, 2018.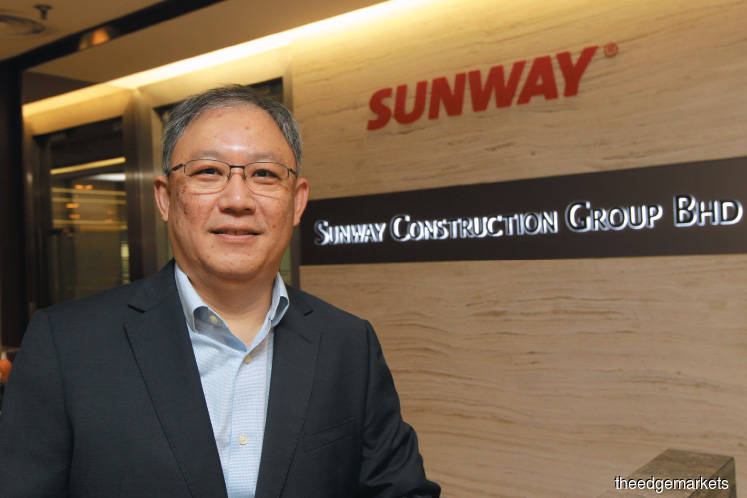 SUNWAY Construction Group Bhd's (SunCon) outstanding order book of RM6.785 billion — an all-time high — has not stopped the country's largest pure play builder from elevating its current capability as a turnkey contractor to project delivery partner (PDP).
According to managing director Chung Soo Kiong, the group is confident of securing its first PDP job in the highly anticipated Kuala Lumpur-Singapore high-speed rail (KL-SG HSR) project as it has enlisted IJM Corp Bhd as one of its joint-venture (JV) partners.
"If you ask me, I think the investors are very happy now because we have finally teamed up with IJM. Hopefully, this will be a strategic partnership, and we can give Gamuda Bhd and Malaysian Resources Corp Bhd (MRCB) a good run for their money," he tells The Edge in an exclusive interview.
To recap, MyHSR Corp Sdn Bhd, the project delivery vehicle for the KL-SG HSR of Malaysia, last November called for a tender to appoint the PDP for the civil works portion of the mega project.
So far, at least four locally listed construction giants — Gamuda, IJM, SunCon and MRCB — have expressed interest in the job. Gamuda, IJM and SunCon are the top three builders in Malaysia in terms of order book, turnover and profit before tax, although SunCon claims to be the largest pure play construction firm by revenue.
Gamuda is teaming up with MRCB in a 50:50 JV to bid for the lucrative HSR PDP job while SunCon has formed an equally owned consortium with IJM and two bumiputera privately owned entities, namely Jalinan Rejang Sdn Bhd and Maltimur Resources Sdn Bhd.
"Broadly speaking, the No 2 and 3 in town (IJM and SunCon) are trying to beat the No 1 (Gamuda)," says Chung, who has over 20 years of experience in the construction sector.
The deputy managing director of SunCon from 2013, the 51-year-old was promoted to his current position in November 2015.
Chung acknowledges that the KL-SG HSR is SunCon's second attempt at bidding for a PDP job. The group had previously bid for the role in the RM9 billion LRT3 project, only to lose to MRCB and George Kent (M) Bhd.
"We learnt our lesson. For LRT3, we submitted a tender individually and we lost to MRCB-George Kent. For the HSR, we have taken the JV route," says Chung.
The change in strategy makes good sense as SunCon's biggest rival, Gamuda — MRCB's partner in the KL-SG HSR — has a proven track record as the PDP for the completed MRT1 and continues to be so for the ongoing MRT2 in partnership with MMC Corp Bhd.
The KL-SG HSR is expected to be up and running by 2026. According to a study by the Institute of Southeast Asian Studies, a Singapore-based think tank, civil works such as tunnels and bridges for the project could cost some RM45 billion.
The PDP designs in detail the infrastructure works, including the station and alignment structures in Malaysia. It is also required to assist with interface management, land acquisition processes and stakeholder engagement activities. In return, it receives an estimated fee of RM2.5 billion to RM2.72 billion, which is 5.5% to 6% of the total project cost.
A two-horse race?
At the moment, says Chung, it is not publicly known whether there are more construction firms eyeing the lucrative PDP job. "The tender is still open. Until everyone has submitted, we won't know how many consortiums are there. Some private companies might want to go in standalone."
Asked about their chances of winning, Chung says SunCon-IJM has a 50:50 chance if it is in a two-horse race with Gamuda-MRCB.
"Definitely, we are confident. If we are not, there is no point in us going for it. A lot of time and money is being spent on this. We are really putting all our resources, working day and night on this project. You don't try, you don't know. If we try, we have a chance," he stresses.
It is worth noting that the PDP job for the KL-SG HSR is the fifth for large-scale projects in Malaysia.
For MRT1 and MRT2, the PDP is MMC-Gamuda; for LRT3, it is MRCB-George Kent; and for the Sarawak portion of the Pan Borneo Highway, it is Maltimur Resources-Jalinan Rejang.
The tender for the PDP job for the KL-SG HSR closes at the end of this month and the winner is likely to be announced by April.
"Analysts' confidence in us is very high, which is why our share price has been running up," says Chung.
SunCon's share price has risen about 48% in the past 12 months. It closed at RM2.52 last Wednesday, giving the company a market capitalisation of RM3.3 billion.
Since SunCon — the construction arm of conglomerate Sunway Bhd, which was founded by business tycoon Tan Sri Dr Jeffrey Cheah — was relisted on Bursa Malaysia in 2015, its share price has more than doubled from its initial public offering price of RM1.20.
"Tan Sri is very happy. Investors are very happy. We listed SunCon with a price-earnings ratio of 12.4 times. Today, our PER stands at 22 times," Chung remarks.
Being a fully integrated construction firm, SunCon always benchmarks itself against Gamuda and IJM, followed by WCT Holdings Bhd, he adds.
"Given the present valuation of some of our peers with a mixed portfolio and relatively good PER, we feel that our valuation has better potential in this present economic situation because we are a pure play construction firm and we are not exposed to other business risks, such as the property downturn, plantation volatility or risks in other sectors, compared with our peers," says Chung.
In the cumulative nine months ended Sept 30, 2017 (9MFY2017), SunCon posted a net profit of RM106.01 million, up 16% from the previous corresponding period, while revenue was 7% higher at RM1.33 billion. Contribution from the construction segment offset the decline in the pre-cast segment.
Moving forward, the group is not guided by any revenue or profit growth but its current outstanding order book of RM6.785 billion should keep it busy for the next three years, says Chung. Its tender book stood at about RM15 billion last year and this normally has a success rate of about 10% to 15%.
"We secured RM4 billion of new orders last year, one of our best years, of which RM2.1 billion is from the LRT3 Package GS07 and 08 award. This is our single largest award to date," Chung explains.
"Our biggest earnings for this year, apart from LRT3, should come from the Putrajaya Parcel F, which is set to be completed this year, and the MRT V201 package when it is operating at its peak."
Chung also reveals that SunCon, which has an international project track record in the UAE and India, is in the midst of finding the right JV partner to embark on potential jobs in the region.
"Even though we are blessed with an abundance of infrastructure work locally, SunCon has not stopped exploring possible regional expansion," he says.
Save by subscribing to us for your print and/or digital copy.
P/S: The Edge is also available on Apple's AppStore and Androids' Google Play.