This article first appeared in The Edge Financial Daily, on December 7, 2017.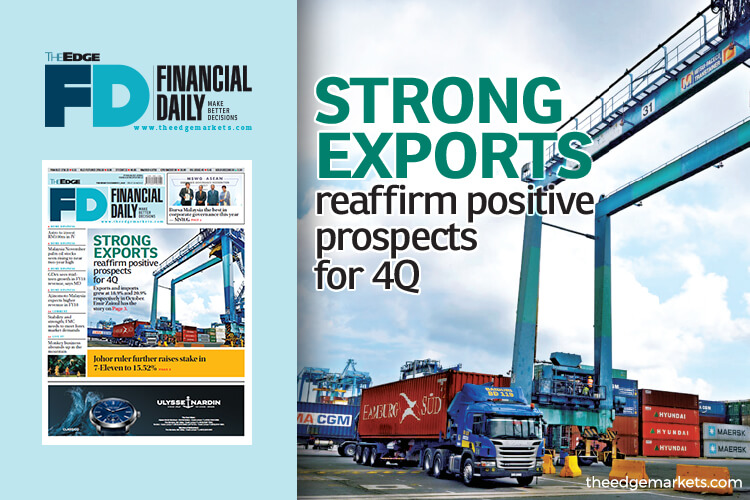 KUALA LUMPUR: The continued double-digit growth on exports in October,  and the Nikkei Malaysia Manufacturing Purchasing Managers' Index hitting a 43-month high in November, have reaffirmed a positive picture of the domestic economy in the fourth quarter (4Q).
Export growth in October came in at 18.9% year-on-year (y-o-y), beating the consensus estimate of 17.3%. The recovery of crude oil prices has been the strong tailwind for the export growth in October. The growth pace was faster compared with 14.8% in September but slower against 21.63% in August.
Exports of crude petroleum expanded 62.9% y-o-y in October, the fastest since April 2017, according to MIDF Research, thanks to rising global oil prices. The brent oil price has been on an upward trend, rising from around US$48 in June to US$63 (RM256) in November.
Based on the latest external trade statistics, Affin Hwang Investment Bank Bhd chief economist Alan Tan Chew Leong anticipates the country's annual gross domestic product (GDP) growth would exceed his forecast of 5.5% this year.
He pointed out that exports have been the locomotive for the nation's GDP growth this year. "The strong figures indicate our GDP growth is supported by exports, and will continue to be that way for the rest of the year," Tan told The Edge Financial Daily.
He opines the export growth may be contributed by stronger demand from Chinese manufacturers for intermediate inputs, meant for inventory rebuilding, in tandem with an  improved global economy.
The healthy growth in imports also indicated robust domestic demand.
"Import growth rose as well, to 20.9% y-o-y from 15.2% in September, near consensus expectations of 20% but below our 27.5% forecast. This was led mainly by imports of consumer goods, which surged 11.1% in October, while imports of core capital goods (excluding transportation equipment) also surged 23.9%, both of which indicated robust domestic demand," Nomura Global Market Research said in its review on the latest external trade figures.
Nomura forecasts a 5.7% GDP growth y-o-y in 4Q after a stellar 3Q growth of 6.2%, with Ramadan-related base effects fading and some disruptions from severe flooding in the key electronics manufacturing state of Penang. "This implies full-year 2017 GDP growth of 5.8%, and we continue to see upside risks to our 2018 forecast of 5%," it added.
Growth moderates in 2018
Tan has projected Malaysia's exports to continue growing in 2018, but at a moderating pace, due to the high base set in 2017. He expects private consumption and investments to be the stronger growth engine next year given the measures to boost domestic demand in Budget 2018.
For January to October, exports grew 21.1% y-o-y, mainly driven by healthy global demand which boosted export volumes and the recovery in commodity prices. However, CIMB Research said both tailwinds are expected to be more muffled in 2018.
Moreover, the ringgit has appreciated sharply in recent weeks. CIMB Research noted that strengthening in the exchange rate would translate into lower converted export revenues.
"Due to stronger-than-expected data outturn in recent months, we are tweaking our gross export growth forecast to 18.9% in 2017 (versus +15.3% previously and +1.2% in 2016), which would mark the highest annual growth rate since 2004. Against this high hurdle, we expect gross export growth to moderate in 2018 to 9.8%," CIMB Research added.