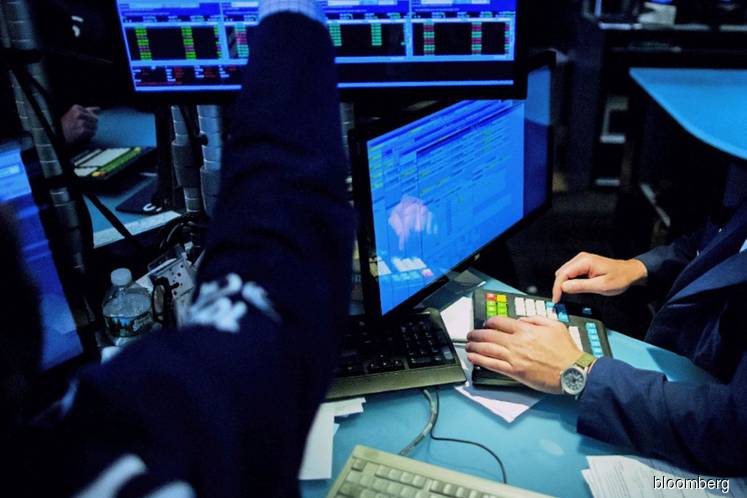 (Dec 6): U.S. stocks slumped, following European and Asian shares lower, as concern resurfaced that trade tensions between the world's two largest economies are far from resolved. Oil slid as OPEC ministers met in Vienna.
The Dow Jones Industrial Average sank more than 500 points, while S&P 500 resumed its slide after one of the biggest routs of the year. Trade tensions reignited after the arrest of the chief financial officer of tech giant Huawei Technologies Co — dousing hope China and the U.S. would make immediate progress on a deal. The yuan dropped the most since October. The start of the futures session was marred by a sudden and unexpected plunge that sent a shock wave across equity markets.
"The biggest qualm is the trade war escalating and this is haunting the markets," said Naeem Aslam, chief market analyst at Think Markets U.K. in London, in an email. "It is arduous to find bulls in the market and it seems to me that this game is about to become uglier."
Banking stocks were hit hard again, led by declines in Bank of America, JPMorgan and Citigroup Apple and Microsoft were among the biggest losers in the Nasdaq 100  The front end of the yield curve continued to lead Treasuries higher, helped by a large block trade in 2-year futures.
Whether or not it triggered the slide, Canada's arrest of the Huawei CFO and reports it may extradite her to the U.S. are a blow to already fragile sentiment, just days after an apparent breakthrough on trade between America and China.
"The arrest of the Huawei Technologies CFO gives no confidence that anything the administration came back with after Saturday night's dinner could possibly be positive," said Bob Iaccino, chief market strategist at Chicago-based Path Trading Partners, in an email. "This is a huge negative."
Elsewhere, Bank of Japan Governor Haruhiko Kuroda said economic risks from abroad could be severe, and the Federal Reserve's Beige Book report showed fading optimism over growth prospects at U.S. firms even as most districts continued to report a modest expansion. The pound strengthened as U.K. Prime Minister Theresa May searched for a compromise to avoid a crushing defeat on her Brexit deal in a key vote in Parliament next week.
Some of the key events investors will be focused on this week:
OPEC ministers meet in Vienna Thursday. Friday brings the U.S. monthly employment report for November. China November trade data are due on Saturday.
And here are the main moves in markets:
Stocks
The S&P 500 fell 187% as of 10:04 a.m. in New York, while the Dow Jones Industrial Average slumped 1.9% and the Nasdaq Composite Index eased 1.7%.
The Stoxx Europe 600 slumped 2.5%. The U.K.'s FTSE 100 fell 2.5%. Germany's DAX Index eased 2.8%. The MSCI Emerging Market Index slumped 2.4%. The MSCI Asia Pacific Index fell 1.7%.
Currencies
The Bloomberg Dollar Spot Index fell 0.2%. The euro rose 0.4% to US$1.1387. The British pound gained 0.3% to US$1.2771. The Japanese yen strengthened 0.7% to 112.44 per dollar.
Bonds
The yield on benchmark 10-year Treasuries fell five basis points to 2.87%. The three-year note yield dropped six basis points to 2.74% as the yield on the five-year note eased six basis points to 2.73%. Germany's 10-year yield fell four basis points to 0.24%.
Commodities
West Texas Intermediate crude slumped 2.7% to US$51.45 a barrel. Gold rose 0.4% to US$1,242.25 an ounce. LME copper fell 1.1% to US$6,105 per metric ton.