This article first appeared in The Edge Malaysia Weekly, on September 11, 2017 - September 17, 2017.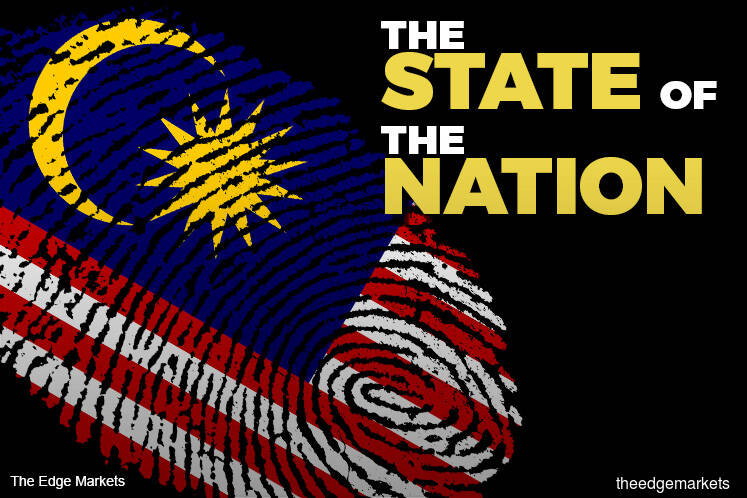 AFTER three tough years of slower economic growth and a new consumption tax burden, a slightly stronger ringgit has conjured up an air of optimism for "Mr & Mrs Malaysia".
That is partly why AC Tan, CLSA's head of research in Kuala Lumpur, is "very, very bullish" about Malaysia versus the region — at least for the coming six to eight months.
"I've been telling investors to buy Malaysia leading up to the elections as both the macro and the micro [factors] started to show good promise late last year. Earnings last year was an issue but we have seen an encouraging correction this year with 1H17 market earnings showing 11.4% year-on-year growth. Coupled with the ringgit's rebound, which has coincided with the recovery in the money system this year, Malaysia has rebounded quite nicely," says Tan, who expects the 14th general election (GE14) to take place by March next year.
"My expectation has [always] been first-quarter 2018. The street expected it to come early in 2017 because the opposition is alleged to be in a disarray but [repair is also needed in the incumbent], so the prime minister would, in our opinion, be induced to push it as late as possible but not too late as to ensure that the feel-good factor from the SEA Games and the budget does not wear thin," Tan tells The Edge, noting how large-scale infrastructure projects have been pushed forward to demonstrate that Malaysia is moving in the right direction.
The good news is that CLSA's latest Mr & Mrs Malaysia survey, which polled 2,555 Malaysian respondents in July, found them to be generally happier this year than in 2014. That's from the consumers' point of view, says Tan, who wrote in a report released this month that "Malaysians are moving ahead with their lives — or aspire to do so — with better economic expectations. This is despite the fact that they believe politics have turned for the worse, with lingering economic inertia."
"The results were overwhelmingly positive versus 2014's. In 2014, only 25% thought that the next year would see the financial position changing for the better but this year, 53% of the respondents were positive. So obviously, that's extremely encouraging.
"It is quite interesting that even the Chinese, who have in our past surveys been pessimistic, are getting quite positive as well," Tan says. Only 13% of Chinese and 14% of Indians thought they were financially worse off when looking back at the previous 12 months, compared with 42% and 48% respectively in the 2014 survey (see Chart 1).
The Malays were also less pessimistic in the latest survey (18%) compared with three years ago (28%), but the unhappy 18% is a larger group compared with the Chinese and Indians, according to CLSA's survey.
It is worth noting that Malaysia implemented the Goods and Services Tax (GST) on April 1, 2015.
And while most Malaysians seem optimistic about prospects in the coming year, some 18% (53% in 2014) of Chinese were still nervous about their financial position in the next year compared with 15% (37% in 2014) of Malays and 6% (60% in 2014) of Indians.
Despite the improvement in sentiment, a majority (64%) of the respondents felt that the current political situation has made the country worse off with only 8% saying the country is "better". In 2014, 58% said they were "less confident" while 24% said they were "more confident" (see Chart 2).
"Sentiments were surprisingly shared across ethnicities, where Malays were expected to be relatively more positive on the government compared to our 2014 survey," read the CLSA note, which showed 65% of Malays saying things were "worse" and only 9% saying things were better in 2017. In 2014, 51% were "less confident" while 36% were "more confident".
Some 64% of Chinese and 63% of Indians continue to reckon that the current political situation has affected the country's direction in 2017 compared with 73% and 70% respectively in 2014.
Another surprise finding was that 100% of Putrajaya respondents felt the political situation is a drag on the country's direction. (See infographic on Page 62).
Tan was quick to qualify that CLSA's survey should not be used to predict the outcome of GE14. "A sample of 2,555 people is, after all, a small subset of the country. While it gives you trends or some semblance of what to expect, respondents' opinions on political conditions turning for the worse do not necessarily mean that it is fully representative of the elections outcome," Tan says, noting that CLSA's survey attempted to mirror general population demographics but not election constituents.
Tellingly, the economy, rather than politics, is the prime concern for Malaysians, with the survey results showing that 53% of respondents chose "economy" versus 20% "politics", 14% "security" and 9% "social". (See Chart 3.)
 "An overwhelming majority said the economy was the biggest concern for them. So while people are genuinely looking at things and thinking it is past its worst, they are also being cautious, and this is understandable because the background is that it has been really a grim three years for the consumers," Tan says.
The survey results may be due to subsidy cuts suffered by consumers in the past three years, especially among the lower-income group (mainly ethnic bumiputera and Indian) who are also beneficiaries of the 1Malaysia People's Aid (BR1M). "This segment (15%) is relatively unconcerned with politics. Politics is the second-biggest concern and most pronounced among the higher-income earners, likely due to awareness of irregularities around the 1Malaysia Development Bhd state investment fund," CLSA notes.
"The takeaway from all of this is that the budget has to be friendly," adds Tan, who admits Malaysia's fiscal situation is "very tight".
"The government is assiduously seeking funds to pad up its [balance sheet] as the 3% budget deficit has to be met despite its fiscal largesse. One thing that Malaysia cannot afford is a bond rating downgrade because once that happens, the bullish scenario painted for Malaysia is tainted as a noteworthy portion of the government's revenues are allocated for interest servicing.
In a Sept 6 note on 2Q earnings, Tan told clients that second-quarter earnings recovery was affected by tax and operating cost pressures, although growth remained on track. Some 13 of 44 companies it checked had higher tax rates in the second quarter while 19 of 44 companies paid taxes below the 24% corporate tax bracket. Several companies have received retrospective tax bills.
He does not expect Bank Negara Malaysia to hike interest rates just yet: "Any expectations of an interest rate hike to [support] the ringgit does not hold water now due to the high household debt ... which essentially will prove to be unpopular moving into elections, at least for now. Inflation has eased and as long as that remains contained, there is little reason to increase rates for Malaysia, especially with the ringgit showing signs of appreciation from the softness in the US dollar."
An appreciating ringgit provides a feel-good window, at least for the time being.
"People are sort of looking at their wealth from a ringgit standpoint ... the ringgit is appreciating and that essentially means the consumers' economic conditions are getting a little better. But the truth is that the ringgit obviously is driven by many other factors; the strength of the US dollar has a huge part to play in it as well. Now you see the ringgit appreciating but a lot of it is not necessarily ringgit-related but more because of the fact that the investment community appears to be US dollar-bearish in the near term due to rate hike expectations, or the lack thereof. With that, however, people tend to be a bit more optimistic as can be seen by the business and consumer sentiment published by MIER.
"What's driving [the ringgit] right now is the weakness of the US dollar …  Fundamentally, the only thing that is going to drive it is if exports continue to rise in Malaysia. Global trade should be sustained the next few months. That would mean that Malaysia, being an export economy, should benefit. Whether or not the ringgit goes to 4 [versus the greenback by year-end] I don't know, but it is moving in that direction rather than the other way around and that vector alone is enough to improve business sentiments," Tan says.
Economists at CLSA are projecting a strong 5.3% GDP growth for Malaysia this year, up from 4.2% in 2016, 5% in 2015 and 4.7% in 2013, but below the 6% in 2014. For 2018, though, they are projecting slower growth of 4.7%.
According to Tan, the next story for Malaysia and its stock market will not be about earnings growth anymore. "It's more about whether or not the feel-good promises can be delivered. The reality is that finances are extremely tight. People look at China [putting] money into Malaysia as though the money is free, but it is not free. Malaysia will pay for it … It is off-balance sheet now but the debt and the financing of that debt is real and the last thing we want to do is not be able to meet that and for the Chinese to capitalise on that debt. At this point, the government is taking on too much debt for a project that does not pay for itself. It is not like a highway, it's a [service] project which doesn't generate direct cash in return."
For now, Tan reckons there is still money to be made in the local stock market.
"The easy money in Malaysia has been made so it's no longer cheap, nor was it ever cheap before, but people were not expecting earnings growth for Malaysia before and that has happened. We will probably see a bit more earnings growth in the second half [as inflation eases] but I think once the elections are announced, the risk reward of investing in Malaysia is not as good as what it is (so far) this year at least."
For now, CLSA continues to like the bank, transport, construction and glove sectors.
"The ringgit will be fairly stable … you'll see jobs [contracts] come through, FDIs leading investments and current account surplus being quite well buffered, so I would think that with all these gears in place, Malaysia has the necessary ingredients to demonstrate a good six to eight months' run."