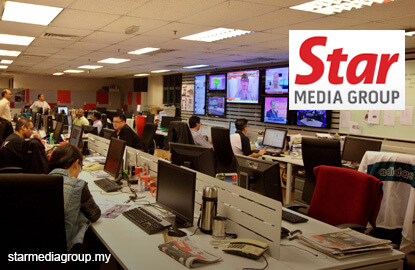 KUALA LUMPUR (Nov 8): Star Media Group Bhd has launched dimsum, its new online streaming platform offering subscription video-on-demand (VOD) via a mobile application and on the web.
dimsum is the first homegrown over-the-top content (OTT) offering exclusively Asian content.
OTT refers to film and television content provided via a high-speed Internet connection rather than a cable or satellite provider.
Star Media group managing director and CEO Datuk Seri Wong Chun Wai said dimsum will offer Asian content on a subscription VOD service from its curated library, sourced from all over the region.
"The content will mainly be drama series from Taiwan, Japan, China, Thailand, South Korea, Singapore and Malaysia," he said at the launch today, adding that these include award-winning documentaries, Japanese anime and children animation series.
dimsum offers genres ranging from animation, drama, entertainment to movies, news and many more.
Wong further said subscribers only pay RM15 a month, and dimsum allows up to five concurrent users.
"This translates to only 50 sen a day, or 10 sen per user per day. It's cheaper than a cup of coffee," he added.
Minister of Communications and Multimedia Datuk Seri Dr Salleh Said Keruak, who attended the launching ceremony, highlighted that one of the government's targets is the digital economy contributing about 20% to the gross domestic product by 2020.
"(My) ministry is ready to play a significant role in accelerating digital economy for the development of the nation's information and communications technology (ICT), particularly broadband, cloud computing, big data and the internet of things (IoT) were already driving the digitisation of all industries," he said.
Salleh also said Malaysia recorded an impressive growth in broadband penetration rate with over 30 million broadband subscriptions in 2015, an increase of 50% from 20 million in 2014.
"Recognising the importance of a strong infrastructure, RM1 billion (2017) has been allocated to improve the country's telecommunications networks," he said.