This article first appeared in The Edge Malaysia Weekly, on August 6, 2018 - August 12, 2018.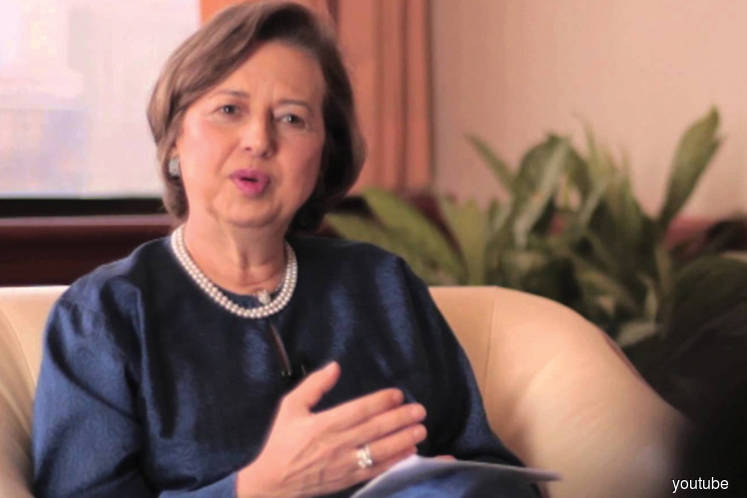 ANXIETY over Permodalan Nasional Bhd's (PNB) leadership eased after Tan Sri Dr Zeti Akhtar Aziz was officially named its chairman — its second in three years — effective July 1.
But because a cloud of uncertainty still hangs over the RM279.2 billion bumiputera fund manager, a big portion of the market is holding its breath.
The Edge understands that while the day-to-day running of the business is on autopilot, there are no clear signals yet on PNB's future direction, particularly on several major undertakings that are now stuck in limbo.
Former central banker Zeti has been preoccupied with the affairs of the Council of Eminent Persons, the 100-day life of which expires on Aug 19, barring extensions.
With stakes in most major listed Malaysian companies, PNB's presence amounted to 10.4% of Bursa Malaysia's total market capitalisation of RM1.91 trillion as at Dec 29, 2017, its annual report shows.
At a glance, the most obvious matter awaiting Zeti's attention is the fate of the six-year STRIVE-15 plan unveiled in 2016 by her predecessor, Tan Sri Abdul Wahid Omar.
The plan aims to increase PNB's assets under management value to RM350 billion by 2022 and its strategy revolves around improving total shareholder return, including via restructuring.
To date, PNB has broken up the Sime Darby conglomerate, injected I&P Group Bhd into S P Setia Bhd and demerged both the pharmaceutical unit of Chemical Company of Malaysia and the oil and gas business of UMW Holdings Bhd.
While the plan may continue largely as is, some pressing issues need Zeti's direction.
 
The skyscraper
First is the ongoing construction of Merdeka PNB118, a 630m tower — to be Southeast Asia's tallest — that is slated for completion by 2024. The tower was initially scheduled for completion by 2020 but there were several hiccups along the way.
Initially called Warisan Merdeka, the tower was renamed by the then prime minister Datuk Seri Najib Razak, who launched it in March 2016. It is seen as a physical legacy of the sixth prime minister who was ousted in the 14th general election in May this year.
On May 31, Abdul Wahid, who was PNB chairman at the time, said the project would be continued. However, it is not impossible to scale down the project if need be, people familiar with the situation say.
Market experts had said the upcoming tower, alongside other major projects, would worsen the oversupply of commercial space in Kuala Lumpur.
When asked to comment on the issue in August last year, PNB's response was that the focus should turn towards promoting Malaysia to investors to spur demand.
Note that Bank Negara Malaysia had been keeping tabs on the office space segment for a while, including during Zeti's time at its helm.
To be fair, most of the tower is slated for self-occupancy. PNB and its companies will occupy 60 floors while another 20 floors are earmarked for a hotel, leaving 20% of available space for commercial leasing.
That said, it is unclear what PNB's plans are for its existing properties, including the iconic Menara PNB in Jalan Tun Razak after a mass migration to Menara PNB118.
 
The big cash purchase
The second issue awaiting Zeti's decision is the intended cash purchase by PNB and the Employees Provident Fund (EPF) of commercial assets in Phase 2 of the Battersea Power Station redevelopment in London.
Recall that on Jan 18, PNB and the EPF signed a heads of agreement to explore a potential purchase worth £1.61 billion (RM8.8 billion) in Phase 2.
It is worth noting that the commercial assets in question were not yet completed at the time.
The redevelopment is undertaken by Battersea Project Holding Co Ltd, a joint venture in which Sime Darby Property Bhd and S P Setia hold a 40% stake each while the EPF has 20%. Sime Darby Property and S P Setia are PNB investee companies.
The consortium had bought the iconic brick structure in London in July 2012 for £400 million. The 15-year multi-phase redevelopment with a gross development value of £8 billion was launched a year later, in the presence of Najib, his then UK counterpart David Cameron and the then London mayor Boris Johnson.
The proposed Phase 2 asset-buy immediately attracted criticism and questions. London-based website Sarawak Report claimed in a Jan 19 posting that the parties were pressured by the Malaysian government to acquire the asset amid a ballooning project cost.
Local newspaper the London Evening Standard reported that the project cost had doubled from an earlier estimate of £750 million, and that the projected profit return had been slashed to 8.2% from 20%.
In a late evening response on the same day, PNB maintained that the proposed asset-buy was commercially driven, and was not a bailout. Moreover, it stressed the deal was subject to due diligence as the exclusivity period was up to April 30.
But the deal seems to be stuck pending fresh direction as the April 30 deadline has come and gone, as has a second one on June 29.
Last week, S P Setia announced that the exclusivity period had been extended to Sept 30 — interestingly, the announcement on July 31 came exactly a month after the second deadline had passed.
Another major issue awaiting Zeti is UMW Holdings' pursuit of a controlling stake in Perusahaan Otomobil Kedua Sdn Bhd (Perodua).
In March this year, UMW Holdings launched a RM501 million offer for Med-Bumikar Mara Sdn Bhd's entire 50.07% stake in listed automotive group MBM Resources Bhd (MBMR).
The prize was MBMR's 22.58% stake in Perodua. Gaining majority control of Med-Bumikar means gaining effective majority control of Perodua as UMW already has 38% equity interest in the second national carmaker.
Perodua is a lucrative target as almost four out of every passenger car sold in Malaysia last year came from its stable.
However, the offer sparked an internal shareholder tussle within Med-Bumikar. A faction led by Pelaburan MARA Bhd with 52.06% shareholding favoured accepting the offer but was outnumbered three to four on the board.
The minority shareholders, who own 47.94% collectively, felt the offer grossly undervalued MBMR and the Perodua stake. Under their control, the Med-Bumikar board rejected UMW's offer outright. This led to a court battle for control of the board, which the MARA side eventually won on July 10.
The High Court ruled as invalid two additional board appointments made by the minority shareholders and upheld two appointments made by the MARA-led faction. This tilted control of the board in the latter's favour by five to four.
However, the UMW offer has not been raised in Med-Bumikar's two board meetings since the July 10 court ruling, sources say, despite the MARA-led faction now being in effective control.
This raises the question as to whether MARA still intends to pursue the UMW offer, which remains valid until Oct 31 after an unusual six-month extension in April to allow more time for the shareholder tussle to be resolved.
It is also worth noting that Pelaburan MARA CEO Datuk Nazim Rahman, who led the effort to sell the MBMR stake to UMW, resigned in July. His notice period ends in late October.
Thus far, the Pakatan Harapan government has been silent on Majlis Amanah Rakyat, the parent agency of Pelaburan MARA. Speculation is widespread that the agency may be moved from the Ministry of Rural Development to another ministry, adding to the uncertainty.
However, UMW's pursuit of Perodua requires clear direction from its majority shareholder PNB as the proposed deal hinges on its financial support.
UMW plans to raise as much as RM1.1 billion via a rights issue to fund its proposed takeover of MBMR if the offer is accepted. The conglomerate also intends to acquire the 10% of Perodua that is held directly by PNB.
As Zeti ponders the Perodua conundrum, she will also have to consider the vehement objections of Daihatsu Motor Corp, Perodua's decades-long Japanese technological partner.
In May, Daihatsu threatened to walk away from the partnership if UMW persisted with its takeover bid (see The Edge, Issue 1219, June 18). As this came on the heels of a similar warning in March, it underscores Daihatsu's dissatisfaction with UMW's subsequent explanation.
Save by subscribing to us for your print and/or digital copy.
P/S: The Edge is also available on Apple's AppStore and Androids' Google Play.