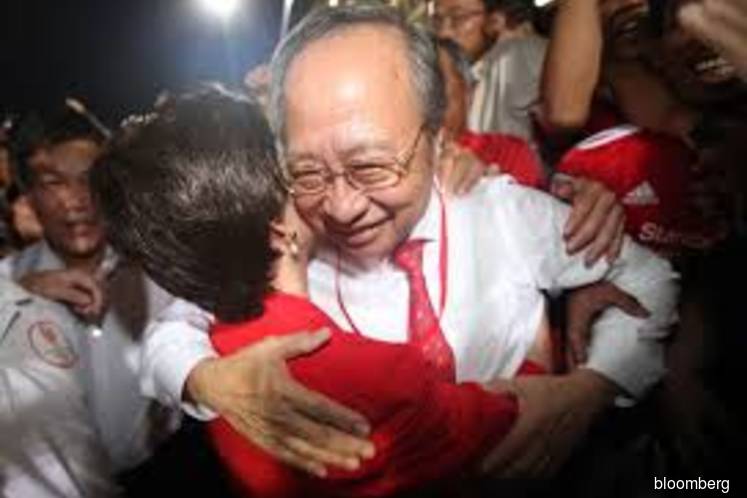 SINGAPORE (Jan 18): Former members of Singapore's ruling party are banding together to form a new opposition group as general elections loom, presenting a new challenge to Prime Minister Lee Hsien Loong's government as it prepares for leadership succession.
Tan Cheng Bock, who vied to be the president eight years ago, is leading a group of 12 Singaporeans who registered this week to form the Progress Singapore Party, he said in a statement on Friday. While deciding against joining existing parties, he said they are open to working with other opposition groups in parliament if the application is approved.
"We held group discussions and conversations with many, listening to their concerns, hearing their fears and feeling their pain," said Tan, 78. "We felt a sense of duty to come forward and help address the issues in a more formal setting like Parliament."
Elections must be held by 2021, and Lee has said going to the ballot boxes this year is "always possible" as the country celebrates the 200th year of its modern founding. The ruling People's Action Party, or PAP, in November picked Finance Minister Heng Swee Keat as Lee's de facto successor, kicking off Singapore's third leadership transition in its 53-year history.
'Fragmented' Opposition
In 2011, Tan lost the race to be the city-state's president to former deputy prime minster, Tony Tan, by a margin of about 0.3%. He wasn't eligible to run in 2017, after the government changed the presidential election process to ensure the largely ceremonial role isn't dominated by the majority Chinese group.
"The key thing is to watch for how the other opposition political parties respond to this development and what it means for political development in Singapore," said Gillian Koh, deputy director of research at the Institute of Policy Studies in Singapore. "The opposition space is highly fragmented."
In 2015, the PAP boosted its share of the popular vote to 69.9% and took 83 out of 89 parliamentary seats in an election, where it had faced competition in every district for the first time.
Tan's experience in PAP could help him "build up his base rather quickly, as long as he does not have too many controversial characters in his founding circle," Koh said.