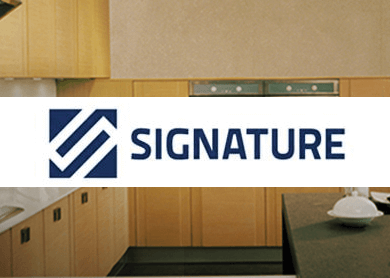 Signature International Bhd
(June 15, RM2.60)
Maintain buy with a target price (TP) of RM3.65: Last week, we organised a visit to Signature International with five institutional clients.
Greeted by the group managing director Tan Kee Choong, and project director Mohd Anwar, they briefed us on what to expect during a plant tour and visit to Signature Lifestyle Gallery. Key takeaways from our recent meeting with management include: (i) The weak earnings trend in 2012 and 2013 is unlikely to repeat in the future, despite the current slow property market; (ii) Strong pipeline of orders from developers and (iii) Hint to pay regular interim dividend in the future, if cash flow is warranted.
The weak earnings trend in 2012 and 2013 is unlikely to repeat in the future, despite the current slow property market. Considering the two to three years lag effect in sales of kitchen systems when a property development cycle begins, the weak earnings trend in financial year 2012 and 2013 (FY12 and FY13), which saw earnings contract by 44% and 37% respectively, is a clear reflection of the sluggish property demand from 2008 to 2010.
However, management believes that this drastic drop in earnings is unlikely to happen in future years, despite the current weak property market in Malaysia. This is due to the favourable change in property mix in recent years in terms of housing supply.
According to the National Property Information Centre, housing supply in Malaysia has tilted toward the upmarket segment in recent years, with property transactions priced between RM500,000 and RM1 million per unit and above RM1 million per unit segments from 2007 to 2014 growing at a compound annual growth rate of 22%. This positive change in housing supply mix, coupled with the increase in incoming supply, would bode well for any company selling lifestyle products, including Signature.
Signature has an order book of RM153 million, which represents 62% of our estimated project revenue for FY16. However, the management is confident of reaping some of the new projects in Malaysia, which were put out on tender. According to management, there are approximately RM200 million kitchen projects to be dished out over the next three to six months. 
Signature had turned into a net cash position as at March, with limited capital expenditure requirements in FY15 and FY16. As such, the company declared its first-ever interim dividend for the third quarter of FY15 (3QFY15), in conjunction with the release of 3QFY15 earnings.
According to management, the company will maintain this regular dividend payment in the future if cash flow is warranted. The company has a long investment list of properties, which will be disposed of eventually to reap disposal gains. We estimate that the book value for the sale of investment properties is RM22 million, which is equivalent to 18 sen/share.
No change to our FY15 to FY18 earnings projections. However, we raise our FY15 to FY18 dividend assumptions higher to 11 sen to 12 sen/share (from 9 sen to 11sen/share previously), based on the revised dividend payout ratio of 33% to 37%.
We maintain Signature's TP at RM3.65/share based on unchanged 10x FY16 earnings per share. We reiterate our "buy" recommendation given the favourable change in the property trend, which bodes well for Signature's future earnings. — TA Research, June 15.
This article first appeared in The Edge Financial Daily, on June 16, 2015.