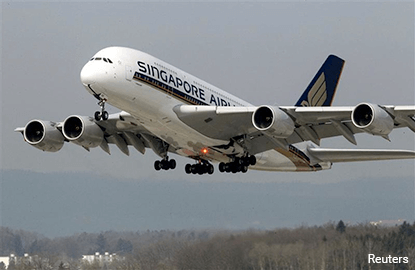 SINGAPORE (Oct 17): SIA Group's passenger carriage (measured in revenue passenger kilometres) edged up by 0.1% y-o-y overall in September, against growth in capacity (measured in available seat kilometres) of 3.1%.
Consequently, passenger load factor (PLF) fell 2.3 percentage points to 77.9%.
Singapore Airlines' PLF fell 2.1 percentage points to 78.7%, as passenger carriage fell 4.2% y-o-y against a 1.7% decrease in capacity.
In a filing to SGX, SIA said "the competitive landscape remains challenging and promotional activities will continue in relevant markets".
"PLF remained flat for East Asia, but declined for all other regions due to weaker passenger demand," it added.
Tigerair's systemwide passenger carriage fell 3.3% y-o-y, compared with a 0.1% increase in capacity. Consequently, PLF decreased by 2.7 percentage points to 79.0%.
The declines were offset by improvements in the performance of SilkAir and Scoot.
SilkAir's systemwide passenger carriage rose 8.9% y-o-y, compared to a 10.5% growth in capacity. Consequently, PLF declined by 1.0 percentage point to 65.7%.
Scoot's systemwide passenger carriage increased by 51.0% y-o-y, against growth in capacity of 60.4%, as Scoot increased its number of aircraft from seven to twelve. Consequently, PLF decreased by 4.9 percentage points to 78.6%.
Cargo load factor (CLF) was 0.5 percentage points lower as cargo traffic (measured in freight-tonnes-kilometres) grew 4.4% against capacity expansion of 5.2%.
SIA said South West Pacific and West Asia and Africa route regions registered declines in CLF, as demand did not keep pace with capacity changes.
Singapore Airlines' shares closed 0.1% higher at S$10.24 on Monday.