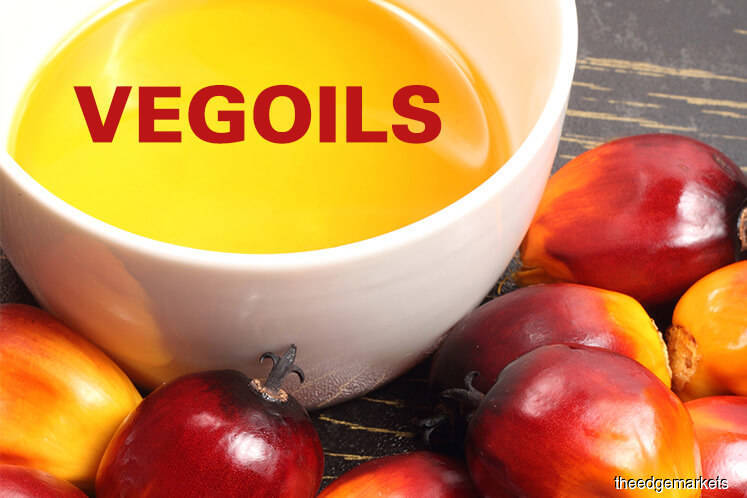 KUALA LUMPUR (Aug 16): Malaysian palm oil futures reversed early losses to end higher on Thursday due to short covering, though traders said market sentiment was still bearish n trade and currency concerns.  
The benchmark palm oil contract for November delivery on the Bursa Malaysia Derivatives Exchange was up 0.3% t 2,222 ringgit (US$542) a tonne at the end of the trading day.
Trading volumes totalled 45,547 lots of 25 tonnes.
"We're seeing some short covering, though the market is still bearish on trade concerns," said a Kuala Lumpur-based trader, referring to the ongoing U.S.-China trade dispute, adding though that China seeking negotiations with the U.S. could ease jitters.
China said on Thursday that it would hold a fresh round of trade talks with the United States in Washington later this month, offering hope for progress in resolving a conflict that has set world markets on edge.
Traders, however, are still concerned that palm oil exports will be affected by sliding emerging market currencies, as reduced purchasing power cuts into imports into countries like Turkey and India.
Malaysia's palm oil shipments in the first half of August fell from a month earlier, cargo surveyor data showed.
Inspection company AmSpec Agri Malaysia reported a 14.6% decline and Societe Generale de Surveillance an 11.1% fall.
In other related oils, the Chicago December soybean oil contract rose 0.6%, while the January soybean oil contract on China's Dalian Commodity Exchange fell 0.8%. 
The Dalian January palm oil contract slipped 0.9%.
Palm oil prices are affected by movements of other edible oils, as they compete for a share in the global vegetable oils market.
                
 Palm, soy and crude oil prices at 1054 GMT
| | | | | | | |
| --- | --- | --- | --- | --- | --- | --- |
| Contract | Month | Last | Change | Low | High | Volume |
| MY PALM OIL | SEP8 | 2191 | +11.00 | 2167 | 2193 | 1072 |
| MY PALM OIL | OCT8 | 2204 | +8.00 | 2181 | 2207 | 9927 |
| MY PALM OIL | NOV8 | 2222 | +6.00 | 2201 | 2227 | 19051 |
| CHINA PALM OLEIN | JAN9 | 4868 | -42.00 | 4800 | 4898 | 341528 |
| CHINA SOYOIL | JAN9 | 5834 | -46.00 | 5778 | 5878 | 454906 |
| CBOT SOY OIL | DEC8 | 28.38 | +0.18 | 28.1 | 28.4 | 7938 |
| INDIA PALM OIL | AUG8 | 596.60 | +0.70 | 593.00 | 597.4 | 333 |
| INDIA SOYOIL | AUG8 | 735.9 | +3.65 | 730.4 | 736 | 3220 |
| NYMEX CRUDE | SEP8 | 64.99 | -0.02 | 64.43 | 65.25 | 88394 |
  
Palm oil prices in Malaysian ringgit per tonne
CBOT soy oil in U.S. cents per pound
Dalian soy oil and RBD palm olein in Chinese yuan per tonne
India soy oil in Indian rupee per 10 kg
Crude in U.S. dollars per barrel
 
(US$1 = 4.1030 ringgit)
(US$1 = 70.2875 Indian rupees)
(US$1 = 6.8982 Chinese yuan)