This article first appeared in The Edge Malaysia Weekly, on August 6, 2018 - August 12, 2018.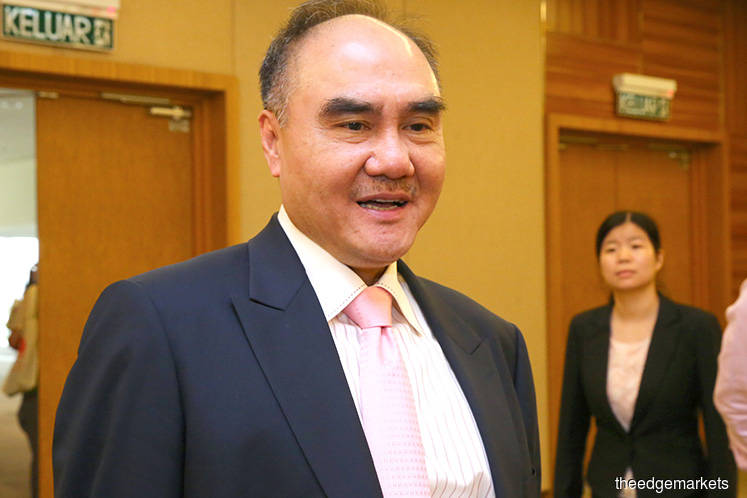 WHEN steel and mining magnate Tan Sri David Law Tien Seng bought into Australian iron ore miner Midwest Corp Ltd in 2003, his intention was to secure supplies of raw material for his steel-milling business.
He did not expect, five years later, that Midwest would become a takeover target of two international mining giants, namely Australia-based Murchison Metals Ltd and China's Sinosteel group.
In 2008, at the peak of the commodity boom, Law sold his stake in the Australian mine, earning him a whopping profit of A$200 million.
However, fate brought him back to Australia, says the media-shy Law. In 2014, he invested in Tungsten Mining NL (TGN) — an Australian-listed firm whose primary focus is exploring and developing tungsten mines.
"We left Midwest in 2008 but we still had a team in Australia. They identified an opportunity in Mt Mulgine, which is just a stone's throw away from Midwest, so, we went back in 2014. I would like to think this is something that is destined to happen," he tells The Edge in a rare interview.
Tungsten is a rare metal used mainly in weaponry, heavy industries and aerospace. It can be found in a wide range of products — from the vibrating parts of mobile phones, rear view mirrors, turbine blades, dental drills and golf shoe spikes, to the nose and fuselage of rockets.
Global tungsten production is about 100,000 metric tons (mt) a year, and about 80% is mined and produced in China.
TGN currently has three advanced tungsten projects in Australia — Mt Mulgine in the Murchison region, Big Hill in Pilbara and Kilba in Ashburton — all in Western Australia. Recently, it also acquired the Watershed Project in Queensland for A$15 million.
 
'We are lucky'
TGN's tungsten mines are mostly near the surface, and the cost of production should be lower because extracting the metal will be easier, Law points out.
"We are really lucky because the previous owners of the mines spent a lot of money on exploration in the early stages, but they couldn't sustain it. So, we saw the opportunity to go in."
When Law first invested in TGN, its market capitalisation was about A$15 million and the price of tungsten was as low as US$165 per metric ton unit (mtu). The price of the metal has since doubled to US$350 per mtu and TGN's market cap has soared to about A$350 million (RM1.1 billion).
Similarly, when Law bought into Midwest, its market capitalisation was only A$11 million. When he sold his stake to China's Sinosteel in 2008, the company was valued at a whopping A$1.4 billion.
It is said that lightning never strikes the same place twice, but can Law make another killing in Australia?
"I have a feeling that TGN's story will be even better [than Midwest's]. Today, our reserves are about 176 million mt. It is sufficient to supply about 30 years' worth of tungsten to the market," Law says confidently.
"We are probably the largest tungsten mining company in the world, ex-China. We have better bargaining power."
He reckons he is the only Malaysian who owns a tungsten mining company. According to Bloomberg, Law has a 9.38% direct stake in TGN, while his investment vehicle, Wynnes Investment Holding Ltd, holds 6.18%.
TGN's single-largest shareholder is Australia-listed GWR Group Ltd, which holds a 9.61% stake. Law's Wynnes Investment owns 11.33% of GWR Group, an iron ore and gold mining operator.
While Law does not plan to exit at the moment, he says "everything has a price".
"I don't plan to exit TGN so soon unless the price is really good. Then, I might let go. But I think the company will be more valuable when we have a downstream business."
 
Expanding downstream
Law says TGN intends to undertake downstream activities, which are relatively niche, to value add to its production.
"After all, I am a Malaysian. I hope to create job opportunities here. If we diversify downstream, we might be able to supply tungsten directly to the end-user. Logistically, it makes sense because Malaysia is not too far away from Australia."
While all of TGN's four mines are ready for production, there are currently no development plans for the Big Hill and Kilba projects. TGN is focusing only on mining tungsten from Mt Mulgine and Watershed. Mining in Mt Mulgine is scheduled to commence in 1Q2019, but a date has not been fixed for Watershed.
Law says TGN has allocated a capital expenditure of A$30 million for phase one of Mt Mulgine to produce 1,000 mt a year. The long-term target is to gradually increase production to 10,000 mt a year.
"Imagine the scale. Global consumption is 100,000 mt a year. If we can sell 10,000 mt, that's 10% of global market share," he remarks.
 
Save by subscribing to us for your print and/or digital copy.
P/S: The Edge is also available on Apple's AppStore and Androids' Google Play.