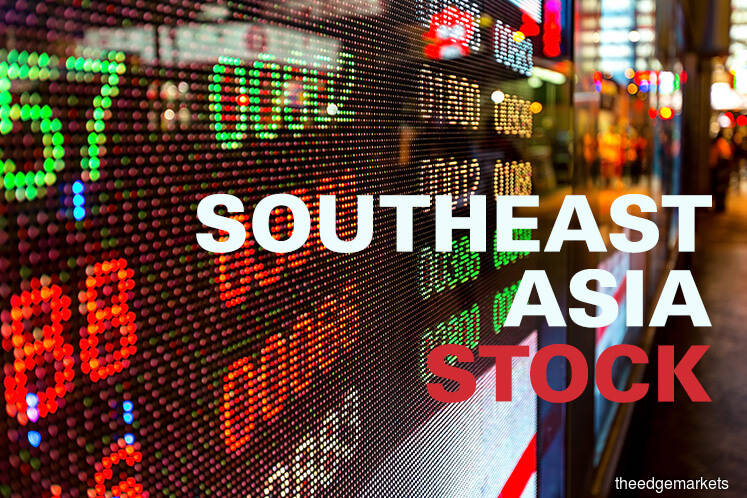 (Aug 24): Southeast Asian stock markets fell on Friday, tracking global peers, as a festering trade dispute between the US and China escalated after the two countries imposed tariffs on US$16 billion worth of each other's goods.
Two days of talks between American and Chinese officials in Washington ended inconclusively on Thursday with no major breakthrough.
Investors are also keeping an eye on the meeting of US central bankers in Jackson Hole, Wyoming, where Federal Reserve Chair Jerome Powell will speak later in the day. His speech will be watched for clues on monetary policy after minutes from the most recent meeting indicated that the Fed would raise interest rates soon.
Asian shares ex-Japan were trading 0.4% lower on Friday.
Singapore shares fell as much as 1%, dragged down by financials and telecommunications. Lender DBS Group Holdings fell as much as 1.4%, while Singapore Telecommunications shed 2.4%.
Data on the city-state's July manufacturing output is due later in the day. A Reuters poll saw output falling 1.3% from the last month.
Heavyweights SM Prime Holdings and Bank of the Philippine Islands fell over 2% each, dragging down the Philippine index.
Markets in Malaysia and Indonesia were down over half-a-percent each.
Public Bank and Hong Leong Financial Group weighed heavily on the Malaysian index, falling as much as 2.5 pct each. Star Pacific Tbk PT was the biggest drag on the Indonesian index, diving over 32%.
Vietnam shares were down 0.2%. The index is, however, set for a sixth straight week of gains.
Thai shares were marginally lower.
SOUTHEAST ASIAN STOCK MARKETS
Change on the day
| | | | |
| --- | --- | --- | --- |
| Market | Current | Previous close | % move |
| Singapore | 3229.77 | 3249.89 | -0.62 |
| Bangkok | 1698.54 | 1704.8 | -0.37 |
| Manila | 7750.35 | 7804.03 | -0.69 |
| Jakarta | 5961.06 | 5982.985 | -0.37 |
| Kuala Lumpur | 1800.93 | 1810.87 | -0.55 |
| Ho Chi Minh | 987.13 | 987.36 | -0.02 |
Change on year
| | | | |
| --- | --- | --- | --- |
| Market | Current | End 2017 | % move |
| Singapore | 3229.77 | 3402.92 | -5.09 |
| Bangkok | 1698.54 | 1753.71 | -3.15 |
| Manila | 7750.35 | 8558.42 | -9.44 |
| Jakarta | 5961.06 | 6355.654 | -6.21 |
| Kuala Lumpur | 1800.93 | 1796.81 | 0.23 |
| Ho Chi Minh | 987.13 | 984.24 | 0.29 |