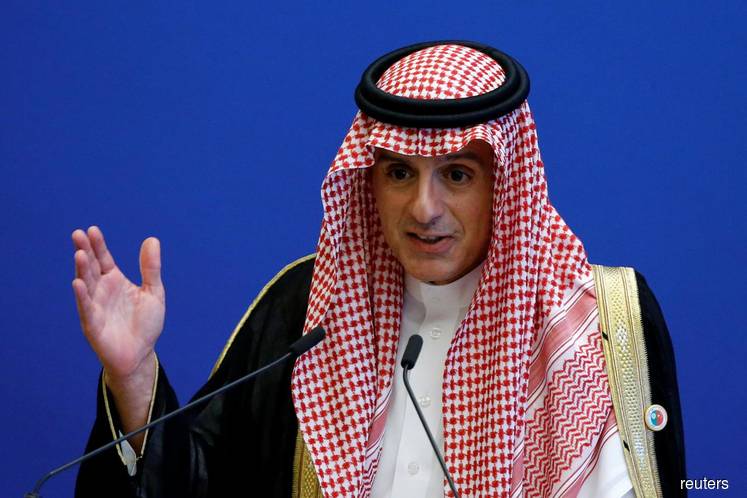 PUTRAJAYA (Oct 26): Saudi Foreign Minister Adel Ahmed Al-Jubeir said the RM2.6 billion donation allegedly received by former Prime Minister Datuk Seri Najib Tun Razak has nothing to do with the Saudi Arabian government.
Foreign Minister Datuk Saifuddin Abdullah was told this during Adel's visit to Wisma Putra here today.
In a meeting which addressed the issue of 1Malaysia Development Bhd (1MDB) and the RM2.6 billion 'donation', Saifuddin said: "He (Adel) stated that the (donation of RM2.6 billion) has nothing to do with the Saudi government."
According to him, when they met at the 73rd United Nations General Assembly in New York last month, Adel told him that the Saudi government would cooperate in the 1MDB investigation and had nothing to do with the RM2.6 billion donation.
"Today he repeated that it has nothing to do with Saudi Arabia," he told reporters after attending Adel's courtesy call on Prime Minister Tun Dr Mahathir Mohamad at Perdana Putra here.
In 2016 while attending the 13th Organisation of Islamic Cooperation (OIC) Summit in Istanbul, Turkey, Adel was reported as saying the donation to Najib came from Saudi Arabia.
"We are aware of the donation and it is really a donation expecting nothing in return. We are also aware that the Attorney-General of Malaysia has conducted a thorough investigation into the matter and found no misconduct.
"So, as far as we know, the issue is closed," Adel reportedly said in 2016.
In January that year, Attorney-General Tan Sri Mohamed Apandi Ali cleared Najib of any wrongdoing in connection with investigations into SRC International Sdn Bhd and the RM2.6 billion fund allegedly deposited into the personal accounts of the Prime Minister.
Meanwhile, Saifuddin said during their meeting, he also informed of the Cabinet decision that Malaysia would withdraw from the Saudi-led coalition against Yemen.
"At the moment all our soldiers are back home and we are no longer involved," he said.
On the King Salman Centre for International Peace (KSCIP), Saifuddin said the matter was also discussed.
"The idea has not been implemented and we will not proceed with it,"  he said.
On the joint venture between Petronas and Saudi Arabian Oil Company (Saudi Aramco), Saifuddin said the two companies wanted cooperation between them to be enhanced.
"Most importantly, the volume of trade between the two countries will be increased," he said adding that relationship between the two countries was still strong.