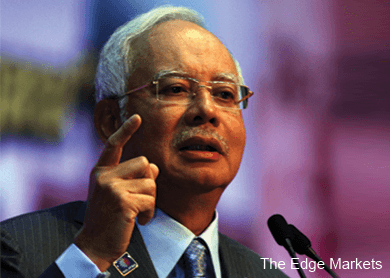 KUALA LUMPUR (Apr 3): A Sarawak Barisan Nasional leader has defended Prime Minister Datuk Seri Najib Razak against Tun Dr Mahathir Mohamad's attack, saying as far as the state is concerned, Najib "will win big in Sarawak comes GE (general election) 2018".
Tan Sri James Masing, the president of the largest Dayak party, Parti Rakyat Sarawak (PRS), said this was because Najib had been taking care of BN voters, referring to the support of Sarawakians and Sabahans.
The state's land development minister also rubbished Dr Mahathir's claim that the people in Sarawak no longer trusted Najib.
Dr Mahathir, Malaysia's longest serving prime minister, yesterday launched his harshest criticism against Najib in his popular blog chedet.cc, predicting BN would lose the next elections if Najib remained in power.
Masing disagreed with the view, saying Najib, unlike the five prime ministers before him, including Dr Mahathir, was not peninsula-centric in his policies and had shown more concern for the people of Sarawak and Sabah, particularly those living in the rural areas.
"Of the five prime ministers since 1963, Najib is the only one who really cares for Sarawak and Sabah's wellbeing.
"He recognised September 16, a date dear to the people of Sarawak and Sabah as Malaysia Day, 50 years after independence.
"He allocated funds for construction of the Pan Borneo (Highway), while the other four past prime ministers, including Tun Dr Mahathir couldn't care less."
Masing said under the past PMs, "highways in Malaya were built from north to south, east to west and everywhere".
Also, he added multi-billion ringgit mega-projects such as the Petronas Twin Towers, the two Penang bridges and the failed "crooked bridge" were all built in the peninsula.
He said as a result of the past prime ministers' blinkered look at Malaysia, "rural areas of Sarawak and Sabah were ignored".
"Najib took time to visit and allocate funds to develop rural Sarawak and Sabah.
"Najib is the most travelled prime minister of Malaysia to these two eastern states.
"He did this because he understands that Sarawak and Sabah are integral parts of Malaysia.
"Without these two states, there will be no Malaysia.
"Prime ministers before him, it seemed, were Malayan-centric."
Masing said he was confident that BN with Najib leading the way would continue to administer Malaysia after GE in 2018.
"However, it would be much easier if Umno remains united, for a house divided will be harder to defend."
Dr Mahathir had been attacking Najib since last year over policy differences.
He had also listed down various allegations made against Najib and noted that none had been adequately answered.
This included the murder of Mongolian interpreter Altantuya Shaariibuu and the claims made by one of her convicted murderers, former commando Sirul Azhar Umar, a former Najib bodyguard.
Dr Mahathir had also delved into the problems surrounding Finance Ministry-owned 1Malaysia Development Bhd (1MDB), questioning the need for Putrajaya to give it a standby credit facility of almost RM1billion, the fund's purchase of government land and its dubious deal with little-known oil company, PetroSaudi International.
"Malaysians, whether Malays, Chinese, Indian or the people in Sabah and Sarawak no longer trust Datuk Seri Najib. Umno members and their leaders must realise that Umno and with it, BN will lose if Datuk Seri Najib leads Umno to GE14," he said in his blog.