This article first appeared in The Edge Malaysia Weekly, on April 30, 2018 - May 06, 2018.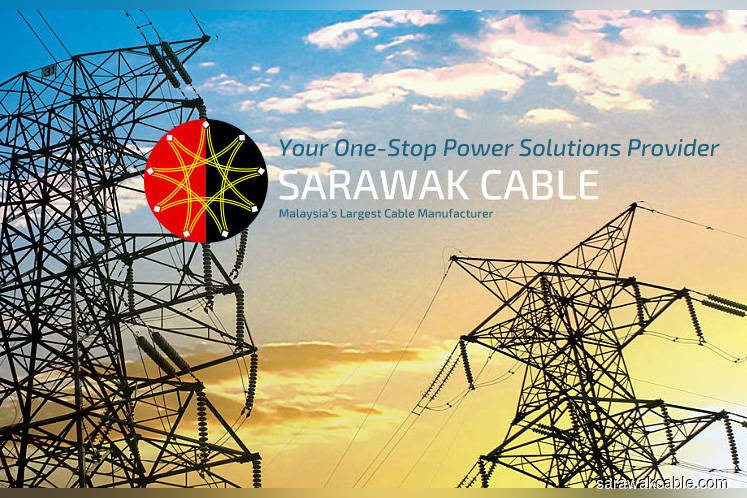 INVESTORS don't like Sarawak Cable Bhd at the moment. In the past 12 months, the stock has tumbled 46.85% to close at 57 sen last Thursday. Earlier, on April 6, the stock even hit an eight-year low of 51 sen — a level not seen since July 2010.
Sarawak Cable's poor share performance comes on the heels of losses last year — its first full-year loss in at least a decade.
In a nutshell, two out of three of the company's major business segments bled red ink. At the same time, it also needs to navigate a high gross gearing level of 2.17 times as heavy borrowings strain its balance sheet.
But newly appointed managing director Datuk Ahmad Redza Abdullah is unfazed.
"The worst is over. After this, we can expect to see better days," says the long-serving board member who was redesignated as managing director on March 19.
His focus for the next six months will be on tackling the major problems.
For the financial year ended Dec 31, 2017 (FY2017), Sarawak Cable posted a net loss of RM36.3 million while its revenue fell 21% year on year to a three-year low of RM1.02 billion.
Most of the losses came from its transmission lines construction segment, which booked a pre-tax loss of RM47.62 million last year alongside a 70.67% drop in revenue to RM92.36 million.
The losses were mainly due to cost overruns and prolongation costs at its 275KV transmission line project in Pengerang, Johor. The RM257 million contract was awarded in December 2014 and originally due for completion by July 2016.
Ahmad Redza says the FY2017 losses from the segment included future expenses to be incurred as well as some profit clawback from recent years.
The project is slated for completion by the middle of this year and had already been energised, he adds. "The critical parts in the Pengerang project are done."
While Sarawak Cable had reached a settlement with its client on the cost overruns, the numbers are still being finalised and any possible write-back will not be substantial, Ahmad Redza says.
"We plan to focus more on the construction of transmission lines in Sarawak than in Peninsular Malaysia. At the end of the day, Sabah and Sarawak are still in [the] infrastructure growth [phase] so I see growth prospects there."
Competition is also less intense there, which means better margins for the company.
He clarifies that it does not mean Sarawak Cable is exiting the market in the peninsula as it still has two ongoing projects here. "But our primary focus will be there, so our machinery will be shifted to Sarawak. The Pan Borneo Highway project, for example, is a serious catalyst for us."
To recap, Sarawak Cable entered the Peninsular Malaysia market following its acquisition of Universal Cable (M) Bhd and Leader Cable Industry Bhd in 2015.
Following the RM210 million acquisition, Sarawak Cable emerged as the largest cable manufacturer in Malaysia. HNG Capital Sdn Bhd, which controlled Universal Cable and Leader Cable, is now the third largest shareholder of Sarawak Cable, holding an 11.45% stake.
The single largest shareholder, with 19.15% equity interest, is non-executive chairman Datuk Seri Mahmud Abu Bekir Taib, son of Sarawak governor Tun Abdul Taib Mahmud.
State-owned power company Sarawak Energy Bhd controls a 16.53% stake in the company.
Helicopter unit not for sale
Another loss-making unit last year was its helicopter services arm, which posted pre-tax losses of RM17.24 million on the back of revenue of RM9.43 million.
Last November, Sarawak Cable told The Edge that disposing of the unit was a top priority. But that is no longer on the table, says Ahmad Redza.
The company has one simulator and nine helicopters, the largest of which is a Eurocopter EC225 Super Puma that costs about RM100 million.
Last December, the company won a two-year contract worth RM18.41 million from the Ministry of Health to use its helicopters for the ministry's medical evacuation and flying doctor services.
Coupled with an existing contract with the Ministry of Defence, Ahmad Redza says eight helicopters are under lease at present and that the unit is close to break-even.
"We are reviewing a couple of proposals for the ninth helicopter (the EC225) and we expect to lease it out by mid-2018," Ahmad Redza says, adding that this will take the unit into positive cash flow territory.
As for Sarawak Cable's 11mw mini-hydroelectric power plant venture in Indonesia, he reveals that the power plant is 93% completed and is on track to meet its target of commercial operations by November.
"We expect to complete the project by October, so we have a one-month buffer. So, we'll see money coming in by the end of the year — roughly RM1 million per month or so."
To recap, the power plant was initially targeted to be completed by early 2016. It comes with a 20-year power purchase agreement with Perusahaan Listrik Negara.
However, Sarawak Cable underestimated the construction risk in Indonesia, according to its annual report, and the prolonged construction period added to its finance costs on top of cost overruns.
"We had to change contractors a couple of times along the way as they could not perform within the original timeline," Ahmad Redza explains.
In FY2017, the power plant venture recorded a pre-tax loss of RM6.55 million, primarily from an unrealised foreign exchange loss of RM6 million.
"The original budget was about RM80 million to RM85 million and we may have exceeded that by about RM10 million overall."
When asked whether Sarawak Cable will leverage the power plant to pursue further power plant ventures, he discloses that there have been approaches by investors who are keen to buy the concession.
However, the company may take a year or so to see how the investment performs before deciding.
If the expected turnaround in these business divisions bear fruit, Sarawak Cable may be in a better position to tackle its heavy gearing issue.
Ahmad Redza indicates that due to the capital intensive nature of the cable-manufacturing business, there is a limit as to how low the company's borrowings can go.
From a total borrowings of RM615.45 million, three-quarters or RM472.17 million are short term. As at Dec 31, Sarawak Cable had RM46 million in cash and bank balances.
"The short-term borrowings are mainly for raw materials and some for the construction segment. That will always be [relatively] high."
That said, the completion of the Pengerang transmission line project and improving utilisation of the helicopter services arm will mean continued reduction of borrowings in general, he says.
The aim this year is to reduce the gearing level to 2.0 times, although ideally, the management hopes to hit 1.7 to 1.8 times.
"But it takes time. It's not going to be like a sudden influx of money [to pay it off]. Rather, it will be a gradual decline," Ahmad Redza explains.
Save by subscribing to us for your print and/or digital copy.
P/S: The Edge is also available on Apple's AppStore and Androids' Google Play.