This article first appeared in The Edge Financial Daily, on November 9, 2018.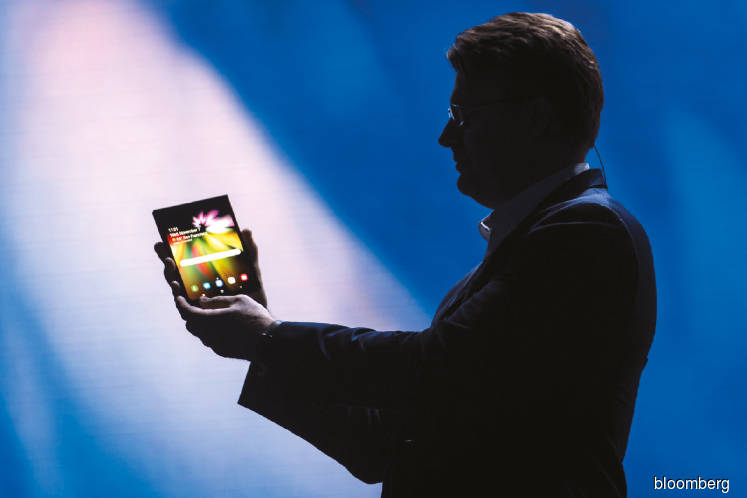 SAN FRANCISCO: Samsung on Wednesday showed off a folding screen that lets a smartphone open into a tablet, heralding it as the future for portable devices.
Senior vice-president of mobile product marketing Justin Denison pulled a prototype foldable smartphone from a suit jacket inner pocket at a Samsung developer conference here, saying the company will be ready to begin mass producing the screens in coming months.
Denison provided a brief glimpse of a concept device made with its "Infinity Flex Display" on stage during a keynote presentation, providing no details regarding when a foldable phone might be available to consumers.
"The display is the foundation for the smartphone of tomorrow. When it is opened, it is a tablet offering a big-screen experience. When closed, it is a phone and fits neatly inside your pocket," Denison said. 
Infinity Flex screens are made to endure repeated folding and unfolding, according to Denison.
South Korean-based Samsung is the world's largest smartphone maker, powering most of its models on free Android software made available free by Google, but also sells components such as chips and screens to other device makers.
Samsung also showed off a coming "One UI" user interface for mobile devices designed to simplify increasing cluttered smartphone screens and work seamlessly with the new foldable display.
The annual gathering is aimed at getting third-party developers enthused about crafting applications and services for Samsung offerings, including new Infinity Flex screens.
Google is working with Samsung to adapt Android to the needs of the foldable displays, according to Android user experience head Glenn Murphy. — AFP