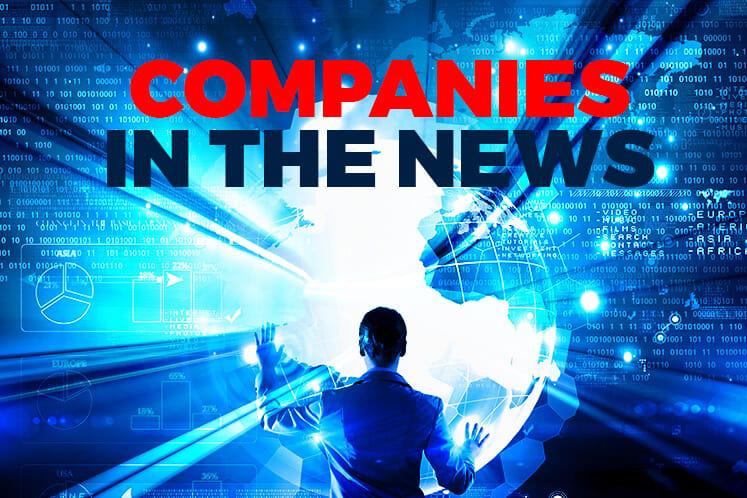 KUALA LUMPUR (March 28): Based on corporate announcements and news flow today, stocks in focus on Thursday(Feb 29) may include the following: S P Setia Bhd, Tenaga Nasional Bhd, Astro Malaysia Holdings Bhd, VS Industry Bhd, PUC Bhd, Media Chinese International Ltd, DKLS Industries Bhd, Priceworth International Bhd, Titijaya Land Bhd, Cuscapi Bhd, Sapura Energy Bhd, OCK Group Bhd and EA Technique (M) Sdn Bhd.
S P Setia Bhd has been hit for the second time in less than four months with a tax bill by the Inland Revenue Board, this time amounting to RM32.51 million.
S P Setia said it was served notices of additional assessment by the IRB yesterday for an additional income tax of RM22.44 million and a penalty of RM10.1 million.
This was for the disallowance of the interest expenses deducted by S P Setia as a deductible expense in the years of assessment 2011 to 2015, and the disallowance of the common expenses deducted by S P Setia as a deductible expense in the years of assessment 2009 to 2015.
Tenaga Nasional Bhd signed a large-scale solar photovoltaic power purchase agreement with special purpose company, KBJ Hecmy Sdn Bhd in conjunction with a competitive bidding exercise by the Energy Commission to develop transmission-connected LSS projects.
KBJ Hecmy will design, construct, own, operate and maintain a solar photovoltaic energy generating facility of 30 megawatt alternating current to be located in Mukim Chuping, Bukit Keteri, Perlis.
The agreement has an expected commercial operation date of Dec 1, 2020.
Astro Malaysia Holdings Bhd's net profit rose 25% to RM181.79 million for the fourth quarter ended Jan 31, 2018, from RM145.08 million a year earlier, thanks to lower costs.
Quarterly revenue fell slightly to RM1.39 billion from RM1.4 billion, on lower subscription earnings.
The group declared a fourth interim dividend of three sen per share, payable on April 27 and a final dividend of 0.5 sen per share.
VS Industry Bhd saw net profit rising 28% in its second quarter ended Jan 31, 2018 to RM45.28 million from RM35.51 million a year ago, as revenue rose 46% to RM1.11 billion from RM763.84 million on higher sales orders from existing key customers.
The group declared a second interim dividend of 1.5 sen per share, payable on April 27.
PUC Bhd's wholly-owned subsidiary, PUC (M) Sdn Bhd, inked a Memorandum of Understanding with Ali Health Sdn Bhd, the developer and exclusive owner of medical mobile application, Doctor2U to promote blockchain technology in the healthcare industry.
The collaboration aims to provide blockchain to medical institutions, labs, drug supply-chain, and health insurance agencies, as well as build an information sharing platform among these institutions, regulators and insurers.
Tan Sri Tiong Hiew King has stepped down as executive chairman of Media Chinese International Ltd (MCIL), taking up a non-independent, non-executive directorship in the group instead.
His younger brother, Datuk Seri Tiong Ik King, will be redesignated as non-executive chairman from his current role of non-independent director, MCIL said in filings to the stock exchange.
DKLS Industries Bhd has via its wholly-owned unit DKLS Construction Sdn Bhd secured an RM101.82 million job from the Agriculture and Agro-Industry Ministry to undertake a water transfer scheme project in Kedah.
The group accepted the letter of award for the two-year contract from the ministry today to be the contractor for the Projek Skim Pemindahan Air Jeniang Kedah (Fasa 1).
Priceworth International Bhd expects its monthly log production volume to improve in the coming months after registering a near six-year high in February of 18,061.99 cubic metres on the back of better weather conditions and increased production in a new area.
"We expect the production to further improve in the coming months with better weather conditions and additional production area in compartment 63 and 64 of FMU5 being approved," the group said.
The output in February was 57% higher than the 11,459.54 cubic metres logged in the same period in 2017.
Titijaya Land Bhd is buying 9.9 million shares or a 99% stake in loss-making BJ Properties Sdn Bhd, which owns a 27,550 sq m piece of land in Ampang.
The land is expected to be developed into a mixed residential and commercial project, with a gross development value estimated at RM1.5 billion.
Cuscapi Bhd has appointed Datuk Mohd Jimmy Wong Abdullah as executive chairman of the company, filling a post left vacant after Datuk Larry Gan retired on March 20.
Sapura Energy Bhd's net loss widened to RM2.29 billion in the fourth quarter ended Jan 31, 2018 from RM172.32 million a year ago, mainly on a RM2.13 billion provision for impairment on property, plant and equipment.
Its quarterly revenue was down at RM1.19 billion versus RM1.81 billion in 4QFY17 due to lower contribution from its engineering and construction and drilling business segments as well as lower share of profit from associates and joint ventures.
OCK Group Bhd has inked a Memorandum of Understanding with ISOC Infrastructure Bhd to jointly pursue opportunities to acquire, install, operate, maintain and manage telecom tower assets in the Philippines, concentrating on the new towers roll-out or greenfield projects and potential sale-and-leaseback project from mobile telecom operators.
EA Technique (M) Bhd has filed a suit against Amaniaga Resources Sdn Bhd for US$7.06 million (RM27.38 billion) in damages due to an alleged breach of a January 2016 contract to provide services for a floating storage and offloading vessel.
The group had filed a writ of summons together with a statement of claim, both dated March 20, 2018, for a claim arising out of an award under the Construction Industry Payment and Adjudication Act.