This article first appeared in The Edge Malaysia Weekly, on April 23, 2018 - April 29, 2018.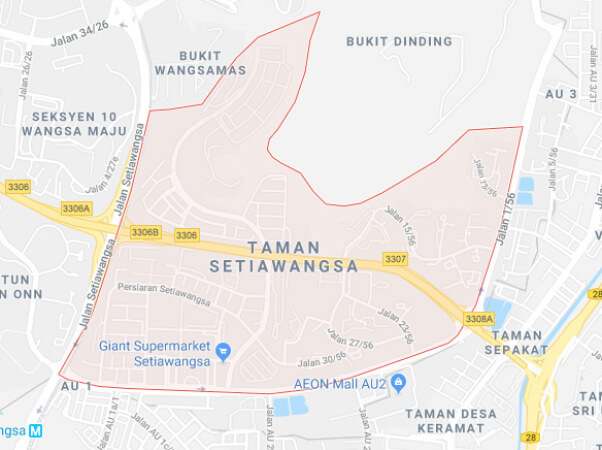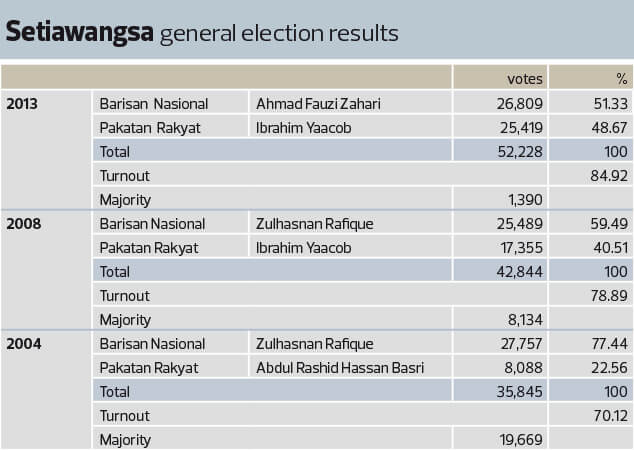 IT's not clear why Tan Sri Zulhasnan Rafique would want to leave his job as Malaysian ambassador to the US and come home to be a candidate for the Setiawangsa parliamentary constituency in the 14th general election (GE14) — a seat he previously held.
It could very well be that it is the BN leadership that wants him back, or perhaps, Zulhasnan himself wants to leave his Washington job.
Whatever the reason, that's the situation. And now BN will have to decide between Zulhasnan or the man who succeeded him in Setiawangsa — incumbent MP Datuk Ahmad Fauzi Zahari.
Strangely, despite his ambassadorship, Zulhasnan kept his position as Umno Setiawangsa divisional head. Fauzi is his deputy.
A former federal territory minister, Zulhasnan stood in Setiawangsa in 2004 and 2008, winning both times before making way for Fauzi in 2013. Fauzi managed to win the seat, albeit by a slim margin, thus giving BN three wins out of three elections.
Needless to say, Setiawangsa is the only seat in the Federal Territory of Kuala Lumpur that the opposition has not won.
The Zulhasnan factor came about this time just when the BN had made it known it was banking on Fauzi's personality to ensure Setiawangsa remains BN territory.
To choose between the two is not easy but quite a number of long-time residents were upfront in stating that Fauzi is the better MP.
The BN leadership was supposed to announce its decision on April 14 but at the time of writing, none was forthcoming.
Now, there's talk of Zulhasnan going to Bandar Tun Razak as the Umno/BN candidate. So, that should clear the way for Fauzi to defend his Setiawangsa seat, right?
Well, not exactly. Because now, there's also talk that he could be the one to contest Bandar Tun Razak, one of 11 parliamentary constituencies in the Federal Territory of Kuala Lumpur.
However, with the Bandar Tun Razak Umno division adamant in not wanting outsiders parachuted into their constituency — preferring homegrown talent so to speak — the plan to send Zulhasnan, Fauzi or other outsiders for that matter might not see the light of day, if there were such a plan to begin with.
And there's another problem there. The MCA is not budging, saying Bandar Tun Razak is theirs to contest. The Edge had reported this on a couple of occasions.
While BN is saddled with these problems and contemplating its next step, Pakatan Harapan has got its candidacy settled early. Quite early, I would say, as far as Setiawangsa goes.
It's been weeks already since Pakatan announced PKR's Nik Nazmi Nik Ahmad as its Setiawangsa candidate. Hence, Nik Nazmi has already done his homework as well as groundwork. In short, operations are moving along nicely.
PAS, which is expected to join the fray, has not officially made known its candidate. But it is said the party has already made a decision and is just waiting for the right time to announce it.
Setiawangsa is a constituency "taken out" from Wangsa Maju, "courtesy" of an ElectionCommission (EC) exercise for the 2004 general election, which political analysts say was to increase the number of seats for the BN to win, following the victory in the 1999 polls that was "dented" due to the aftermath of the Anwar Ibrahim sacking a year earlier.
Only two parties have contested against the BN in Setiawangsa — PAS, once,  and PKR.
The urban constituency is Malay majority, with Malays making up 56% of the 62,390 voters, Chinese 30%, and Indians 11% — based on the 2013 figures, that is. The current figures, following the recent delineation exercise, have not been made available to The Edge but political party insiders claim some 20,000 Chinese voters have been transferred from Setapak, which has a big Chinese population, to Segambut.
Despite BN's grip on Setiawangsa, the number of votes it has been getting has seen a steady decline.
In 2004, Zulhasnan won with a 19,669 majority. Four years later, he saw his winning margin halved to 8,134 . In 2013, the BN fielded Fauzi, who squeezed through with only 1,390 votes.
It has always been the general belief that votes from the military have given BN the victory, in particular, in the last election.
No, not because Zulhasnan was a former RMAF fighter jet pilot (well, maybe ) but because the sprawling Ministry of Defence complex is situated in the Setiawangsa constituency, and with that, comes 14,000 voters, at the very least.
Military presence apart, Setiawangsa residents are made up of the well-to-do living in bungalows on hilltops; the middle class in condos , apartments and nice housing estates; and the working class in low-cost flats.
A diverse group, you might say. They are people who know about issues, such as the 1MDB scandal, for example.
But the issues in Setiawangsa are currently also about the cost of living, inflation, GST, food prices and taxes. In short, economic woes — no matter whether residents are upper or middle class, or poor.
There are complaints about Kuala Lumpur City Hall's services while older folks gripe about the lack of jobs for their children.
Nik Nazmi is aware of such complaints. Even the BN admitted the voters are "disenchanted" — it had been reported that the coalition was "banking" on Fauzi to reach out to the residents. In fact, he has.
But in Nik Nazmi, political observers say Pakatan has a good candidate — winnable even.
He is said to be quite well-known in the area, with his experience as Selangor exco member coming in handy.
And in his capacity as PKR youth leader, he has been seen saying the "right things" on national issues — a valuable asset for parliamentarians.
The big problem for Nik Nazmi, and Pakatan for that matter, is to get access to the military personnel. In the run-up to the 2013 polls, it was rumoured that military personnel were "ordered" not to attend ceramah held by the then Pakatan Rakyat.
That allegation was never independently verified though — until now.
Then there's the task of convincing military personnel to vote for Pakatan Harapan as it is believed military voters can be persuaded not to vote for the opposition — rightly or wrongly.
This time around, military personnel will be early voters and not postal voters as in previous elections. Postal voting is not open to political parties to observe.
But early voting can be observed and monitored. Nik Nazmi is hoping his monitors will closely scrutinise the proceedings. That much he can hope for.
For the BN, the "problem" will be first, to solve the candidacy issue, and settle it without hurting the contenders.
Mohsin Abdullah is a contributing editor at The Edge Malaysia. He has covered politics for over four decades.
Save by subscribing to us for your print and/or digital copy.
P/S: The Edge is also available on Apple's AppStore and Androids' Google Play.