This article first appeared in The Edge Financial Daily, on July 17, 2018.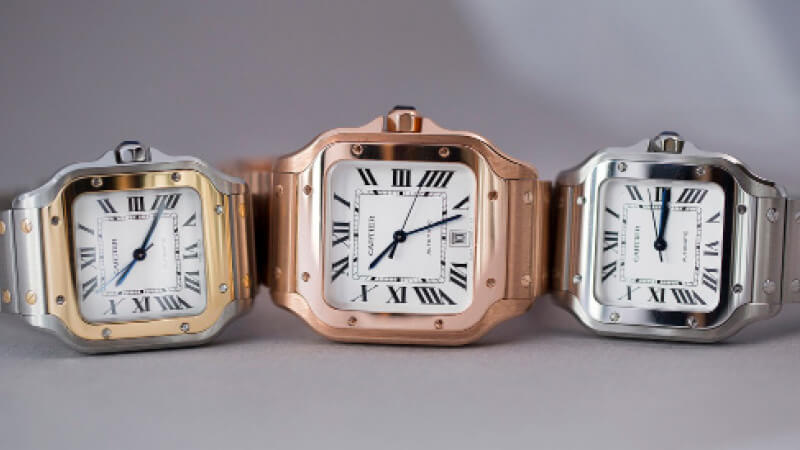 Cartier's watch sales soared last year, up double-digits, Richemont said. Photos by Hodinkee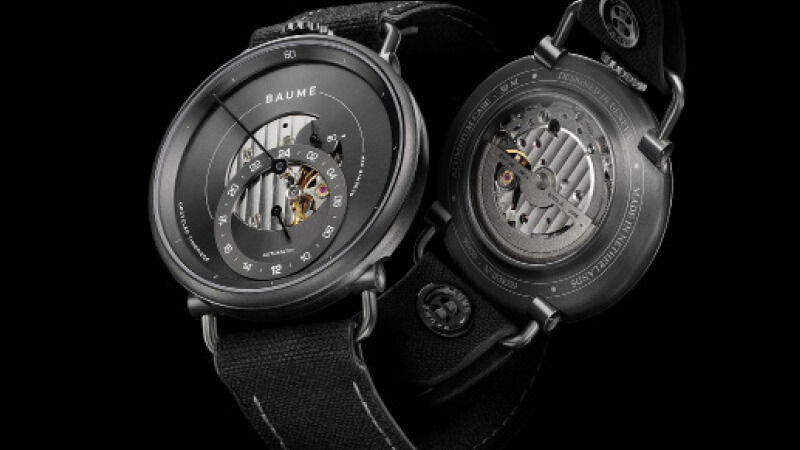 Baume is a new entry-level brand spun out of Baume & Mercier.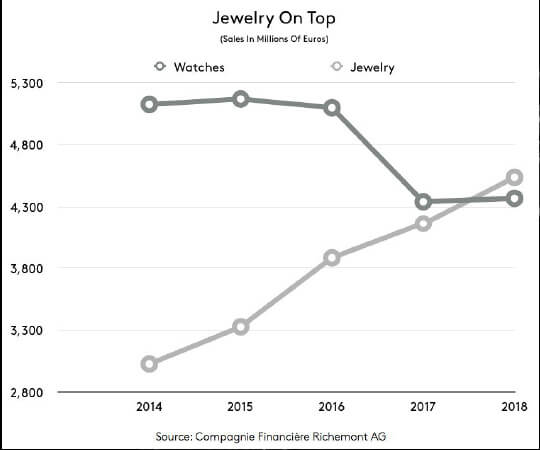 Have you noticed what Richemont has been up to lately? In the past few months, Switzerland's second-largest watch group, with total revenues of €10.98 billion in the last fiscal year, has been one busy beaver.
The flurry of initiatives is the result of a recent retooling of Richemont by its chairman and largest shareholder, Johann Rupert. For several years, Rupert has expressed concern about the "massive change" under way in the luxury goods world. "I am talking about a massive change in the way business is being done by going digital, a massive change in e-commerce," he told financial analysts in November 2016. And not just e-commerce. "I think everything is changing," he said.
"The change that's going to come in the next 10 years — it's exponential change," he told financial analysts in May 2017. "Folks, we're seeing such rapid change and we better be ahead of that curve. So, our goal is to position Richemont that we're ahead of curves."
Management shake-up
To that end, Rupert launched a management shake-up of the group last year aimed at transferring power to a new, more diverse generation. He removed eight, white, male elders from the board of directors. They included 80-year-old Lord Renwick of Clifton, the 72-year-old ninth Duke of Wellington, as well as such Richemont warhorses as former chief executive officers (CEOs) Richard Lepeu (65), Bernard Fornas, and Norbert Platt (both 70).
Rupert replaced them with nine new board members. Four were younger Richemont executives (three in their 40s). Of the five non-executive directors, two were women, two were Asian, and one was a South African millennial (Rupert's son, Anton).
Rupert also restructured his executive management team. He elevated Richemont stars (and arch-rivals) Georges Kern and Jérôme Lambert to top management positions in an unorthodox, power-sharing arrangement. When that did not work out (a frustrated Kern decamped to Breitling after just three months in the post), Rupert put Lambert in charge of the group as chief operating officer (COO). (There is no CEO.)
Rupert's mandate to the new board and management team was to address, as he put it, "the challenges our business is facing" and to develop "a transformation agenda to meet the rapidly changing demands of luxury consumers". Since then, the group has tackled challenges like e-commerce, the grey market, the vintage watch market, and the changing tastes of millennials. Rupert describes Richemont's recent moves as a "transformation journey". Here is a look at what is happening.
Yoox Net-a-Porter
Yoox Net-a-Porter will add more than €2 billion (RM9.5 billion) to Richemont's consolidated top line. (The Yoox Net-a-Porter Group reported revenues of €2.1 billion in 2017.) It owns four e-commerce sites (Net-a-Porter, Mr Porter, the Outnet, and Yoox) and operates another 30 luxury brands like Dolce & Gabbana, Chloé, and Stella McCartney. As of this January, it had 3.1 million active customers. Last year its online stores had 842.2 million visits. It delivers products to more than 180 countries.
The Yoox Net-a-Porter purchase "demonstrates our commitment to developing a robust omnichannel proposition", Rupert says.
Watchfinder&Co
The acquisition of Watchfinder&Co, the online seller of pre-owned luxury watches, is another case of Richemont becoming overnight a player in a new market for the group. (Richemont is acquiring 100% of Watchfinder. Terms of the deal, which is expected to close this summer, were not disclosed.)
Like virtually all Swiss luxury watch producers, Richemont pretty much ignored the rise of the vintage and pre-owned watch market over the past two decades. Swiss brands concentrated on producing, marketing, and selling new watches and left the pre-owned business to established bricks-and-mortar retailers (like Tourneau, Betteridge, and Govberg Jewelers in the US) and e-commerce entrepreneurs (like Watchfinder co-founder Stuart Hennell in the UK).
That is changing. With the pre-owned watch market growing consistently (financial analyst Jon Cox, of Kepler Cheuvreux, estimates the size of the second-hand-watch market at US$5 billion [RM20.25 billion] annually, including auctions), watch companies are taking note. FP Journe now buys and sells pre-owned Journe watches at his boutiques and lists available models on his website. Earlier this year, Audemars Piguet said it would roll out a pilot programme in Switzerland to buy and sell pre-owned Audemars Piguet watches in its boutiques. Others, like LVMH, Breitling, and Richard Mille, say they are exploring the option to buy and sell their pre-owned models.
Watch buy-backs
The biggest challenge facing Richemont recently has been to get a grip on a wholesale watch business that had spiralled out of control over the past three years. A combination of market shocks and lack of internal production controls sent the watch inventories of Richemont's dealer network soaring. Richemont has taken extraordinary measures to deal with the problem. In the past two years, it bought back more than US$540 million worth of watches it had sold to its wholesale network.
In 2016, it bought back watches worth €278 million. Those were primarily Cartier watches from retailers in Hong Kong and other Asian markets. Between January and March of this year, it bought back another €203 million worth of excess inventory from its retail agents. Those watches were from brands in its specialist watchmakers division sold mostly to retailers in Europe, where luxury watch sales have suffered due to the strength of the euro, which sent the travel retail business elsewhere.
Richemont took the watches back to prevent retailers from disposing of them through grey-market channels, where they would be sold at substantial discounts, damaging the brands' reputations.
With watch supply and demand dangerously out of whack, Richemont bit the bullet and began the first wave of watch buy-backs. Most watch companies engage in some small-scale buy-backs. But the size of the Richemont action was unprecedented, watch executives say.
A watch-supply czar
Burned to the tune of €287 million, Rupert began to preach the gospel of smaller sell-in. "There are too many watches in the world," he proclaimed to financial analysts in May 2017, while reporting dismal sales and profits for fiscal 2017. "Is your sell-in smaller than your sell-out? That's really the question to ask the whole industry." Rupert said that aligning watch supply with demand was a top priority for the company.
Later that year, he took another step to deal with the problem. He created a new position, head of distribution, for the specialised watchmakers division — in effect, a watch-supply czar. To fill it, he tapped Emmanuel Perrin, Cartier's head of international sales, who led Cartier's watch clean-up efforts. Perrin's "prime area of focus", Rupert announced, "will be matching supply with end-customer demand".
Perrin and COO Lambert devised a tougher, three-pronged strategy to solve the group's excess inventory problem, which they put into place in January of this year.
They launched the second round of buy-backs. They installed new inventory controls for the wholesale network, introducing key performance indicators that brands must strictly follow to ensure that sell-in does not exceed sell-out. And they trimmed the wholesale network.
The Cartier cure
Richemont executives have their fingers crossed that the new round of buy-backs will work as well as the first one. Cartier's watch sales soared last year, up double-digits, Richemont said. (It does not break out sales by brand.) That was due to 2016's market clean-up and a successful relaunch of the Panthère collection. There were no Cartier buy-backs last year. "Cartier is in a very healthy situation," Grund said.
Rupert says, "We continue to address the challenges that affect our watch business. Our approach to the grey market remains uncompromising."
Rise of jewellery and retailing
It is worth noting that Richemont's wholesale watch woes are accelerating two major trends in the group: the increasing importance of the jewellery category and of watch retailing.
Four years ago, watches were Richemont's most important product by far. In fiscal 2014, they accounted for more than half of group sales, 52%. The second most important product, jewellery, accounted for 30% of total sales. Not anymore. Last year, jewellery sales surpassed watches, thanks to a recent jewellery boom and the slump in the wholesale watch business. Jewellery represented 41% of total sales, watches 40%. Between fiscal 2015 and 2018, jewellery sales jumped 36.5%, while watches fell 15.5%.
Jewellery is clearly Richemont's new star. "We're particularly well placed to capitalise on the growth opportunities in our relevant product lines," Grund told financial analysts in May, "first and foremost in jewellery".
Lagging wholesale sales also have spurred Richemont's evolution into a watch retailer. Ten years ago, Richemont relied heavily on its wholesale network of third-party, multi-brand jewellers. They accounted for 58% of its total group sales versus 42% from its own retail network, primarily Cartier and Montblanc stores.
Now that is completely reversed. In fiscal 2018, the wholesale network accounted for just 37% of total sales. Richemont's own retail channel jumped three points to 63% of sales. (Sales in the wholesale channel are down €909 million in two years to €4.06 billion.)
Baume, no Mercier
The launch of Baume (yep, just Baume), a new brand for millennials, marks a first for Richemont and is another response to changing times. In this case, concerns that traditional wristwatches are not on the radar of millennials. The watch is not Swiss-made and not a luxury piece. It is assembled in the Netherlands and uses Japanese movements (Citizen's Miyota) for its quartz and automatic collections. It also uses Swiss (Ronda) movements for some quartz pieces. Its hallmarks are that it is affordable (priced at US$560, US$630, and US$1,100), customisable, available on the web, and produced with care for the environment.
If you want a glimpse of how Switzerland's watch brands will navigate the omnichannel, brick-and-click future of the luxury watch business, keep an eye on Richemont. — Bloomberg
---
Originally published on Hodinkee.