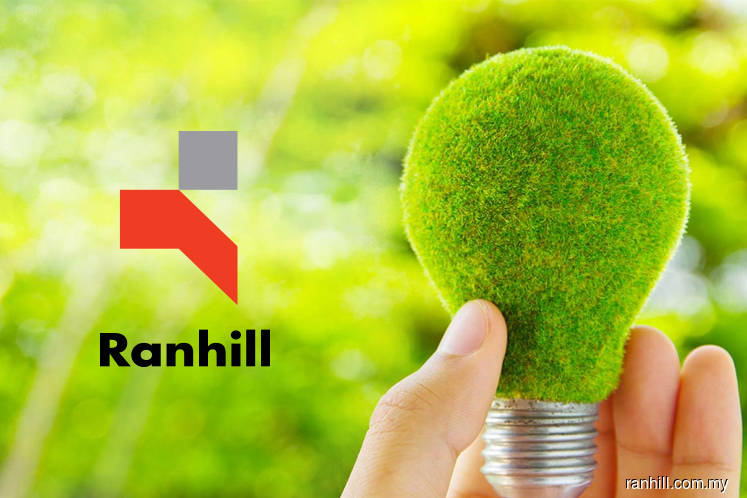 KUALA LUMPUR (Feb 13): Ranhill Holdings Bhd's net profit rose 68.8% to RM22.46 million in the fourth quarter ended Dec 31, 2017 (4QFY17), from RM13.31 million a year ago, on lower cost of sales.
Earnings per share (EPS) rose to 2.53 sen from 1.5 sen in 4QFY16. Quarterly revenue, however, fell 2.6% to RM372.52 million in 4QFY17, from RM382.42 million a year ago.
The group also proposed a final dividend of two sen for the financial year ended Dec 31, 2017 (FY17), pending shareholders' approval at the forthcoming annual general meeting.
In a filing with Bursa Malaysia, Ranhill disclosed cost of sales for 4QFY17 was RM258.18 million, 10% lower than RM286.8 million in 4QFY16.
For the full FY17, Ranhill's net profit rose by 8% to RM77.86 million from RM72.12 million the previous year, while revenue grew 1.4% to RM1.48 billion from RM1.46 billion in FY16.
On prospects, Ranhill expects gradual growth in electricity demand from its current 2 X 190MW plants.
"The company and its strategic partner are in the final phase of negotiation with regards to the 300MW combined cycle power plant in Sandakan, which will contribute additional revenue and profit to the group," Ranhill said.
It has also commenced negotiation for opportunities in Thailand, Myanmar and Australia, the filing added.
In a separate filing, Ranhill said its 80%-owned subsidiary SAJ Ranhill Sdn Bhd, and Indah Water Konsortium Sdn Bhd (IWK), have finalised the joint billing agreement for water supply and sewerage services in Johor, which will contribute additional revenue and profit to the group. It expects to sign the deal in the first quarter of this year.
"The joint venture is now poised to commence exploring new opportunities for industrial waste water concession contracts and other potential water-related works in China and Southeast Asia, under the Belt and Road Initiative," Ranhill said.
Additionally, the company said there are ongoing discussions to operate water and wastewater treatment plants in the Pathein Industrial City in Myanmar, as well as in other industrial parks within the region.
Ranhill's share price gained 1.5 sen or 2.16% to close at 71 sen today, giving it a market capitalisation of RM630.7 million.