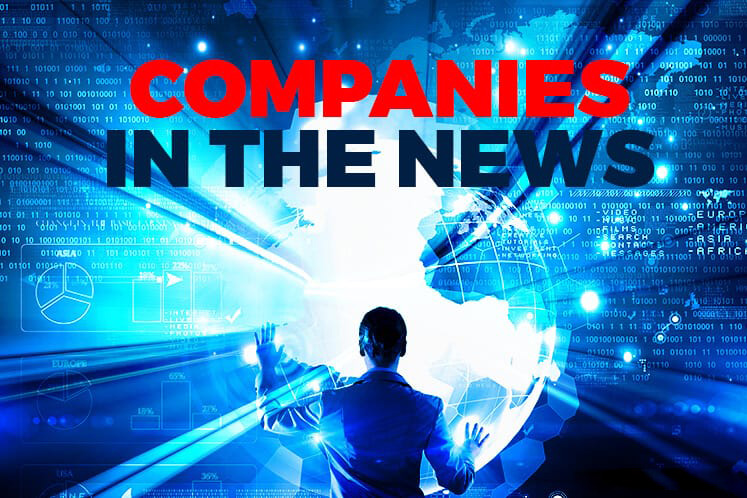 KUALA LUMPUR (Jan 9): Based on corporate announcements and news flow today, companies that will be in focus on Wednesday (Jan 10) may include: R&A Telecommunications Bhd, Serba Dinamik Holdings Bhd, Mitrajaya Holdings Bhd, IDimension Consolidated Bhd, Perdana Petroleum Bhd, Dayang Enterprise Holdings Bhd, Sedania Innovator Bhd, Uzma Bhd, Peterlabs Holdings Bhd and Prestar Resources Bhd
R&A Telecommunications Bhd said it has lodged a police report against ex-managing director Francis Tan Hock Leong for attempting to withdraw a previous police report lodged by the company relating to unauthorised transactions worth RM4.2 million.
R&A said it lodged the latest report on Dec 29 last year, after Tan took to himself to withdraw the initial report which was lodged by R&A and its subsidiary R&A Telecommunications Sdn Bhd (RASB) on April 5, 2017.
The company and RASB have requested that the police continue with the investigation the reason for the withdrawal by Francis Tan.
Serba Dinamik Holdings Bhd has proposed to place out new shares to independent third party investor(s) to be identified in order to raise up to RM433.89 million, mainly for the partial development of Pengerang eco-Industrial Park (PeIP).
The placement will involve up to 133.5 million new shares representing 10% of the company enlarged issued share capital.
For illustrative purposes, the indicative issue price of a placement share would be RM3.25 per share, based on the five-day VWAP of shares.
Mitrajaya Holdings Bhd has been appointed as the main building works contractor for a public housing project in Precint 17, Putrajaya under the 1Malaysia Civil Servants Housing Programme (PPA1M).
The RM103.06 million contract was awarded to the construction firm's wholly-owned unit, Pembinaan Mitrajaya Sdn Bhd, by Putrajaya Homes Sdn Bhd.
The contract will commence on Jan 15, 2018 for a duration of 36 months and it is expected to be completed by Jan 14, 2021.
IDimension Consolidated Bhd's wholly-owned subsidiary IDB Interactive Sdn Bhd has been slapped with an additional income tax and penalty of RM406,019 for its 2013 and 2014 assessment years by the Inland Revenue Board (IRB).
This involved additional income tax of RM280,013 and a 45% penalty of RM126,006.
IDimension said these were imposed by IRB, considering expenses charged in the two years were not qualified for tax deduction under Section 33(1) of the Income Tax Act, 1967.
Perdana Petroleum Bhd's wholly-owned subsidiary Perdana Nautika Sdn Bhd has signed four time charter party agreements with its major shareholder Dayang Enterprise Holdings Bhd's wholly-owned subsidiary Dayang Enterprise Sdn Bhd, to supply two accommodation work barges and two anchor handling tug/supply vessels for an estimated RM41.8 million.
The four vessels will be chartered for nine months — "with an option of three monthly extensions" — starting from March 1, 2018. The vessels charter is related to the contract secured by Dayang Enterprise for the maintenance, construction and modification works for Baronia Rejuvenation CP 3.
Sedania Innovator Bhd has appointed Daniel Bernd Ruppert as its chief executive officer following the resignation of Mahadzer Arshad citing personal commitments.
Ruppert, 42, was appointed effective Jan 8 and was previously director of business development at LNE Network Systems (Asia) Sdn Bhd, a contract manufacturer of electronic components, according to a separate filing by the group.
Uzma Bhd has been awarded three umbrella contracts by Petronas Carigali Sdn Bhd (PCSB) for the provision of electrical submersible pump (ESP) and services to the latter.
The services include the supply of jointed tubing ESP and coiled tubing ESP and their respective deployments, as well as surveillance, monitoring and maintenance of ESP.
The tenure for each of the umbrella contract is three years — from Nov 20 last year to Nov 19, 2020 — with a first extension option of one year.
Peterlabs Holdings Bhd has appointed Lau Kin Wai as executive director of the company.
Lau is currently the chairman of iCandy Interactive Ltd, the executive director of Fatfish Internet Group Ltd and managing director of Fatfish Global Ventures AB (Sweden). He is also a non-executive director of Sedania Innovator Bhd.
Prestar Resources Bhd, which is planning to list its 51%-owned manufacturing and trading subsidiary Tashin Steel Sdn Bhd (TSSB) on the ACE Market, will do so through a special purpose vehicle, Tashin Holdings Bhd, by the fourth quarter of this year.
As part of the proposed listing, Prestar and Formula Naga Sdn Bhd — which owns the remainder 49% stake in TSSB — will transfer their stakes in TSSB to Tashin Holdings via a share sale agreement for RM144.07 million.
The share sale will be satisfied by Tashin Holdings issuing 288.14 million new shares at an issue price of 50 sen per share to Prestar and Formula Naga. This will result in Prestar holding 51% in Tashin Holdings, and Formula Naga the other 49%.
Subsequently, Tashin Holdings will go for an initial public offering that will involve the issuance of 59.02 million new shares, which is equivalent to 17% of its enlarged share capital, at an issue price to be determined later.