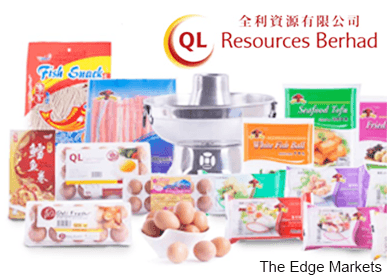 KUALA LUMPUR (April 11): QL Resources Bhd, which produces chicken eggs and seafood surimi, is diversifying into the convenience store business by becoming Malaysia's master franchisee for the world's second largest convenience-store chain FamilyMart Co Ltd.
The company plans to open 300 outlets within five years, with the first to be operational by end-2016.
In a filing with Bursa Malaysia today, QL Resources said its wholly-owned subsidiary Maxincome Resources Sdn Bhd earlier in the day signed the area franchise agreement for the development and operation of Japan-based FamilyMart convenience stores in Malaysia.
The 20-year agreement is renewable for subsequent periods of 20 years each at Maxincome's option and becomes conditional once the company successfully registers as a franchisee with Ministry of Domestic Trade, Co-operatives and Consumerism, the filling said.
In a separate statement, QL Resources said the Japan-based FamilyMart provides a strategic downstream expansion of QL Resources' existing food and manufacturing distribution businesses.
The convenience-store chain had 17,540 stores in seven countries as at March 31 of this year, and is known for its wide range of quality, ready-to-eat food and beverage offerings besides convenience items.
"FamilyMart's philosophy and values resonate with QL Resources' mission of providing nourishing agro-based products for the benefit of all. Their emphasis of delivering quality food is also a value that QL Resources, as a food company, values and sees synergy in," said QL Resources in the statement.
"In addition to this synergistic effect, this expansion is a long-term investment which also opens up bigger growth opportunities in the consumer market for the group. It fits into our strategy of strengthening and expanding integration of the group's value chain," it added.
QL Resources said that FamilyMart's brand could be favoured as consumer lifestyle increasingly demands convenience with a comfortable and enjoyable experience.
"Among the factors weighing in their (FamilyMart) favour are the increasing urbanisation and per capita consumption, young population demographic, and a growing trend of proximity and convenience retail," it said.
FamilyMart meanwhile said it has an exciting opportunity in Malaysia, where the economy is growing and consumer spending is on the increase.
"This expansion into Malaysia is in line with our growth strategy and in QL Resources, we have found a partner who has the capability and integrity to develop the brand with us in this country," it added.
It said that this venture is one that will have a long gestation period, and thus, will not have a material financial effect for its financial year ending March 31, 2017 (FY17).
Malaysia's convenience store industry, which makes up just a fraction of the country's grocery retail market, is still dominated by 7-Eleven Malaysia Holdings Bhd, where 82% of stores in the category were of the group's as at March 2014. Its annual report for the financial year ended Dec 31, 2014 (FY14) stated it had 1,745 stores in the country as at the end of the year.
QL Resources shares closed four sen or 0.91% higher at RM4.44 apiece today, bringing its market capitalisation to RM5.57 billion. The counter had a trading volume of 824,400. Shares of 7-Eleven, however, closed flat at RM1.41 today, with a mere 36,600 shares changing hands.