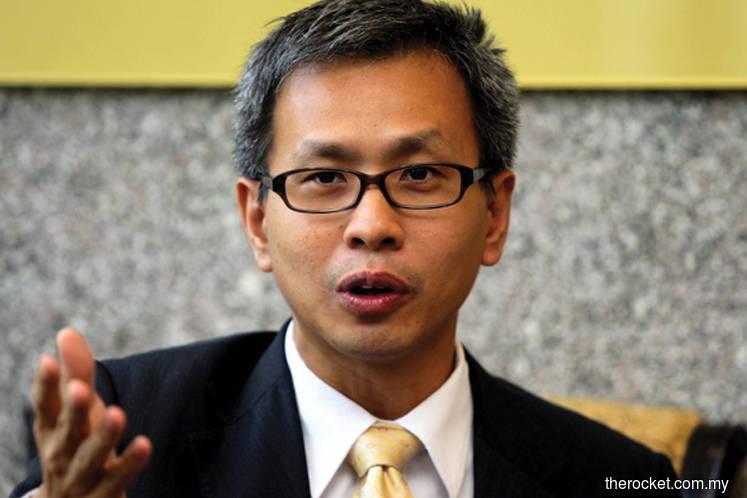 KUALA LUMPUR (Nov 21): Prime Minister Datuk Seri Najib Razak should stop giving excuses and admit Malaysians will never get to see any more audited financial statements for 1Malaysia Development Bhd (1MDB) and SRC International, said DAP's Tony Pua.
In a statement today, Pua who is DAP national publicity secretary and MP for Petaling Jaya Utara, said former Deputy Prime Minister, Tan Sri Muhyiddin Yassin, had asked Najib, who is also the Minister of Finance, for the status of the much delayed financial statements for 1MDB.
In a parliamentary reply dated Nov 16, Pua said Najib responded that "on July 8, 2015, the police seized various original documents from 1MDB's office. 1MDB's management has contacted the police regarding the return of the company's documents, but till today, the original documents haven't been returned to the company".
"Therefore, since the last financial statement prepared by Deloitte Malaysia for the period ending March 2014, there has been no official audits conducted for the scandal-ridden company. 
"Worse, last year, Deloitte Malaysia had withdrawn its endorsement for the March 2013 and March 2014 financial statements.
"This means that 1MDB has since March 2012, or more than 5 years ago, not filed any financial statements which have been endorsed by an external auditor," Pua added.
The DAP lawmaker said this delay was despite repeated deadline extensions granted to 1MDB by the Companies Commission of Malaysian (SSM) to file its annual reports.
 
"And now, the Minister of Finance tells us that it has completely given up and said that it cannot even provide a deadline.
 
"If the Minister of Finance is indeed serious about 1MDB completing its audit process, why hasn't he, who is also the Prime Minister, 'discuss' this matter with the Royal Malaysian Police to work out an arrangement for the audit to be carried out?
"Surely it cannot be too hard for investigators to allow the auditors to, at the very least, sight the documents needed?" he said.
  
Pua said the police moreover, had said their investigation in 1MDB is now concluded and that they have returned their investigation papers to the Attorney-General's Chambers.
"So why exactly are investigators still holding on to these documents, if it is necessary for the proper auditing of the company?
"We are not asking for the police to return, relinquish or destroy possible evidence in its hands. 
"We are merely asking for the police to allow the statutory audit of 1MDB to be carried out," he said.
Pua said the audit was of great urgency and importance, as it will confirm if the allegations of billions of ringgit being misappropriated to fictitious investment accounts in various overseas institutions from Singapore to the British Virgin Islands, and a little-known island-state of Curacao in South America.
He said even when the Auditor-General and the Public Accounts Committee was investigating 1MDB prior to 2016, 1MDB refused to even supply its management accounts, despite being requested to do so.
"The Finance Minister's complete lackadaisical attitude towards the audit of a state-owned company with nearly RM40 billion in debts, shows that it is a cover up to prevent the truth from being discovered.
"The fact that 1MDB cannot produce any audited financial statements since March 2012, further rubbishes Dato' Seri Najib Razak's pre-budget defence and praise of 1MDB, and the audacious claim that 1MDB will soon "return to profitability". It can't even produce its accounts, what profit is the Prime Minister talking about?" he said.