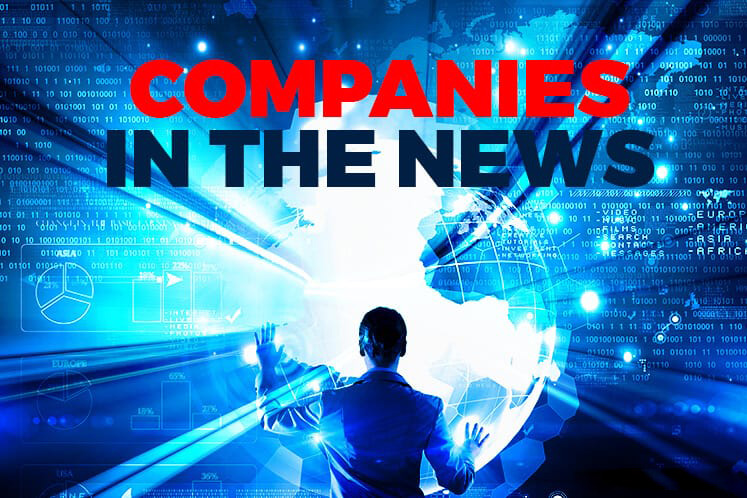 KUALA LUMPUR (May 3): Based on corporate announcements and news flow today, companies in focus on Friday (May 4) may include the following: Puncak Niaga Holdings Bhd, T7 Global Bhd, Fraser & Neave Holdings Bhd, Berjaya Assets Bhd, Priceworth International Bhd, Sunway Real Estate Investment Trust, AirAsia X Bhd and DGB Asia Bhd.
Puncak Niaga Holdings Bhd has bagged an RM489.93 million contract to undertake sub-contract works to build a new regional sewage treatment plant, among others, in Kuantan, Pahang.
In a filing with Bursa Malaysia today, Puncak said its wholly-owned subsidiary Puncak Niaga Construction Sdn Bhd (PNCSB) has entered into a principal sub-contract agreement with Jalur Cahaya Sdn Bhd, appointing PNCSB as the principal sub-contractor for the project.
The contract period is from March 5, 2018 to Feb 19, 2022.
T7 Global Bhd will undertake a private placement to raise a further RM39.68 million to fund the cost of setting up a RM30 million specialised metal treatment plant in Serendah, Selangor.
The oil and gas services provider raised RM13.61 million in a cash call on Nov 28, 2017.
In a filing with Bursa Malaysia today, T7 said it is proposing to undertake a private placement of up to 92.28 million new T7 shares, representing up to 20% of its enlarged issued share capital to third-party investors to be identified later.
Based on the issue price of 42 sen per placement share, the proposed private placement is expected to raise gross proceeds under the minimum scenario and maximum scenario of RM35.86 million and RM39.68 million respectively.
The construction for the plant began in February and is expected to be completed by the end of 2018, with operations slated to commence by the first quarter of 2019.
Fraser & Neave Holdings Bhd's (F&N) net profit fell 13.6% to RM92.57 million in the second financial quarter ended March 31, 2018 (2QFY18) from RM107.08 million a year ago, impacted by higher input costs, especially for dairy products.
This resulted in a lower earnings per share of 25.3 sen in 2QFY18 compared with 29.2 sen in 2QFY17. Quarterly revenue, however, rose 2.2% to RM1.01 billion from RM992.74 million a year ago.
Nevertheless, the group declared an interim dividend of 27 sen per share amounting to RM99 million for FY18, payable on June 7.
The weak quarterly earnings dragged F&N's net profit for the cumulative six months ended March 31, 2018 (1HFY18) down 14.9% to RM199.4 million from RM234.36 million a year ago, while revenue came in flat at RM2.08 billion.
Berjaya Assets Bhd (BAssets) has upped its stake in 7-Eleven Malaysia Holdings Bhd (SEM) to 5.24%, stoking further speculation about a potential privatisation of the 24-hour convenience store chain operator.
BAssets disclosed to the stock exchange today that its wholly-owned Sublime Cartel Sdn Bhd has acquired 11.75 million shares — representing a 1.06% stake — in SEM for a sum of RM17.83 million.
According to the group, the internally-funded transactions were made this year between Jan 23 and May 2, at RM1.52 per share.
Sublime Cartel first bought 3.23 million shares on the open market, for a cash consideration of about RM4.9 million, and later another 8.52 million shares via direct business transactions for RM12.93 million.
Priceworth International Bhd said Forest Management Unit 5 (FMU5), a timber concession area it is acquiring in Sabah, has been valued at RM433.8 million. However, it holds a cash option that, if exercised, could further reduce the acquisition price to RM235 million.
The valuation, it said, is RM173.8 million or 66.85% higher than the RM260 million it is paying for FMU5, which has a net concession area of 88,920 hectares.
Priceworth has also proposed a renounceable two-for-one rights issue with bonus shares to raise proceeds of RM102.37 million, which will be used to repay bank borrowings and working capital.
Sunway Real Estate Investment Trust's (Sunway REIT) net property income (NPI) grew 5.1% to RM105.3 million in the third quarter ended March 31, 2018 (3QFY18) from RM100.18 million a year ago, driven by improved financials in all segments.
Sunway REIT also declared an interim distribution per unit (DPU) of 2.37 sen, totalling RM69.8 million, for 3QFY18, payable on June 5, 2018.
The REIT unit said net profit for 3QFY18 stayed flat at RM70.35 million. Meanwhile, revenue for the quarter rose 5.2% to RM141.51 million from RM134.57 million in the previous year.
AirAsia X Bhd (AAX) said today it will be filing a defence to Malaysia Airports Holdings Bhd's (MAHB) claim that the airline owes it RM34.88 million in outstanding airport charges, rent and late payment charges.
MAHB's wholly-owned subsidiary Malaysia Airports (Sepang) Sdn Bhd had on April 27 filed a suit on AAX.
"The company's solicitors are of the opinion that Malaysia Airports (Sepang)'s claim can be legally defended, and further there are sums to be deducted and set off against charges imposed by Malaysia Airports (Sepang)," AAX said in a filing with Bursa Malaysia.
DGB Asia Bhd has proposed to undertake a one-for-two bonus issue of warrants to reward shareholders and to provide the group with additional working capital when the warrants are exercised in the future.
In a filing with Bursa Malaysia today, DGB said the proposed exercise entails up to 474.35 million DGB warrants (Warrants B).
It added that the board has fixed the exercise price of the Warrants B at 12 sen, which represents a premium of 10.7% to the five-day volume-weighted average market price of DGB shares as at May 2 of 10.84 sen.
"Assuming full exercise of up to 474.35 million Warrants B at the exercise price of 12 sen, the company will raise gross proceeds of RM56.92 million," it noted.
The proposed bonus issue of warrants is expected to be completed by the third quarter of 2018.