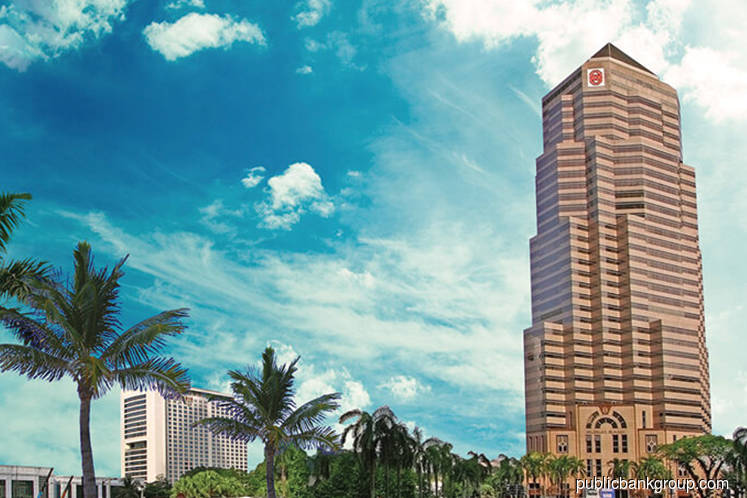 KUALA LUMPUR (Aug 15): Public Bank Bhd's net profit for the second quarter ended June 30, 2018 rose 4.88% to RM1.4 billion from RM1.33 billion a year earlier, due to higher net interest income, higher income from Islamic banking business, lower loan impairment allowance, and higher net fee and commission income, which were partially offset by lower investment and other operating income.
Revenue for the quarter rose to RM5.44 billion versus RM5.17 billion a year earlier, according to Public Bank's filing with Bursa Malaysia.
The banking group declared a first interim dividend of 32 sen per share to be paid on Sept 19.
For the six months ended June 30, Public Bank's net profit rose to RM2.8 billion from RM2.58 billion a year ago, on the back of revenue of RM10.79 billion against RM10.2 billion previously.
The bank's founder and chairman Tan Sri Dr Teh Hong Piow said the group was able to sustain good business momentum in the first half of 2018.
He said the higher profit for the period was largely driven by growth in its loan and deposit business, with further impetus from a 4.9% growth in non-interest income.
"Sustained business strength continued to place the group in a strong competitive position, with its net return on equity standing at 15.0%.
"Similarly, the group's cost-to-income ratio of 33.1% and gross impaired loans ratio of 0.5% remained the best in the domestic banking industry," he said.
Teh said that in the first half of 2018, Public Mutual, Public Bank's wholly-owned unit trust management subsidiary, continued to deliver favourable result, with its pre-tax profit growing by 9% compared to the corresponding period in 2017.
He said as at end-June 2018, Public Mutual managed a total of 144 unit trust funds, with a total net asset value of RM80.2 billion.
"Public Mutual's market presence remained significant, with its market share standing strong at 40.3% in the domestic private unit trust industry," he said.
Commenting on the banking group's prospects, Teh said Public Bank will continue to ride on the growing economy to strengthen its banking business along its organic growth strategy.
"The group's resilient fundamentals, consistent financial performance, agility to market changes and strong customer service culture will continue to be the essential qualities in driving the sustainability of the group's business, for the interests of all its stakeholders," he said.