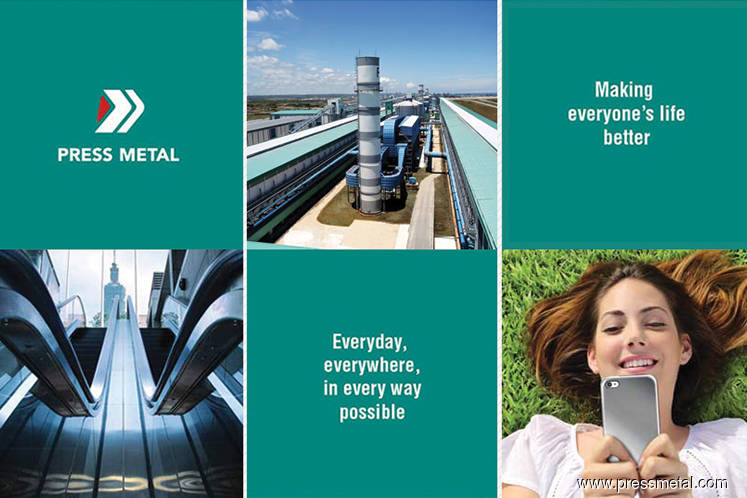 KUALA LUMPUR (April 6): Press Metal Aluminium Holdings Bhd chief executive officer Tan Sri Koon Poh Keong has been accumulating shares in the group and had acquired a total of 2.89 million shares or 0.17% equity stake since the start of the week.
Koon acquired the shares through three transactions — 510,000 shares on April 2 and 420,000 shares on April 3 at RM4.33 per share, and another transaction on April 4 for 1.96 million shares at RM4.22 per share, amid a downtrend in Press Metal's share price.
Upon the purchase of the shares, his direct interest has increased to 593.63 million shares or 15.351%, while his indirect interest stood at 930.71 million or 24.067%.
Press Metal has been on a downtrend since late-March, as aluminium prices declined to US$1,978 on April 3, the lowest since August 2017, amid rising stocks and disappointment over China's winter output curbs.
Moreover, the general pessimism over global trade amid the tariff plans by the US and China has also kept markets on edge in recent days, although Press Metal had clarified that it would be minimally affected by the new import tariff, according to CIMB IB Research's recent note.
The price of aluminium has seen a slight rebound, with the metal rising 0.9% to US$2,009 on the London Metals Exchange (LME) at the time of writing, although Press Metal's share price remain pressured.
At 2.30pm, the counter was down 35 sen or 8.37% at RM3.83, with some 7.25 million shares traded. The stock has dropped 26% over the past month, since its closing of RM5.18 on March 6.
In a note today, Kenanga IB Research had upgraded its call on Press Metal to outperform but had lowered its target price to RM5, as the research house updated its US dollar-ringgit foreign exchange assumptions.
The research house does not expect the US-China trade spat to affect the group as it does not export much to either country, but said the impact would be on LME aluminium prices, on which Press Metal's selling prices are based upon.
"Nevertheless, with more than 50% of production hedged, we expect Press Metal's earnings to see low volatility as any price risks would take about six months to be reflected, while its low unit production cost (approximately US$1,550/MT) would support its profitability, especially compared to high-cost producers in both US and China.
"Even after our earnings adjustment, we believe the knee-jerk selling reaction by the market recently was unjustified given the solid outlook discussed above, and we upgrade our call to outperform," said Kenanga.