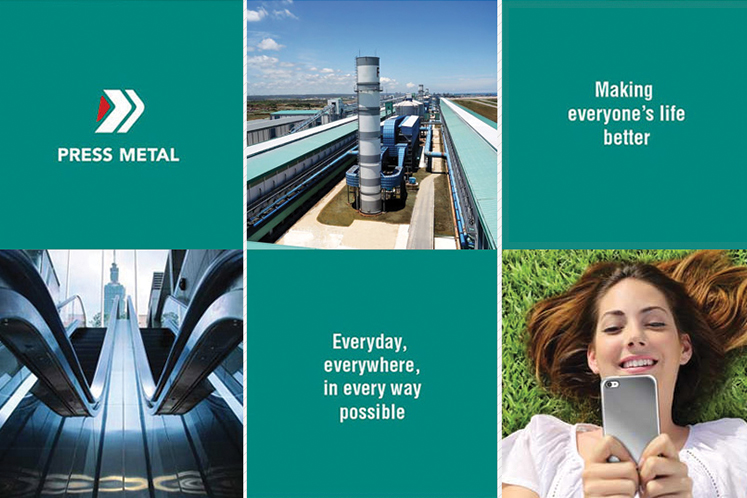 KUALA LUMPUR (Nov 21): Press Metal Aluminium Holdings Bhd, the largest aluminium smelter in Southeast Asia, posted a 25.5% increase in net profit to RM154.38 million in the third quarter ended Sept 30, 2017 (3QFY17) from RM123.04 million a year ago, mainly due to higher metal price and strengthening of the US dollar against the ringgit.
However, the company's earnings per share fell to 4.14 sen in 3QFY17 from 9.42 sen in 3QFY16 due to an increase in the number of shares following a share split and bonus issue last year.
Quarterly revenue surged 22.4% to RM2.128 billion from RM1.739 billion a year ago.
The group also declared a third interim dividend of 1.5 sen per share, amounting to RM56.2 million, for the financial year ending Dec 31, 2017 (FY17), payable on Dec 29.
For the cumulative nine months (9MFY17), net profit came in at RM452.6 million, up 24.5% from RM363.68 million a year ago, mainly due to additional production output generated by its Samalaju Phase 2 smelting plant and higher metal price.
Revenue for 9MFY17 jumped 30.1% to RM6.02 billion from RM4.63 billion in 9MFY16.
Moving forward, Press Metal group chief executive officer Tan Sri Paul Koon expects the group to benefit from the current higher metal price barring unforeseen cost increases.
"We are moving on a two pronged strategy by enhancing margins through higher volume of value-added products, while managing rising raw materials cost.
"We are now targeting to increase contribution of value-added products from 30% to 50% by end 2018. This will entrench our position directly with end users to strengthen our position and branding in the long run," he said in a statement today.
Koon also said its joint venture with Sunstone Development Co Ltd in China for the manufacturing of pre-baked carbon anodes will help to address rising carbon costs come FY18.
"Our inaugural bonds issuance has put us on a stronger financial footing to consider suitable growth opportunities both upstream and downstream.
"Being the largest aluminium smelter and extruder in Southeast Asia, we are the best proxy for multiple industries exposure due to the wide application of aluminium from construction, transportation, electrical to consumer products," he said.
Press Metal shares closed up 10 sen or 2.15% at RM4.75 today, giving it a market capitalisation of RM17.89 billion.