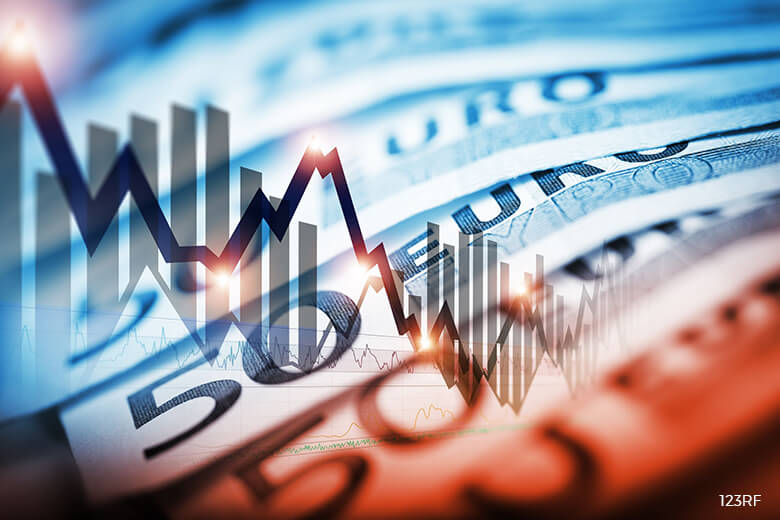 SINGAPORE (June 1): Europe is now threatening to be an outlier in the "as good as it gets" investment theme as its cyclical improvement continues to gather speed, according to Bank of Singapore (BoS).
In a Thursday report, the bank's chief economist Richard Jerram highlights persistent improvement in Eurozone growth over the last few years, with the unemployment rate continuing to fall to its lowest since 2009.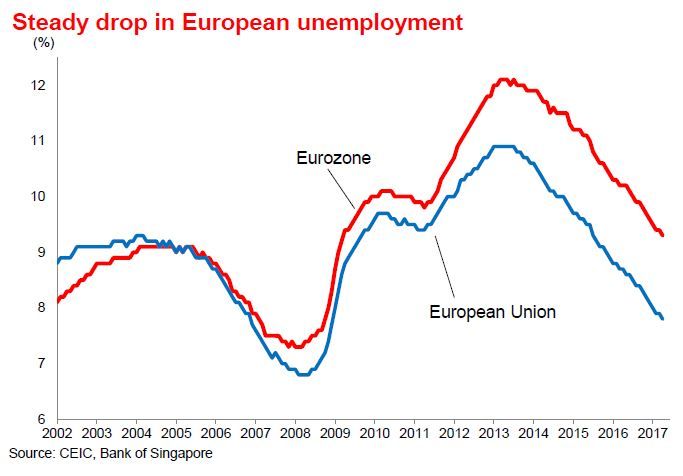 Further, unlike the US and Japan where manufacturing PMI slipped in May, that of the Eurozone has also improved to its highest level since early 2011.
"Recovery in Europe is at a much earlier stage than in the US, so there is less concern that corporate profit margins might be peaking. The initial rebound from recession in 2009-10 was interrupted by premature policy tightening by the ECB and then aggressive (enforced) fiscal austerity in some of the indebted peripheral economies that sent them back into recession," recalls Jerram.
"However, the recovery that began in 2014 has gathered pace in recent months. Part of this reflects the stronger global cycle, but it also looks like policy traction is improving, with more solid lending growth," he observes.
In the chief economist's view, inflation is still the missing link as Europe's core inflation is still "only a touch" below 1%.
Although headline inflation bounced in response to higher commodity prices, that too is fading as the base for comparison becomes tougher, he adds.
Such sluggish inflation in contrast to solid growth is bound to "open the way for mixed messages" for ECB officials, Jerram opines, as while the Northern bloc continues to be increasingly uncomfortable with negative interest rates and balance sheet expansion, those closer to ECB president Mario Draghi are more dovish with their intent to ensure an exit from deflation risk.
With regards to this, Jerram holds the opinion that the doves should dominate, as Draghi's term in office does not end until October 2019.
Meanwhile, Greece continues to be a "sideshow", says Jerram, as he believes the country no longer has the ability to disrupt the region, which has become systemically much more stable.
BoS, a subsidiary of OCBC Bank, recently shifted its view on EURUSD from "neutral" to "slightly positive" after noting reduced political risk and improving economic fundamentals in the region – which has in turn increased the bank's confidence that the European Central Bank (ECB) will be signalling an exit from its asset purchase programme before the end of 2017.