This article first appeared in Personal Wealth, The Edge Malaysia Weekly, on May 14, 2018 - May 20, 2018.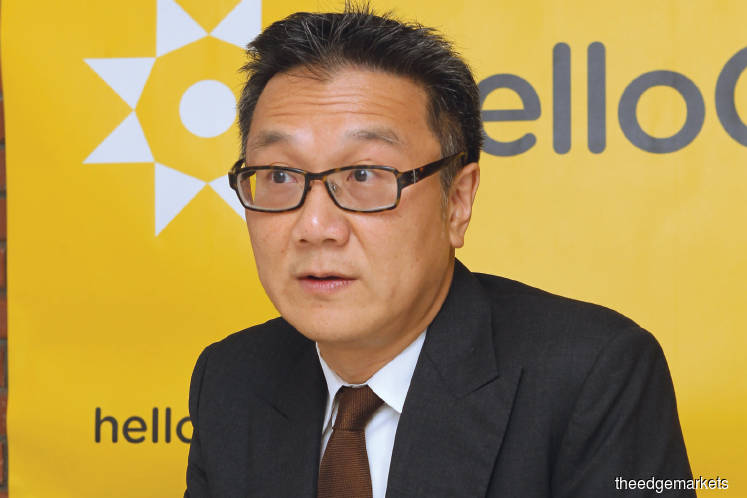 Digital gold savings platform HelloGold recently formed a unique partnership with social enterprise KLEAN to allow Malaysians to earn gold through recycling. By depositing used plastic bottles and aluminium cans into KLEAN's dedicated reverse-vending machines, anyone can earn e-credits that can be converted into gold through the HelloGold app. Up to 0.00059 gram of gold can be earned for each can or bottle, regardless of size or weight.
"Ultimately, what we are trying to do with HelloGold is to create a better future for our customers and a brighter future for the world, and recycling fits quite nicely into that. If people can be financially better off and also create a better environment, then it's so much the better. We just provide the means through which people can economically benefit from recycling," says HelloGold CEO Robin Lee.
HelloGold is a platform that allows users to buy gold for as low as RM1 and sell it — all through its mobile app. The physical gold bars are kept in a vault in Singapore.
Forty KLEAN reverse-vending machines will be installed across the Klang Valley in July, and 500 machines set up throughout the country before the end of the year. The machines will sort and crush the items on site, and they will then be sent for recycling. The e-credits — KLEANS — can also be exchanged for other items such as airtime and smart card credits.
"In some countries, you pay a deposit for bottles and when you return them, you get US$10 or A$10, whatever it is. In some emerging countries, you have people collecting waste which they then take to the wholesaler to sell. We're trying to encourage people to do that, except the idea is you'll get better value because we cut out the middle man. Here, you change it for gold because gold gives people a better alternative to save, and hopefully they won't spend it all at once," Lee says.
The partnership with KLEAN is one of several Lee has struck over the past year in his mission to change the way people buy and sell gold. Last December, the startup entered into a partnership with Boost, the e-wallet developed by Axiata Digital, which allows HelloGold users to pay for their transactions through Boost. In April last year, it signed a collaboration agreement with AEON Credit Service (M) Bhd to enable the use of gold investments on HelloGold as collateral for loans.
Investing in gold through e-wallets a trend
Lee's goal in the partnership with Axiata is for HelloGold to be fully integrated with Boost so its customers can buy gold directly from the wallet instead of going through the HelloGold app.
"We believe that differentiating e-wallets through financial products like ours enables our partners to have an advantage over everyone else," he says.
Buying and selling small amounts of gold through e-wallets is already a trend in China and India — two countries where gold is a popular form of investment.
In 2017, Chinese financial services giant Tencent launched Tencent Micro-Gold, a platform built into its popular WeChat platform, which allows users to purchase and sell small amounts of gold through WeChat Payment. The platform got a boost during the 2017 Chinese New Year season when 70,000 virtual "red packets" of gold were sent across the platform, according to reports. The platform was built in partnership with China's largest bank, Industrial and Commercial Bank of China (ICBC).
Lee was chief financial officer of the World Gold Council (WGC) from 2010 to 2014. During his tenure, he worked with ICBC to launch gold investment products.
"China is a great example. Up until 2011, the primary method through which people bought gold was by going to the jewellery store and the bank and buying a piece of jewellery or a bar. Then the World Gold Council and ICBC worked together to launch ICBC's gold product, which was to buy gold for RMB1, and it just took off like wildfire. It became incredibly successful so much so that all the other banks started to replicate it," he says.
In India, popular digital payment platform Paytm launched a similar digital gold investment platform in April last year, which allows users to buy gold for as little as one rupee.
"In the research that the World Gold Council did a long time ago when I was still with it, what came out very clearly was that nearly everyone is interested in saving through gold. The biggest challenge was figuring out a method that was accessible, safe and affordable in terms of transaction size, and we believe we've created something that addresses all these pain points," Lee says.
Using digital gold investments as collateral
The product HelloGold is launching with AEON Credit is expected to come to market this quarter. The idea is for AEON Credit to provide loans to customers who purchase between RM1,000 and RM10,000 worth of gold on HelloGold's platform, with a profit rate of 8% per annum.
"Imagine if you have RM2,000 worth of gold you're saving for your children's education, and you need a motorcycle but you don't want to sell your gold. So just like the rich and mass affluent (who can get loans using their investment portfolios), we will use that gold and collaterise it for your motorcycle so the lender has added security against the loan," Lee says.
The two parties are in the process of finalising the product. The current plan is to offer a 70% loan-to-value ratio. The amount of gold offered as collateral will be frozen until the loan is repaid.
Buying gold at international spot prices
Since the HelloGold platform was launched in Malaysia in late 2016, 15,000 customers have signed up, according to its CEO Robin Lee. The company is planning to launch in Thailand and Dubai this year.
For the purpose of transparency, the company publishes a list of its customers on its website every day so users can see how much gold is held by each customer, represented by a unique number. It also publishes a list of the gold bars it holds, with serial numbers, at the end of each day, which should always be higher than what is held by customers.
As at May 6, the amount held by customers was 9478.618 grams, according to HelloGold's website. It currently holds 11 gold bars in BullionStar International's secure gold vault in Singapore. The company uses 99.99% investment-grade, one kilogram gold bars that are fully allocated. The gold bars are audited every six months and fully insured by a third-party insurer.
If customers choose to redeem, the minimum size is one gram. The convenience of investing through HelloGold is that investors do not have to keep physical gold, and they can buy and sell anytime.
"Typically, most people don't ask for physical gold. We've been in operation for the better part of the year now, and I would say in that time, most of our transactions have been buys. I think out of 10,000 transactions, we've only had five physical redemptions," Lee says.
HelloGold enables investors to buy gold at international spot prices. It charges a 2% fee on the value of each buy or sell transaction and an annual management fee of 2%. Customers who want to redeem physical gold bars will have to pay additional charges for shipping and insurance.
One advantage of investing through HelloGold is the ability to buy small amounts of gold at the international spot price instead of paying a premium, Lee says.
"If you buy one gram of gold, you are in this weird situation where you're buying something that's worth RM176 at RM220. You're paying a huge premium for it [because of the small amount]." This can be avoided  with HelloGold because it buys gold in bulk and passes on the savings to the customers.
"It's no different from carrying stock. We're just carrying what we believe we need, and as people buy gold, we go out and buy more gold at the prevailing market price and restock our inventory. As more people sell gold back to us, we give them back cash, and we then sell gold back to the market at the prevailing spot price," Lee says.
HelloGold's target audience is the average investor who may not be able to invest in vehicles such as gold funds, which typically require a higher minimum amount.
"Our average ticket size is between RM50 and RM100, so it is less than a gram of gold. We're here to serve the folks that most financial services providers can't serve because the economic system doesn't work for them," says Lee.
Gold remains a safe haven asset, he opines, especially with the current economic and geopolitical challenges. "Typically, gold in the long run has historically kept pace with local inflation. It's always a good time to buy gold because it's going to be better than cash."