This article first appeared in The Edge Financial Daily, on January 24, 2018.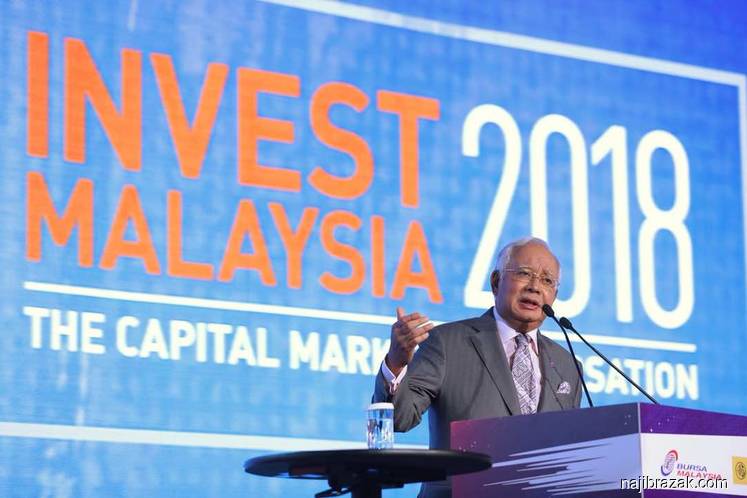 KUALA LUMPUR: Prime Minister Datuk Seri Najib Razak yesterday admitted failings and lapses of governance in 1Malaysia Development Bhd (1MDB) but said they were amplified by critics and used as a tool to suggest that the country's economy was collapsing.
"Now, I am not going to brush over this issue. There were indeed failings at the company, there were lapses of governance. There was valid cause for concern," Najib said in his keynote address at Invest Malaysia 2018.
"This was why I ordered one of the most comprehensive and detailed investigations in Malaysia's corporate history, one that involved multiple lawful authorities, including a bipartisan parliamentary body," he said.
"1MDB rationalised its assets, and with the proceeds, took an aggressive approach in reducing the debts to the lowest possible levels, and the company concentrated its efforts on ensuring its two most valuable assets — Bandar Malaysia and Tun Razak Exchange — remain as attractive investment propositions to both its shareholders and its investors," he said.
But Najib said there was a concentrated campaign to sabotage the Malaysian economy for political gain.
He also said that the government had many legacy issues to confront and singled out a former leader whom he did not name.
"Some of our development under a former leader had come with an unnecessary price tag — a class of crony capitalists whose wealth came at the cost of ordinary Malaysians. We vowed that would end," he said.
Accusing the former leader of neglecting public transport, Najib said: "One man's obsession with the idea of a national car — which is now being turned round under international joint ownership — led to Malaysia lacking an efficient public transport system."
"This was a serious obstacle to our ambition to achieve high-income status and for Kuala Lumpur to be a world-class capital, so we immediately took steps to rectify that and indicated that public transport would be a top priority for the government," said Najib.
The prime minister also said that under the former leader, the government signed independent power plant concessions "that were so lopsided that consumers had to pay far more for energy than they should have, even energy they weren't using".
"This was a real burden to the people, so we renegotiated these concessions — because we were determined that in future, we would not allow private companies to earn excessively at the expense of ordinary Malaysians," he said.
Najib also accused "certain politicians" of giving the impression that Malaysia is in danger of going bankrupt.
"Does it sound like it to you? I think not, and neither do the World Bank, the IMF (International Monetary Fund) or any credible independent agencies and economists.
"It is those politicians who are bankrupt of ideas. They are so desperate that they are willing to run down their own country for personal political gain," he said.
The prime minister also referred to the recent agreement signed by Singapore and Malaysia on another cross-border rail link, and the launch of the Marina One and DUO projects jointly developed by Khazanah Nasional Bhd and Temasek Holdings (Pte) Ltd.
"That's an example of the positive effects of leaders who try to work with other people, rather than bad-mouthing neighbours and spending their days writing sarcastic blog posts," he said.
Highlighting the country's economic strength, Najib said total trade grew 20.8% over the period from January to November 2017 — while in that month alone, gross exports reached a double-digit growth of 14.4%, with the highest receipts ever recorded, at RM83.5 billion.
He also noted that foreign net fund inflow recorded a positive RM10.8 billion in 2017, the highest since 2012.
"Corporate bond and sukuk new issuance amounted to RM111.2 billion for the first 11 months of the year, close to 30% higher than the whole of 2016, while Malaysia's bond and sukuk market as a whole grew further to RM1.28 trillion.