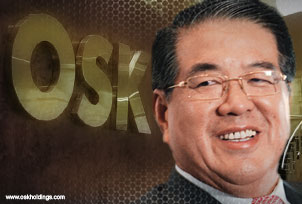 KUALA LUMPUR (Oct 9): Veteran stockbroker Tan Sri Ong Leong Huat is ready to merge PJ Development Holdings Bhd (PJD) and OSK Property Holdings Bhd in a move to create a first-tier property giant.
"We have that in mind. I think it will be quite soon. You will hear from me," Ong told a news conference after PJD's extraordinary general meeting here today.
He opined that the consolidation of the property companies can create stronger financial power, higher efficiency and economies of scale.
Ong is the group managing director of OSK Property, as well as the non-executive chairman of PJD.
He emerged as a substantial shareholder of PJD in November 2013 with a 21.31% stake, taking the place of older brother Wong Ah Chiew. He also controls 71.65% of OSK Property.
Ong also said PJD is expected to see a profit growth of 20% in the financial year ended June 30, 2015 (FY15), up from RM224 million in FY14.
Earlier at the meeting, shareholders gave PJD the green light to acquire a freehold land measuring about 2.026ha in Southbank, Victoria, Australia from Dynasty Falls Pty Ltd for A$145 million cash.