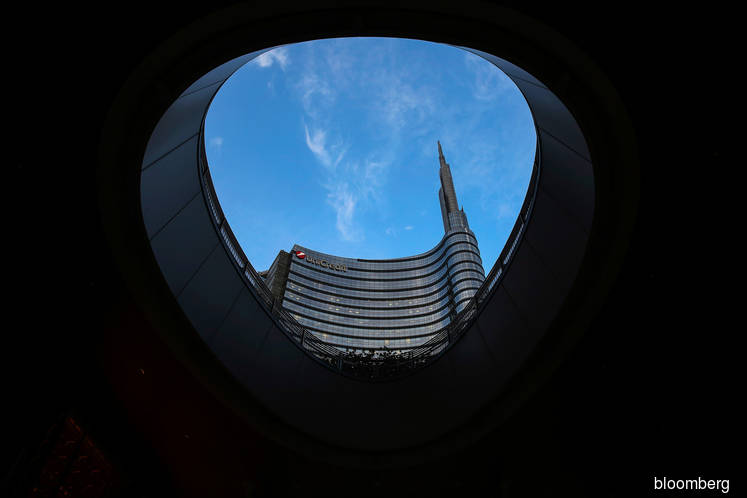 MILAN/LONDON (Nov 29): UniCredit SpA turned to Pacific Investment Management Co to raise US$3 billion, at a cost that's six times greater than what it paid in January amid stress in the market.
Pimco was the sole buyer of the bank's surprise sale of five-year bonds, two people with knowledge of the transaction said, asking not to be identified because the matter is private. The bank said the dollar-denominated five-year notes pay the equivalent of 420 basis points over the euro swap rate. That compares with a spread of 70 basis points over swaps it paid on five-year euro senior non-preferred bonds in January.
Italian lenders are facing rising funding costs as the rift between Rome and Brussels over the country's budget drives up debt yields and widens the spread between Italian bonds and benchmark German equivalents. Banks are also set to lose low-cost funding as long-term loans from the European Central Bank come due.
The possibility that Italy's sovereign debt may be downgraded further may justify doing the bond sale now, even at a high price, wrote ABN Amro NV strategist Tom Kinmonth. While the price, far above the market rate, will impact the UniCredit's profitability "it has placed the bank in a better position on capital for a prolonged period of time," he said.
Long History
The U.S. firm and UniCredit have a history of doing deals. The U.S. firm was one of two buyers that took control of an unprecedented 17.7 billion-euro (US$20 billion) package of non-performing loans sold by the bank earlier this year. Also, at the end of 2016, Pimco was among a handful of investors that were offered the bank's riskiest bonds, people with knowledge of the matter said at the time.
The bond is UniCredit's second sale of senior non-preferred notes, a type of security that can be held by managers of funds that can only invest in senior debt, even though it allows regulators to force investors to take losses in a crisis. The sale will help support the Italian bank's capital position and boost its subordination ratio by about 73 basis points, the bank said.
UniCredit's decision to raise funding privately means analysts may be skeptical about the wider market's appetite for Italian bank bonds, said Jakub Lichwa, a credit strategist at Royal Bank of Canada in London.
"The signal would have been far stronger if they had come to market with and built an order book at this level," he said.
The transaction "demonstrates UniCredit's ability to access the market in all conditions," it said in the statement. UniCredit rose as much as 2.4% in Milan trading and was priced at 21.50 euros as of 1 p.m.
UniCredit's investment-grade deal is one of the largest such sales this year, the Milan-based lender said. Large bond issues are more typically sold via the syndicated bond market, where banks are hired to build an order book from a large number of fund managers.