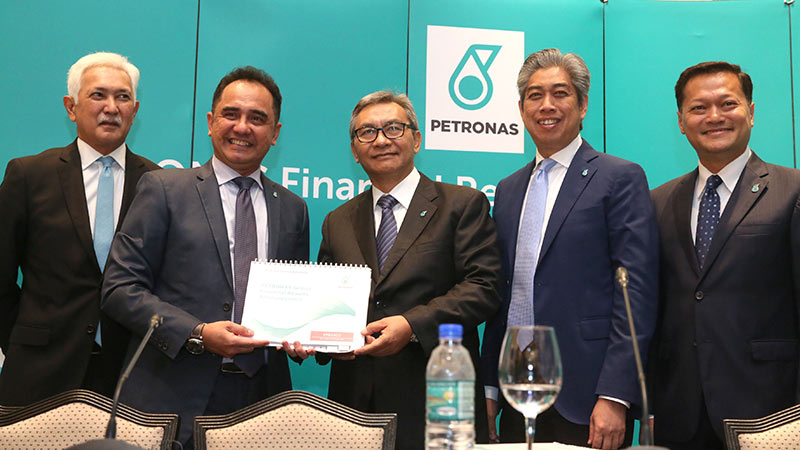 Wan Zulkiflee (second from left): We've got world-class assets in Canada. We have our second largest gas reserves [there] after Malaysia Photo by: Sam Fong
KUALA LUMPUR (Aug 30): Petroliam Nasional Bhd (Petronas) is likely to see a slight pickup in its capital expenditure (capex) in the Malaysian upstream segment, the national oil company said today, as it kept to its conservative assumptions for oil prices in 2019.
"I think there will be a modest increase in [upstream] activity in Malaysia [moving forward]," said group upstream chief executive Datuk Anuar Taib.
"In our plan, next year in Malaysia alone there would be a move up from around RM12 billion in [upstream] capex this year, to maybe about 14 to 15-ish [billion ringgit]," Anuar said at Petronas' financial results briefing today.
Petronas spent RM19.8 billion in capex across the board in the first half of 2018, the bulk of which was used on its downstream facilities in Pengerang, Johor.
Full-year capex is expected at above RM40 billion, said group president and CEO Tan Sri Wan Zulkiflee Wan Ariffin.
The company projected its operations for this year based on Brent crude full-year average price estimation of below US$73 per barrel, but expects the figure to hover "in the 50s-60s" in 2019.
Anuar also shared that "there will also be more upstream exploration works to be done" in Malaysia.
"We have in the past few months been getting some of our projects to be approved.
"[But] While we take advantage of [the higher prices], we also cannot be complacent — any sudden influx in activities will put stress on the supply chain, and what comes with the stress on the supply chain would be more cost, such as day rates," Anuar said.
"So we have to be able to work pace-based. We must not lose the game that we have. We will add a little bit more activities but in a very measured way of doing so," he added.
In the first half of 2018, Petronas' upstream production volume improved slightly to 2.38 million barrels per day from 2.34 million bpd in last year's January-June period, contributed by higher liquid production from Turkmenistan and Iraq.
In the same period, the company achieved first hydrocarbon in six projects worldwide — including a "significant sweet gas discovery" in the SK318 Timi field off the coast of Sarawak, said Wan Zulkiflee.
On Petronas' overseas operations, Wan Zulkiflee said the companies involved in the LNG Canada project in Kitimat, British Columbia, are expecting to finalise the final investment decision "in the next coming months".
Petronas is rather upbeat about the Canadian operation, with Wan Zulkiflee describing the country as "potentially another heartland for Petronas".
"We've got world-class assets in Canada. We have our second largest gas reserves [there] after Malaysia," he said.
Petronas bought a 25% stake in the LNG Canada project sometime in mid-2018. Its partners include Shell Canada Energy (40%), PetroChina Canada Ltd (15%), Diamond LNG Canada Ltd (15%), a subsidiary of Mitsubishi Corp, and Korea Gas Corp unit Kogas Canada LNG Ltd (5%).
The LNG project, said Petronas, includes the design, construction and operation of a gas liquefaction plant and facilities for the storage and export of LNG, including marine facilities, with reports estimating the whole project to cost C$40 billion (RM123.9 billion).
On downstream, the management shared that its US$27 billion Pengerang Integrated Complex (PIC) is on track for start-up in the first quarter of next year.
However, Wan Zulkiflee was mum about further financing for the US$16 billion Refinery and Petrochemical Integrated Development (Rapid) project — which forms part of PIC — following reports that Petronas and Saudi oil firm Saudi Aramco are looking for more financing currently.
"We will announce if there [are] any further changes in the financing for Rapid when it actually happens," he said.
"Right now I don't want to talk about that except to say that both us and Saudi Aramco are already on board the project together," he added.
Rapid is one of six associated facilities within the 6,242-acre PIC, which is itself part of the larger, 22,000-acre Pengerang Integrated Petroleum Complex in Johor.
Earlier this year, Datuk Seri Abdul Rahman Dahlan, the then minister in the Prime Minister's Department, said Petronas and Saudi Aramco have completed talks for the latter to fund US$7 billion into the Rapid project.
Bloomberg reported on Aug 24 that the two oil firms have sent out request for proposals to banks seeking almost US$10 billion in financing for Rapid, which will help repay a US$8 billion bridge loan secured in the first quarter.