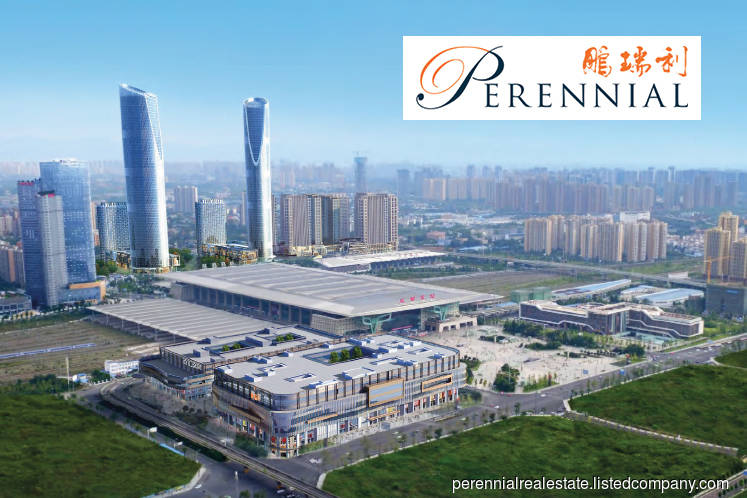 KUALA LUMPUR (Jan 3): Singapore Exchange-listed real estate and healthcare company Perennial Real Estate Holdings Ltd has set up a joint venture (JV) with Shun Tak Holdings Ltd and five others, with a targeted capital commitment up to US$1.2 billion (RM4.8 billion), that will invest in high speed railway (HSR)-linked healthcare integrated mixed-use developments in China.
In a statement today, Perennial said the JV vehicle — Perennial HC Holdings Pte Ltd — will invest, acquire and develop large scale and predominantly healthcare integrated mixed-use developments which are connected to HSR stations in China.
Perennial, through its subsidiary, will hold a 45% stake in the JV vehicle, while the remaining stakes are to be held by a consortium of partners, comprising: a subsidiary of Shun Tak (30%), Bangkok Bank Public Company Ltd (10%), a subsidiary of BreadTalk Group Ltd (5%), an investment vehicle of Perennial chairman Kuok Khoon Hong (4%), S1F Pte Ltd (4%), and a subsidiary of Wilmar International Ltd (2%).
Khoon Hong, the nephew of Malaysian tycoon Robert Kuok, is also the chairman and chief executive officer (CEO) of Wilmar. Shun Tak is controlled by Macau gambling king Stanley Ho.
"The first close of the total capital commitment to the JV vehicle amounted to US$500 million," Perennial said.
The group's total committed capital contribution for its 45% stake for the first closing amounts to US$225 million, which will be funded progressively upon capital call through internal cash and/or bank borrowings.
Positioned as one-stop regional healthcare hubs, the HSR healthcare integrated mixed-use developments, typically measuring between 300,000 square meters (sqm) to 800,000 sqm in total gross floor area (GFA), are expected to host healthcare real estates featuring core medical facilities, including various types of specialised hospitals, as well as medical centres, eldercare homes and nursing homes.
There will also be complementary medical and healthcare-related service facilities, including diagnostic centres, pharmacies and genomic laboratories, besides hotels, retail units, serviced apartments, offices, and small office home offices.
The potential total capital commitment of US$1.2 billion is expected to provide the JV with an investment capacity to build a significant healthcare centric portfolio in China.
In connection with the JV, Perennial and Shun Tak will set up an asset and project management company and a hotel management company to manage the asset, project and hotel management aspects of the developments, with Perennial's wholly-owned subsidiary to be appointed as the property manager.
Perennial CEO Pua Seck Guan said the group currently has two existing HSR projects in China, one in Chengdu and the other in Xi'an.
"With the establishment of this US$1.2 billion JV vehicle, we are excited about the potential to grow our HSR portfolio to up to eight projects with a total GFA of over 4 million sqm, positioning Perennial as a leading player with the largest HSR portfolio," he said.
"The JV also marks our first foray into the hospitality business with the hotel management partnership with Shun Tak, who has a strong track record in property development and asset management, particularly in the hospitality industry. The potential portfolio of HSR projects is expected to create a sizeable hotel portfolio," he added.
Overall, Pua said the synergies that can be created between the various real estate components and businesses are expected to maximise the value of Perennial's real estate, medical, healthcare and eldercare businesses.
"The income contributions from the various management businesses are also expected to deliver stable income streams in the coming years," he said.