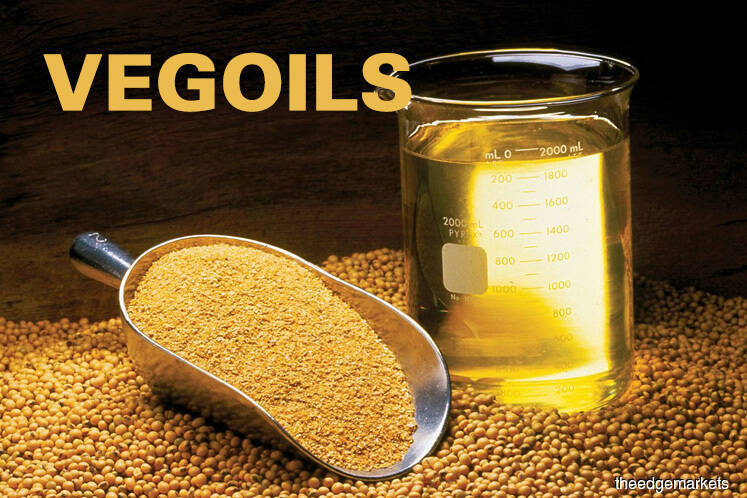 KUALA LUMPUR (Sept 5): Malaysian palm oil futures fell on Wednesday evening, snapping three previous days of gains, on forecasts of rising inventory levels, weaker crude oil prices and a market correction.
The benchmark palm oil contract for November delivery on the Bursa Malaysia Derivatives Exchange was down 0.3% at RM2,291 (US$552.58) a tonne at the close of trade, after earlier hitting a two-month high of RM2,303.
Trading volumes stood at 37,317 lots of 25 tonnes each at the end of the trading day.
"The market was technically overbought, plus there is anticipation of rising stocks and weaker crude oil," said a Kuala Lumpur-based trader, adding that expectations of rising stocks was due to forecasts of higher output.
Palm oil production in Malaysia, the world's second largest producer, is expected to rise in the coming months in line with the seasonal trend.
August end-stocks are forecast to rise 9% on-month to 2.41 million tonnes, their highest since February, while production is seen jumping 9.9% to 1.65 million tonnes, its highest level so far this year, according to a Reuters survey.
Meanwhile, the survey pegged exports rising 2.3% to 1.23 million tonnes from the previous month.
Official data from industry regulator the Malaysian Palm Oil Board is scheduled for release on Sept 12.
Palm oil prices are also impacted by movements in crude oil, as the vegetable oil is used as feedstock to make biodiesel. Oil prices fell as the impact of a tropical storm on US Gulf coast output was not as strong as initially expected.
In other related oils, the Chicago September soybean oil contract was down 0.1%, while the January soybean oil contract on China's Dalian Commodity Exchange rose 0.1%.
Dalian January palm oil was up 0.04%.
Palm oil prices are impacted by movements of other edible oils, as they compete for a share in the global vegetable oils market.
Palm, soy and crude oil prices at 1051 GMT
| | | | | | | |
| --- | --- | --- | --- | --- | --- | --- |
| Contract | Month | Last | Change | Low | High | Volume |
| MY PALM OIL | SEP8 | 2240 | -3.00 | 2230 | 2240 | 15 |
| MY PALM OIL | OCT8 | 2268 | -3.00 | 2256 | 2280 | 3662 |
| MY PALM OIL | NOV8 | 2289 | -7.00 | 2278 | 2303 | 16957 |
| CHINA PALM OLEIN | JAN9 | 4936 | +2.00 | 4930 | 4968 | 293144 |
| CHINA SOYOIL | JAN9 | 5856 | +6.00 | 5854 | 5890 | 294938 |
| CBOT SOY OIL | SEP8 | 28.37 | -0.02 | 28.37 | 28.37 | 810 |
| INDIA PALM OIL | SEP8 | 605.50 | -0.60 | 603.50 | 608.5 | 685 |
| INDIA SOYOIL | SEP8 | 744.1 | -1.45 | 743.5 | 747.9 | 6680 |
| NYMEX CRUDE | OCT8 | 68.93 | -0.94 | 68.67 | 69.57 | 119844 |
Palm oil prices in Malaysian ringgit per tonne
CBOT soy oil in US cents per pound
Dalian soy oil and RBD palm olein in Chinese yuan per tonne
India soy oil in Indian rupee per 10 kg
Crude in US dollars per barrel
(US$1 = RM4.1460)