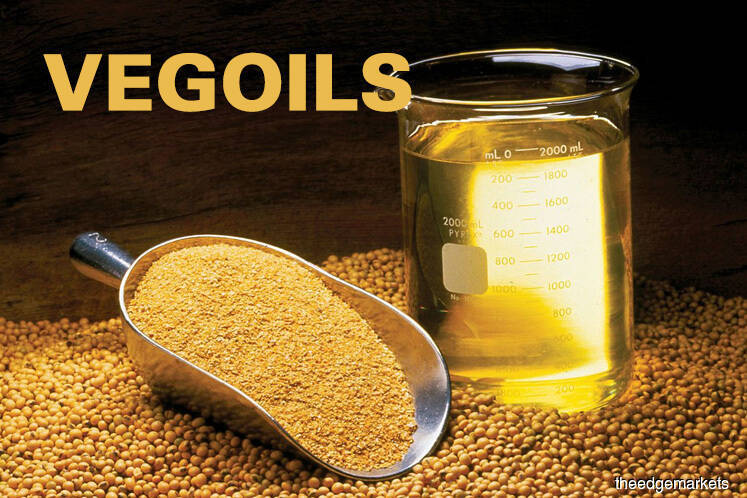 KUALA LUMPUR (Aug 24): Malaysian palm oil futures rose on Friday, recovering from two straight sessions of declines on technical correction and tracking strength in US soyoil prices.
The benchmark palm oil contract for November delivery on the Bursa Malaysia Derivatives Exchange was up 0.5% at RM2,229 (US$543.00) a tonne at the midday break, but down 0.4% for the week in what could be its second straight weekly fall.   
Trading volumes were thin, with 9,029 lots of 25 tonnes each at Friday noon.
"The palm market is reacting to stronger bean oil prices during Asian hours," said a Kuala Lumpur-based futures trader, referring to soyoil on the Chicago Board of Trade.
Palm oil prices are impacted by movements of other edible oils, as they compete for a share in the global vegetable oils market.
Palm fell over 1% on Thursday after data released by the Malaysian Palm Oil Association showed a 13.8% increase in production for the Aug 1-20 period.
"The market moved up in the morning session probably on a technical rebound after the sharp drop yesterday, but I expect the market to resume downbeat in the second half as concern about the production numbers remains," said another trader, adding that the market had expected a less than 10% rise.
Palm oil output in Malaysia, the world's second largest producer, typically rises in the third and fourth quarters of the year in line with the seasonal trend.
In other related oils, the Chicago December soybean oil contract rose 0.3% on Friday.
The January soybean oil contract on China's Dalian Commodity Exchange climbed 0.3%, while the Dalian January palm oil contract fell 0.2%.
Palm, soy and crude oil prices at 0459 GMT
| | | | | | | |
| --- | --- | --- | --- | --- | --- | --- |
| Contract       | Month    | Last   | Change     | Low     | High   | Volume |
| MY PALM OIL   | SEP8      | 2191    | +8.00    | 2186     | 2197       | 76 |
| MY PALM OIL   | OCT8      | 2208    | +9.00    | 2204     | 2215      | 837 |
| MY PALM OIL   | NOV8      | 2229   | +11.00    | 2221     | 2235     | 5082 |
| CHINA PALM OLEIN    | JAN9      | 4928   | -18.00    | 4904     | 4962   | 289868 |
| CHINA SOYOIL  | JAN9      | 5880   | +12.00    | 5852     | 5924   | 443142 |
| CBOT SOY OIL  | DEC8     | 28.46    | +0.10   | 28.34    | 28.49     | 2076 |
| INDIA PALM OIL    | AUG8    | 595.50    | +0.20  | 595.20    | 596.3       | 61 |
| INDIA SOYOIL  | SEP8     | 733.5    | -0.90  | 732.55   | 734.85     | 1490 |
| NYMEX CRUDE   | OCT8     | 68.34    | +0.51   | 67.78    | 68.34    | 38066 |
Palm oil prices in Malaysian ringgit per tonne
CBOT soy oil in US cents per pound
Dalian soy oil and RBD palm olein in Chinese yuan per tonne
India soy oil in Indian rupee per 10 kg
Crude in US dollars per barrel
(US$1 = RM4.1070)
(US$1 = 70.0975 Indian rupees)
(US$1 = 6.8868 Chinese yuan)