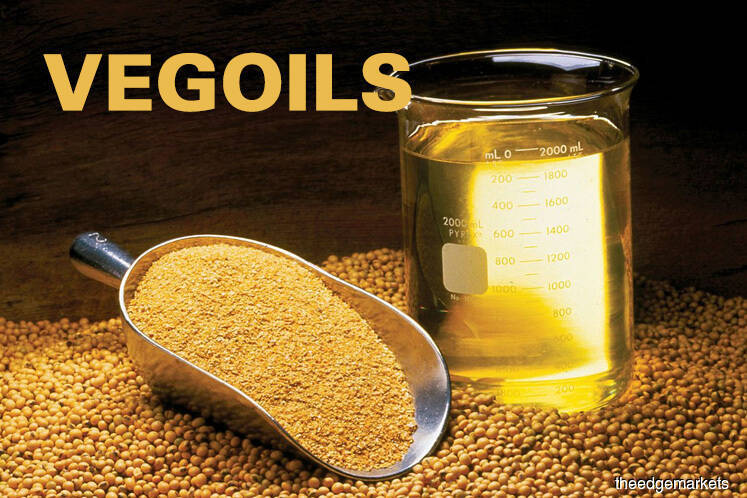 KUALA LUMPUR (Jan 15): Malaysian palm oil futures rose on Tuesday, rebounding from Monday's near two-week low, tracking gains in crude oil prices.
Soyoil's rise on the Chicago Board of Trade (CBOT) also supported prices, said a trader.  
The benchmark palm oil contract for March delivery on the Bursa Malaysia Derivatives Exchange was up 0.6% at RM2,149 (US$524.79) a tonne at noon, its strongest gains in a week.
It had fallen to RM2,134 on Monday, its lowest since the start of the year.
Trading volumes stood at 10,339 lots of 25 tonnes each at the midday break.
"Today's gains are mostly from tracking strength in CBOT and crude oil," said a Kuala Lumpur-based trader, referring to US soyoil which registered gains on Tuesday along with soybean's rise.
Chicago soybean futures ticked higher on Tuesday, recouping some of the previous session's decline, on concerns over adverse weather in South America, although slowing demand in China limited the gains.   
Palm oil prices are impacted by price movements of soyoil, as they compete for a share in the global vegetable oil market.
Meanwhile, oil prices rose 1% on Tuesday amid supply cuts led by producer club OPEC and Russia, although a darkening economic outlook capped gains.
Prices of palm oil are also influenced by crude oil, as the edible oil is used as feedstock to make biodiesel.
In other related oils, the Chicago March soybean oil contract rose 0.3%, while the May soybean oil contract on the Dalian Commodity Exchange fell 0.4%.
The Dalian January palm oil contract declined 2.7%.
Palm, soy and crude oil prices at 0507 GMT:
| | | | | | | |
| --- | --- | --- | --- | --- | --- | --- |
| Contract          | Month    | Last   | Change     | Low   | High  | Volume |
| MY PALM OIL       | JAN9     | 2130   | +68.00    | 2130   | 2130      | 50 |
| MY PALM OIL       | FEB9     | 2099    | +7.00    | 2095   | 2108     | 545 |
| MY PALM OIL       | MAR9     | 2149   | +13.00    | 2138   | 2154    | 3264 |
| CHINA PALM OLEIN  | JAN9     | 4110  | -112.00    | 3992   | 4190      | 30 |
| CHINA SOYOIL      | JAN9     | 5170   | +12.00    | 5168   | 5170      | 40 |
| CBOT SOY OIL      | JAN9    | 28.47    | +0.07   | 28.36  | 28.48    | 1756 |
| INDIA PALM OIL    | JAN9   | 546.30    | +1.10  | 545.40  | 547.5     | 100 |
| INDIA SOYOIL      | JAN9    | 770.3    | +1.35   | 768.3  | 770.3     | 420 |
| NYMEX CRUDE       | FEB9    | 51.08    | +0.57   | 50.64  | 51.30   | 34689 |
Palm oil prices in Malaysian ringgit per tonne
CBOT soy oil in US cents per pound
Dalian soy oil and RBD palm olein in Chinese yuan per tonne
India soy oil in Indian rupee per 10 kg
Crude in US dollars per barrel
(US$1 = RM4.0950)
(US$1 = 70.8880 Indian rupees)
(US$1 = 6.7512 Chinese yuan)