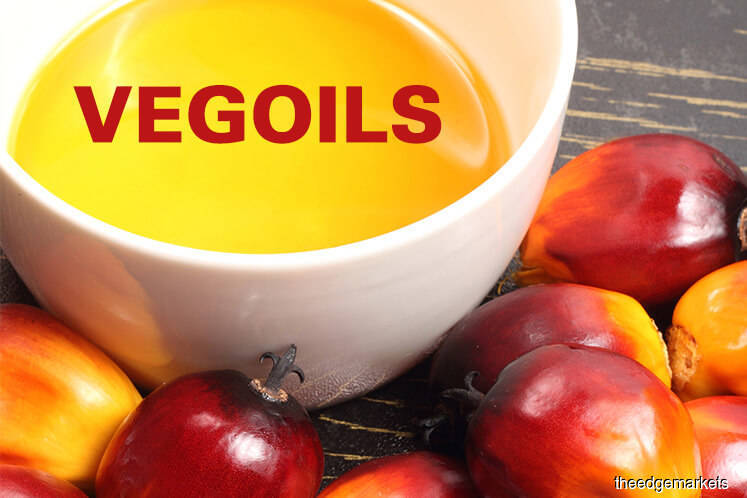 KUALA LUMPUR (Sept 4): Malaysian palm oil futures rose to a two-month high in early trade on Tuesday, in line for a third straight session of gains, as the Malaysian ringgit and the Indonesian rupiah weakened and related edible oils gained.
A weaker ringgit, palm oil's traded currency, makes it cheaper for holders of foreign currencies. The ringgit fell 0.2% to 4.1340 against the dollar around noon on Tuesday, its weakest levels since Nov 22.   
The benchmark palm oil contract for November delivery on the Bursa Malaysia Derivatives Exchange was up 0.8% at 2,277 ringgit (US$550.80) a tonne at midday break.
It earlier rose as much as 1.1% to 2,282 ringgit, its strongest levels since July 9.
Trading volumes stood at 12,866 lots of 25 tonnes each at noon.
"Palm opened higher taking cues from gains in competing vegetable oils. Malaysia's ringgit and Indonesia's rupiah are also both weak," said a futures trader in Kuala Lumpur.
Indonesia is the world's largest producer and exporter of palm oil. It's currency fell 0.6% to 14,897 against the dollar on Tuesday, its weakest levels in a decade.
In other related oils, the Chicago December soybean oil contract was up 0.3%, while the January soybean oil contract on China's Dalian Commodity Exchange jumped 1.6%. 
The Dalian January palm oil contract surged 2.1%.  
Palm oil prices are impacted by movements of other edible oils, as they compete for a share in the global vegetable oils market.
Palm oil may rise to 2,322 ringgit per tonne in a week, as suggested by its wave pattern and a projection analysis, according to Wang Tao, a Reuters market analyst for commodities and energy technicals.
    
 Palm, soy and crude oil prices at 0455 GMT   
| | | | | | | |
| --- | --- | --- | --- | --- | --- | --- |
| Contract | Month | Last | Change | Low | High | Volume |
| MY PALM OIL | SEP8 | 2228 | +19.00 | 2215 | 2228 | 30 |
| MY PALM OIL | OCT8 | 2254 | +14.00 | 2252 | 2259 | 1980 |
| MY PALM OIL | NOV8 | 2277 | +19.00 | 2270 | 2282 | 6887 |
| CHINA PALM OLEIN | JAN9 | 4950 | +90.00 | 4894 | 4962 | 365474 |
| CHINA SOYOIL | JAN9 | 5868 | +92.00 | 5818 | 5878 | 310266 |
| CBOT SOY OIL | DEC8 | 28.86 | +5.80 | 28.7 | 29 | 4547 |
| INDIA PALM OIL | SEP8 | 606.50 | +5.80 | 601.40 | 606.8 | 354 |
| INDIA SOYOIL | SEP8 | 744 | +3.60 | 741.5 | 744.5 | 3480 |
| NYMEX CRUDE | OCT8 | 70.06 | +0.26 | 69.53 | 70.21 | 162599 |
 Palm oil prices in Malaysian ringgit per tonne
 CBOT soy oil in U.S. cents per pound
 Dalian soy oil and RBD palm olein in Chinese yuan per tonne
 India soy oil in Indian rupee per 10 kg
 Crude in U.S. dollars per barrel
 
(US$1 = 4.1340 ringgit)
(US$1 = 71.1850 Indian rupees)
(US$1 = 6.8201 Chinese yuan)