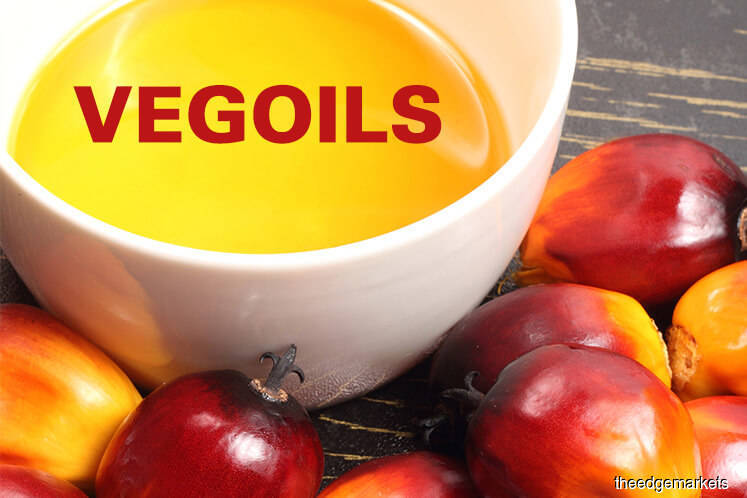 KUALA LUMPUR (Jan 22): Malaysian palm oil futures extended gains to a more than three-month high on Tuesday, supported by bullish price forecasts at an industry conference over the weekend and strength in US soyoil.
The benchmark palm oil contract for April delivery on the Bursa Malaysia Derivatives Exchange rose as much as 1.5% to RM2,259 (US$546.97) a tonne, its strongest since Oct 17.
It was last up 1.2% at RM2,253 at the midday break, heading for a fifth straight session of gains.
Trading volumes stood at 17,436 lots of 25 tonnes each.
"Palm is up on support from Friday's gains in rival oilseed and bullish price outlook by leading market analysts at the Pakistan Edible Oils Conference," said a Kuala Lumpur-based futures trader. Malaysian and US markets were closed on Monday for holidays.
Leading analysts forecast at the conference that palm prices would rise in the coming months as production and stocks fall in line with a seasonal trend.
Prices of vegetable oils, including palm oil, are set to rise by US$50-US$100 per tonne by June, according to analyst James Fry, while Dorab Mistry forecast benchmark prices to rise to RM2,400 a tonne by end-March.
Indonesian palm oil prices are also forecast to rise to as high as US$600 a tonne amid rising demand from the food and energy sector, slowing production growth and declining global stockpiles, said analyst Thomas Mielke.
Rising demand could also reduce stockpiles and support prices. Malaysian palm oil shipments during Jan 1-20 rose 11.8-12.9% from a month earlier, according to cargo surveyors Intertek Testing Services and AmSpec Agri Malaysia.
In related oils, the Chicago March soybean oil contract rose 0.8% on Friday, and was last up 0.5% on Tuesday.    
Palm oil prices are impacted by movements in soyoil rates, as they compete for a share in the global vegetable oil market.
Meanwhile, the May soybean oil contract on the Dalian Commodity Exchange was up 0.8% and the Dalian January palm oil contract gained 0.4%.
Palm, soy and crude oil prices at 0515 GMT:
| | | | | | | |
| --- | --- | --- | --- | --- | --- | --- |
| Contract          | Month    | Last  | Change     | Low    | High  | Volume |
| MY PALM OIL       | FEB9     | 2163  | +21.00    | 2156    | 2166     | 293 |
| MY PALM OIL       | MAR9     | 2218  | +28.00    | 2208    | 2220    | 3386 |
| MY PALM OIL       | APR9     | 2253  | +27.00    | 2244    | 2259    | 7948 |
| CHINA PALM OLEIN  | MAY9     | 4736  | +18.00    | 4712    | 4762  | 311138 |
| CHINA SOYOIL      | MAY9     | 5674  | +44.00    | 5650    | 5704  | 254338 |
| CBOT SOY OIL      | MAR9    | 29.14   | +0.13   | 29.09   | 29.23    | 3951 |
| INDIA PALM OIL    | JAN9   | 555.00   | +0.90  | 551.70   | 555.9     | 168 |
| INDIA SOYOIL      | FEB9   | 767.15   | +0.45     | 766   | 771.9    | 1860 |
| NYMEX CRUDE       | FEB9    | 53.43   | -0.37   | 53.33   | 54.24   | 19105 |
Palm oil prices in Malaysian ringgit per tonne
CBOT soy oil in US cents per pound
Dalian soy oil and RBD palm olein in Chinese yuan per tonne
India soy oil in Indian rupee per 10 kg
Crude in US dollars per barrel
(US$1 = RM4.1300)
(US$1 = 71.2910 Indian rupees)
(US$1 = 6.8022 Chinese yuan)