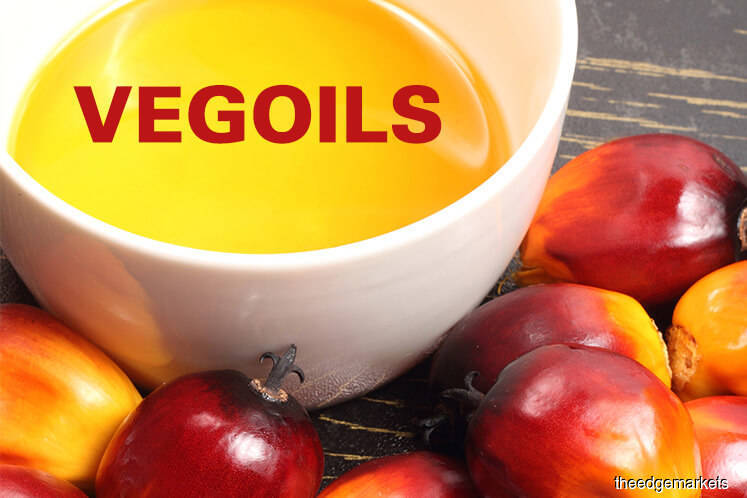 KUALA LUMPUR (Aug 27): Malaysian palm oil futures slipped to a more than one-week low on Monday evening, tracking weakness in related edible oils and as the ringgit strengthened.
The ringgit, palm oil's currency of trade, gained 0.2% against the dollar to 4.0980, making the vegetable oil more expensive for holders of foreign currencies.
The benchmark palm oil contract for November delivery on the Bursa Malaysia Derivatives Exchange was down 0.9% at 2,199 ringgit (US$535.69) a tonne at the close of trade, charting a third session of falls in four. Earlier in the session, it fell to 2,197 ringgit, its weakest since Aug 15. 
Trading volumes stood at 24,463 lots of 25 tonnes each on Monday evening.
"The current weakness in Dalian and strength in the local currency are likely to trigger lower palm prices," said a Kuala Lumpur-based trader. 
The market is also trading cautiously ahead of an industry conference on Tuesday and Wednesday, which is likely to see leading analysts share their outlooks and price forecasts, said the trader.
Palm oil is still targetting 2,192 ringgit, as it has broken a support at 2,224 ringgit per tonne, said Wang Tao, a Reuters market analyst for commodities and energy technicals.
In other related oils, the Chicago December soybean oil contract was down 0.6%, as expectations of a record U.S. crop weighed on the market.
Meanwhile, the January soybean oil contract on China's Dalian Commodity Exchange declined 1.7% and the Dalian January palm oil contract fell 1.8%.
China's soybean and soymeal futures fell on Monday, hit by concerns that outbreaks of African swine fever in China may reduce demand for feed, along with forecasts for a record U.S. crop.
Palm oil prices are impacted by movements of other edible oils, as they compete for a share in the global vegetable oils market.
    
 Palm, soy and crude oil prices at 1112 GMT
| | | | | | | |
| --- | --- | --- | --- | --- | --- | --- |
| Contract | Month | Last | Change | Low | High | Volume |
| MY PALM OIL | SEP8 | 2166 | -12.00 | 2166 | 2178 | 352 |
| MY PALM OIL | OCT8 | 2181 | -17.00 | 2179 | 2197 | 2344 |
| MY PALM OIL | NOV8 | 2198 | -20.00 | 2197 | 2217 | 12115 |
| CHINA PALM OLEIN | JAN9 | 4840 | -90.00 | 4832 | 4924 | 386942 |
| CHINA SOYOIL | JAN9 | 5786 | -98.00 | 5782 | 5876 | 498842 |
| CBOT SOY OIL | DEC8 | 28.3 | -0.19 | 28.25 | 28.5 | 8151 |
| INDIA PALM OIL | AUG8 | 590.10 | -5.40 | 589.30 | 594.6 | 374 |
| INDIA SOYOIL | SEP8 | 726.8 | -6.80 | 726.1 | 733.6 | 8650 |
| NYMEX CRUDE | OCT8 | 68.47 | -0.25 | 68.34 | 68.79 | 64772 |
 Palm oil prices in Malaysian ringgit per tonne
 CBOT soy oil in U.S. cents per pound
 Dalian soy oil and RBD palm olein in Chinese yuan per tonne
 India soy oil in Indian rupee per 10 kg
 Crude in U.S. dollars per barrel
 
(US$1 = 4.1050 ringgit)
(US$1 = 70.0900 Indian rupees)
(US$1 = 6.8740 Chinese yuan)