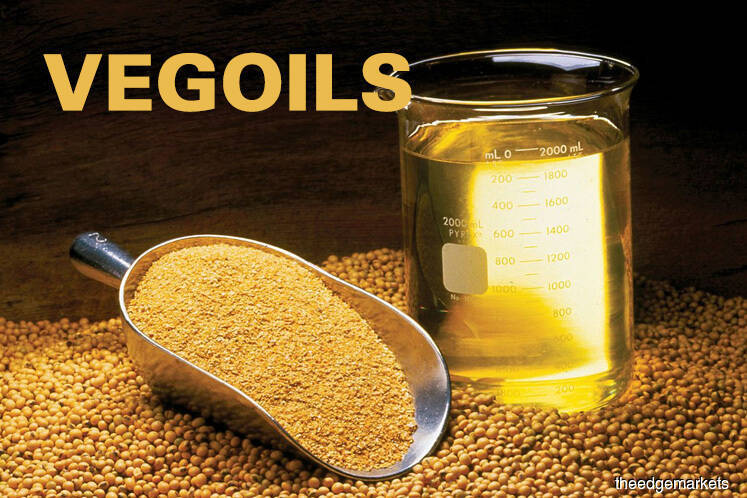 KUALA LUMPUR (Aug 23): Malaysian palm oil futures fell to their lowest in a week in early trade on Thursday, in line for a second consecutive day of losses, weighed by weaker related edible oils and concerns of rising output.
The benchmark palm oil contract for November delivery on the Bursa Malaysia Derivatives Exchange was down 0.3% at RM2,234 (US$544.21) a tonne at the midday break.
It earlier fell to RM2,230, its weakest since Aug 16.
Trading volumes stood at 13,866 lots of 25 tonnes each at noon.
"Prices are lower taking cues from an overnight drop in rival oilseed," said a futures trader in Kuala Lumpur, referring to soyoil on the US Chicago Board of Trade.
Soybean and soyoil prices fell over 1% on Wednesday as a closely-watched US crop tour showed above-average yield prospects in two significant producing states.
The palm trader added that market players were also trading cautiously ahead of expectations of rising production in August.
Palm oil output in Malaysia, the world's second largest producer, typically rises in the third and fourth quarter of the year in line with the seasonal trend.
Palm oil may test a support at RM2,224 per tonne, a break below which could cause a loss to the next support at RM2,192, said Wang Tao, a Reuters market analyst for commodities and energy technicals.
In other related oils, the Chicago December soybean oil contract declined 1.3% on Wednesday and was last down 0.3% on Thursday.
Meanwhile, the January soybean oil contract on China's Dalian Commodity Exchange declined 0.8%, and the Dalian January palm oil contract fell 0.5%.
Palm oil prices are impacted by movements of other edible oils, as they compete for a share in the global vegetable oils market.
Palm, soy and crude oil prices at 0455 GMT
| | | | | | | |
| --- | --- | --- | --- | --- | --- | --- |
| Contract | Month | Last | Change | Low | High | Volume |
| MY PALM OIL | SEP8 | 2197 | -8.00 | 2196 | 2205 | 48 |
| MY PALM OIL | OCT8 | 2216 | -6.00 | 2212 | 2220 | 1122 |
| MY PALM OIL | NOV8 | 2234 | -7.00 | 2230 | 2238 | 5822 |
| CHINA PALM OLEIN | JAN9 | 4934 | -26.00 | 4922 | 4986 | 263034 |
| CHINA SOYOIL | JAN9 | 5850 | -44.00 | 5840 | 5904 | 317676 |
| CBOT SOY OIL | DEC8 | 28.47 | -0.09 | 28.44 | 28.59 | 1997 |
| INDIA PALM OIL | AUG8 | 598.40 | -1.40 | 597.50 | 599.5 | 58 |
| INDIA SOYOIL | SEP8 | 736.35 | -3.85 | 736 | 738 | 1840 |
| NYMEX CRUDE | OCT8 | 67.88 | +0.02 | 67.82 | 68.12 | 28909 |
Palm oil prices in Malaysian ringgit per tonne
CBOT soy oil in US cents per pound
Dalian soy oil and RBD palm olein in Chinese yuan per tonne
India soy oil in Indian rupee per 10 kg
Crude in US dollars per barrel
(US$1 = RM4.1050)
(US$1 = 70.0900 Indian rupees)
(US$1 = 6.8740 Chinese yuan)