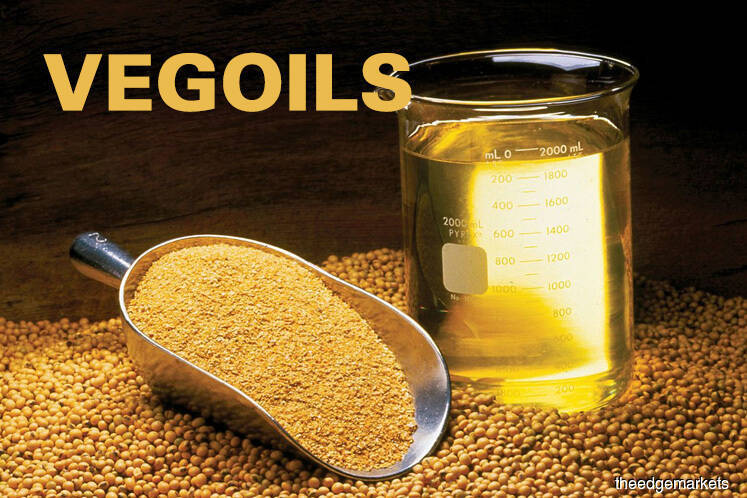 KUALA LUMPUR (Jan 14): Malaysian palm oil futures edged higher on Monday, supported by the previous session's gains in Chicago soyoil prices, although a strong ringgit limited the upside.
The ringgit, palm oil's currency of trade, gained nearly 1% against the dollar last week and was last trading around a four-month high.
The benchmark palm oil contract for March delivery on the Bursa Malaysia Derivatives Exchange was up 0.2% at RM2,175 (US$531.14) a tonne at noon, heading for a second straight session of gains.
Trading volumes stood at 9,349 lots of 25 tonnes each at the midday break.
"The market is supported by continued gains in rival oilseed soyoil," said a Kuala Lumpur-based futures trader, adding that the ringgit's strength capped the vegetable oil's gains.
Palm oil prices are impacted by changes in those of soyoil, as they compete for a share in the global vegetable oil market.
The Chicago March soybean oil contract rose 0.8% on Friday, and was last up 0.1% on Monday.
Soyoil prices rose on Friday in line with gains in soybeans, which advanced on technical buying and concerns about crop prospects in South America due to adverse weather in Brazil and Argentina.
In other related oils, the May soybean oil contract on the Dalian Commodity Exchange rose 0.4%, and the Dalian January palm oil contract dropped 5.9%.
Palm, soy and crude oil prices at 0542 GMT:
| | | | | | | |
| --- | --- | --- | --- | --- | --- | --- |
| Contract          | Month    | Last  | Change     | Low    | High  | Volume |
| MY PALM OIL       | JAN9        | 0   | +0.00  | 0 | 0 | 0 |
| MY PALM OIL       | FEB9     | 2128   | +5.00    | 2126    | 2134     | 199 |
| MY PALM OIL       | MAR9     | 2175   | +4.00    | 2168    | 2183    | 4173 |
| CHINA PALM OLEIN  | JAN9     | 4120  | -258.00    | 4120    | 4400      | 44 |
| CHINA SOYOIL      | JAN9        | 0   | +0.00  | 0 | 0 | 0 |
| CBOT SOY OIL      | JAN9    | 28.17   | +0.00   | 0 | 0 | 0 |
| INDIA PALM OIL    | JAN9   | 548.20   | +2.50  | 546.50   | 549.8     | 201 |
| INDIA SOYOIL      | JAN9    | 768.9   | +5.35  | 766.05   | 769.5     | 830 |
| NYMEX CRUDE       | FEB9    | 51.05   | -0.54   | 50.85   | 52.11   | 66075 |
Palm oil prices in Malaysian ringgit per tonne
CBOT soy oil in US cents per pound
Dalian soy oil and RBD palm olein in Chinese yuan per tonne
India soy oil in Indian rupee per 10 kg
Crude in US dollars per barrel
(US$1 = RM4.0950)
(US$1 = 70.8000 Indian rupees)
(US$1 = 6.7578 Chinese yuan)